"As a freelancer, YOU are your own boss."
As awesome as that cliche may sound, most freelancers' routines can get really messy in real life.
Overseeing every aspect of the business - from researching and acquiring clients UP TO completing tasks and ensuring you get 5-star feedback - gets really overwhelming.
It's like running a ONE-MAN show!
To operate your freelance business smoothly, I've listed basic productivity tools that can help keep you sane.
And since we all have different preferences, I've noted what I personally use and their alternatives, so you can check which ones you like best.

5 Essential Tools for Productive Freelancers

1. Task Managers
Getting things done is the key to online success.
The more deadlines you meet -> the happier your clients get -> the better your profile looks -> the more gigs you book, and so on.
Of course, the distractions around us are NOT making this easy.
Even the internet, the very thing that makes online freelancing possible, can steer us away from our To-Do's.
When we aren't careful, we'll find ourselves not having enough time to complete tasks. And worse, they'll pile up on top of our other tasks.
That's why having one app that organizes all our tasks and tracks our deadlines is invaluable.
What I use:
Trello is a Kanban tool that lets you list your tasks and organize them into boards. You can create different cards for each task and then drag them into boards, depending on your progress. Dragging cards to the Completed board is very fulfilling!
Trello lets you make as many cards and boards as you want. I'm only using the free version and so far, it's very helpful!
Alternatives You Can Try:
Habitica is a fun task manager that lets you add gamification to your day. Watch your characters level up and unlock pets, armor, and quests as you check off your tasks. You may also fight monsters with your friends by being productive together. (Jason & I have used this to compete with each other.)
Google Keep is more of a note-taker which lets you keep your "thoughts in any format." You can add notes, lists, photos, audio, and organize them using labels and colors.
I like its checklist function for creating To-Do lists and checking off each task as you go. Every checked item gets crossed out and moved to the bottom section - simple and clean.
Microsoft To-Do has a planner notebook feel to it. Its clean layout allows you to categorize and plan different parts of your day such as To-Dos, Groceries, Work, Family, Travel, etc. You can also set reminders for work deadlines or friends' birthdays.

Personal Planner - If you like scribbling on paper, the old-school way of journalling/notebook planning is great for managing tasks. You can find several designs and layouts in bookstores or craft shops. If you like getting creative, you may decorate them with stickers and cute stamps too.

2. Focus Enhancers
Now that you've got your tasks organized, let's look at tools that improve focus.
'Coz let's face it…
Even if we're on our laptops 'working', we spend most of our time around small impact stuff like checking emails, newsfeeds, social media accounts, or surfing the net for 'research'.
These little time-wasters often become sweet excuses for procrastination, draining our energies doing busy work instead of productive ones.
While improving focus takes tons of deliberate practice, there are apps that help stimulate concentration and weaken distractions.
What I use:
I use Brain.fm to play music that stimulates focus. When used with noise-canceling earphones, it drowns out background noises and reduces mind-wandering – very useful especially when working in a coffee shop or while doing creative work.
It's only free for 10 sessions then you'll have to buy a paid subscription.
For free brain music, you may check out these YouTube videos:
- https://www.youtube.com/watch?v=5LXhPbmoHmU&t=2623s
- https://www.youtube.com/watch?v=WPni755-Krg
- https://www.youtube.com/watch?v=pmoGdaOeUkQ
I've also found that enforcing my own 'office hours' helps a lot. Even though I work at my own pace, I've been pushing myself to start working at 7:30 am and only check Facebook and emails later in the afternoon.
If you can't voluntarily give up your phone and non-business-related sites while working, you can install apps such as NewsFeeds Eradicator which replaces your entire Facebook Newsfeeds with quotes or StayFocusd, a chrome extension that lets you block/limit your time spent on certain websites.
Pomodoro Timers such as Focus Booster or Pomodoro Timer Lite helps execute the famous productivity method called the Pomodoro Technique. It involves breaking downs tasks into intervals of intensive work and short breaks.
Jason uses this technique A LOT. He breaks down his To Do's into micro-tasks and works on each of them rigorously for 25 minutes. He then takes a 5-minute break before taking on another set. After about 4 sets, he takes a 1-hour break.
I've only had few successes with the Pomodoro Technique and prefer doing 1 big task a day. But if you feel that it could work for you, it's worth checking out.
3. Grammar Checkers
Even if you don't think you need them, grammar checkers can save you from awkward typos and from spending too much effort on editing/proofreading.
What I use:
I use Grammarly both on my desktop and on Google Chrome. It comes in free and paid versions.
I use it on top of my MS Word's Spell-checker for writing reports. It also checks for typos, grammar errors, and missing punctuations when I create e-mails, submit proposals, and even when commenting or posting on Facebook.
I highly recommend it especially when you communicate a lot with clients and prospects via email and social media.
As for its alternative, there are many other grammar checker apps online. But their reviews aren't as great as Grammarly's.
4. Project Managers
Working with a team can get chaotic, especially when not managed properly. Remember how collaborations were in the corporate world?
As freelancers, we may need to team up with colleagues from various countries who have different cultures, living in another time zones.
Without proper project management, you'll find yourself sorting miscommunications and missing deadlines – stressful, right?
What I use:
I've used 3 different tools for various clients.
It's hard to find fully-functioning free versions, especially if you need them for larger teams.
For collaborating with smaller teams, I've used Trello. This Kanban app is so flexible that you can use it to manage projects.
You can share Trello boards or assign specific cards to members. Everyone can add comments and tag each other, making team discussions manageable.
I've also used Asana, a hybrid task and project management app.
It's free for up to 15 members with paid upgrades.
Its friendly user-interface and email-integration are among its strengths. However, since only you can only assign tasks to one assignee at a time, it works best for supervised teams.
Airtable is what I use for a visual project. I like that it allows creating unlimited project 'bases' that serve different purposes.
Here's an example of what I have for a client:
Each base can function as a spreadsheet, Kanban board, an editorial calendar, and so many others. I haven't explored all its features but so far, it's my favorite project management tool.
5. Note Takers
Whether it's for client instructions or for keeping lessons, taking notes is essential for freelancers.
But if you're a disorganized note-taker like me, you must have taken lots of notes and struggled to find them when you need them.
I like scribbling random notes on my notebook or typing them down on MS Word (whichever comes handy). But just when I need to reference them, I won't easily remember where they are.
I'd have to manually flip through my notes, browse through my hundreds of MS Word docs, or worse, try to remember which filename I used to save it. (argh!)
What I use:
Evernote helps me with this problem.
It allows me to take notes and keep them all in one place. I love that it allows me to create multiple "Notebooks" and that it preserves images and web articles properly.
It's so flexible that I keep multiple notebooks for my journal, e-learning notes, random ideas, swipe files, etc.
A simple CTRL+F search allows you to find old notes using keywords you remember.
Evernote Basic is their free plan that allows you to sync notes for up to 2 devices. If you need more than that, they have paid packages as well.
Alternatives:
Google Keep (see #1)
OneNote is a popular note-taking app from Microsoft. It's completely free (without any device restrictions) and integrates with Microsoft Office. It allows you to stack notebooks and add images to your note.
The interface looks so pretty and I looove the 'completely free' part, I might switch to this soon.
So, there you have them - our list of basic productivity tools for freelancers.
Now, I'm interested to hear from you. How do you keep your day productive?
Are you using any task managers, focus enhancers, grammar checkers, project managers, or note takers in your freelance business?
Tell us your fave apps in the comments below. Talk to you there!
Honorable Mentions: All in One Tools
Recently, there have been a number of 'all-in-one' tools which aim to do most of the above in a single app. These apps are great for note-taking, document organization, and project management without having to switch to another app.
In our team, we currently use Notion, but here are our picks for Top 3 all-in-one tools:
Notion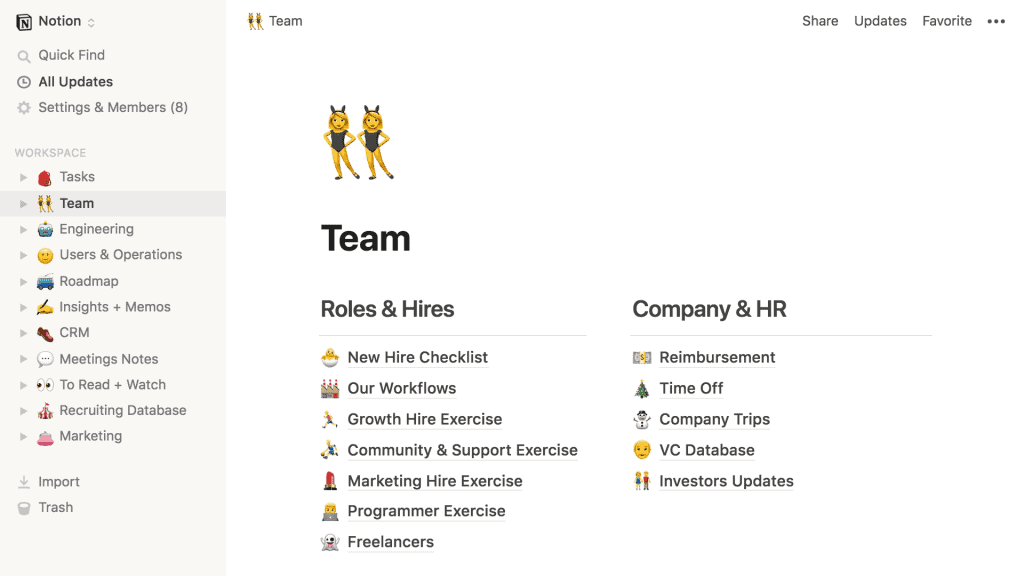 Notion is the all-in-one workspace. From notes, tasks, wikis, to database, Notion is all you need. Works great for teams and individuals. Available in the browser, iOS, Mac, and Windows.
Sign-up for Notion and get a $5 credit here.
Coda.io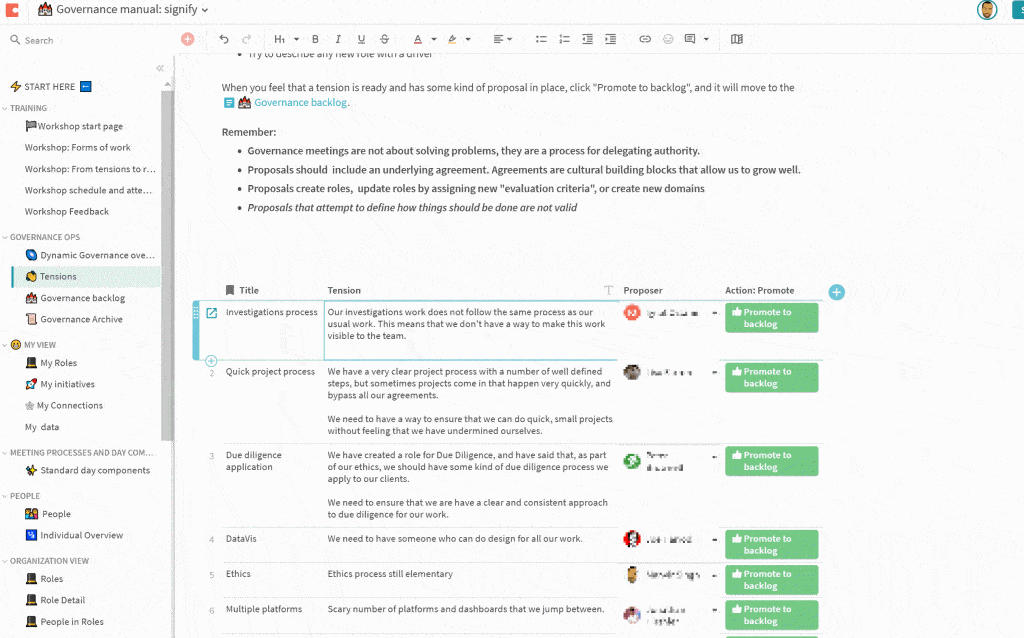 Coda is a new type of document that blends the flexibility of documents, the power of spreadsheets, and the utility of apps into a single new canvas.
You can sign-up for a free account with Coda here.
Milanote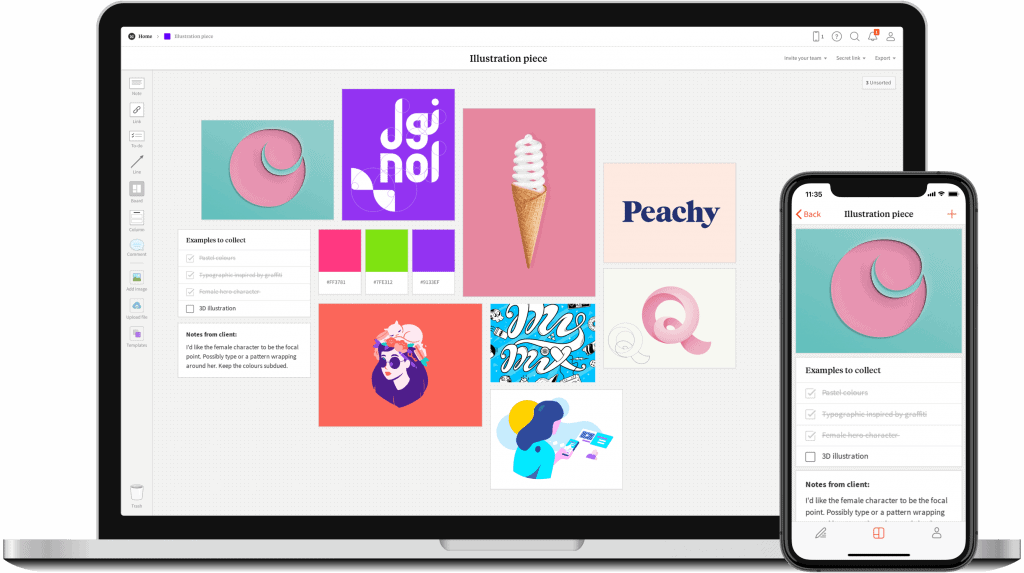 Milanote is a tool for organizing creative projects into beautiful visual boards. By design, it feels a lot like working on the wall in a creative studio - visual, tactile and sometimes a bit messy - Milanote is a great fit for designers who work in teams remotely.
Key Features:
Write notes & to-do lists, upload images & files and save things you find on the web
Organize visually using the flexible drag and drop interface.
Boards by default are a private place to think, but with a single click you can create a shared workspace for collaboration with your team
Milanote is filled with hundreds of built-in templates to help you get started with a variety of different projects, from creating a moodboard to writing that perfect creative brief.
Pricing:
Free version available with no time limit. PRO version $9.99 per month (monthly and annual plans). Sign-up for a free account here.