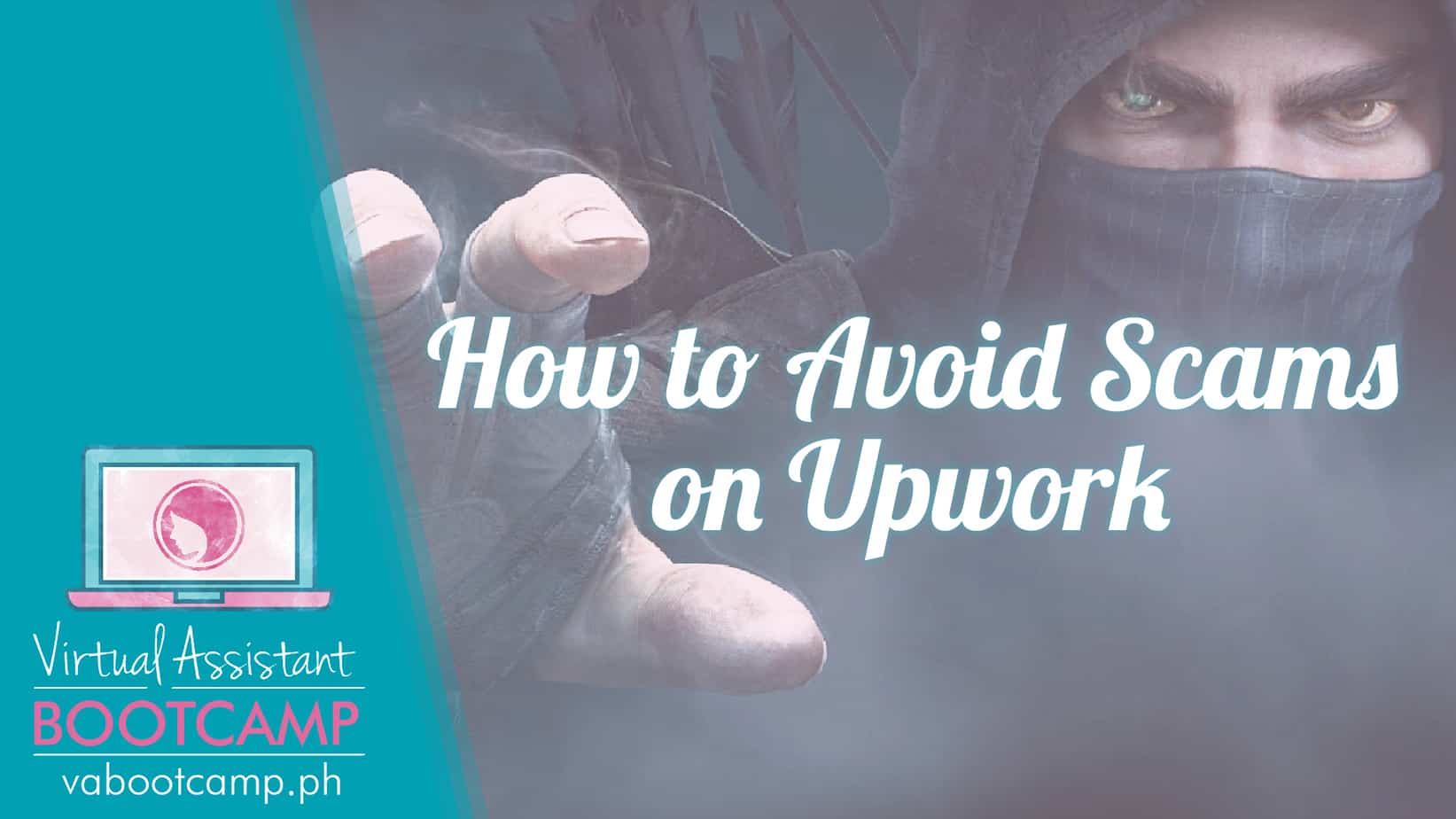 Welcome to Part 2 of our blog series on how to avoid freelancing scams.
Getting tricked into dishonest schemes online is a painful, demotivating experience. Newbie or not, no freelancer should ever fall victim to scammers.
In this post, I'll talk more about Upwork-specific schemes that you should watch out for.
If you haven't read Part 1 yet, I  recommend reading it here first to learn about the golden rules on staying safe online.
Staying Safe on Upwork
I've been recommending Upwork to newbies because of its really good payment protection program.
As long as you follow the golden rules and don't start working on any task without an Upwork Contract, then you'll mostly be safe on Upwork.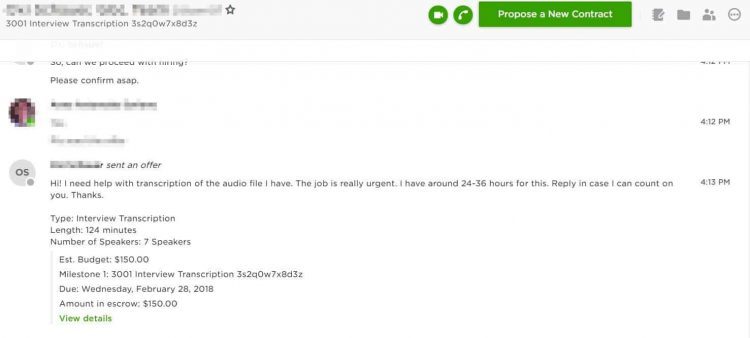 I understand that we'll all encounter confusing situations every now and then, so let's go through common scenarios one by one.
Red Flags for Upwork Scams
Red flags are warning signs of danger. When you accept any of these, you risk not getting paid or worse, getting stolen from online.
STOP and immediately stay away from:
1. Clients who insist on paying you outside of Upwork
I agree that Upwork's 20% service fee hurts. But with its pool of clients, payment protection and conflict resolution, I'd say it's worth it (especially when you're just starting out).
Before clients could send contracts, they'd need to verify their payment methods (for hourly projects) or deposit an amount on escrow (for fixed-price).
So as long as you received a contract, you're sure that the client has linked his/her bank account.
When clients take you out of Upwork, you lose this protection. Even if you get outside contracts, there's no real way to go after clients, in case they disappear after getting your work.
Scammers pretending to be clients know exactly how to charm newbies into going outside Upwork, mostly using the '20% Service Fee savings' as bait.
2. Clients who want to use other time-tracking apps for hourly tasks
Using Upwork's Desktop App, you get paid for hours worked on your Work Diary, within your weekly limit.
Clients automatically get invoiced for your hours every Monday 8 PM Philippine Time (12 noon UTC). The funds get deposited into your account every Wednesday.
If you don't use Upwork's tracker, clients can evade this process.
So be firm and say that you're required to use it as an Upwork freelancer. Otherwise, withdraw from the job and report the client to Upwork.
(Note: This is for hourly tasks only. Fixed price jobs don't need to be tracked 'coz clients make advance deposits on escrow.)
3. Clients who fish for personal information
All the information clients need is on Upwork. If they ask for your address, phone number, bank account, passwords, or other information – don't give them.
Your Skype ID can be an exception because Upwork's Video Calling gets spotty sometimes. Some clients prefer talking using Skype instead.
Although Upwork discourages communication outside their system, I find that you can still give out your Skype ID as long as the client requested it. Other than that, nothing else.
4. Clients who request for documents with sensitive information (IDs, passport, billing statement, etc.)
This may not be as common on Upwork as in other freelancing platforms, but it still happens.
You do not need to give them any sort of proof of your identity, other than what is already on your Upwork profile.
This could be an identity theft modus, so please be extra careful in handing over personal documents.
5. Clients who require you to start working WITHOUT an Upwork Contract.
When clients ask you to do any free work without a contract ('coz they want to "test" your skills), direct them to your Upwork portfolio for samples.
If they insist on seeing company-specific samples, ask them to send a fixed price contract for a paid, test job. Real, high-value clients won't have problems paying for specific samples they can use.
Otherwise, they might be cheap clients trying to get 'free work' by exploiting innocent freelancers. Stay away!
What if the client is 'Payment Unverified'?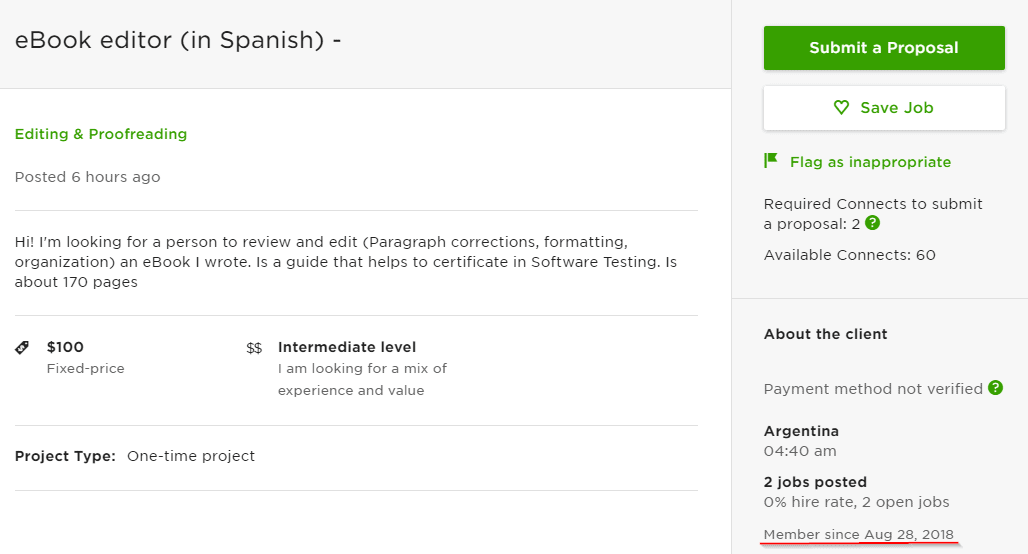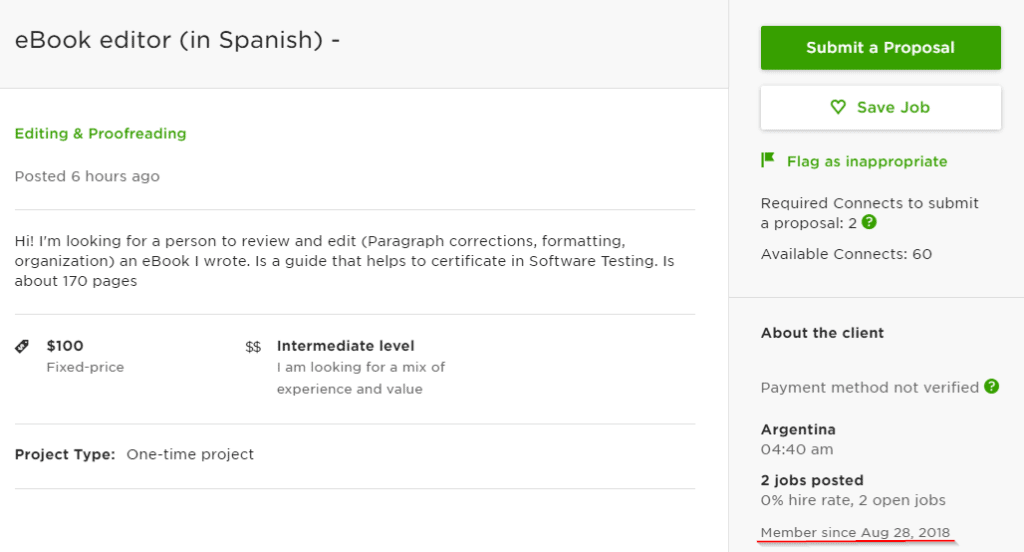 Payment unverified may indicate that the client is new to Upwork. They might have posted jobs right away, before they could link their bank accounts to Upwork – usually because they urgently need freelancers.

You can still apply to 'Payment Unverified' jobs, but remember ALL of the red flags above and DO NOT start any work WITHOUT a contract.
Clients wouldn't be able to start contracts with their chosen freelancers, unless they verify their payment methods.
So again, that contract is a reliable way to protect yourself.
What if the client wants to communicate outside Upwork?
I find that most clients prefer doing interviews using Skype, Zoom, or Google Hangouts- even though they intend to hire from inside Upwork. As a client myself, I also do this because:
I'm used to these apps and they synchronize with my current hiring processes.
These apps perform smoother and better than Upwork's Video Call.
Take note, though, that Upwork discourages communication outside their system. Don't be surprised when you see pop-up warnings as you type the words Skype, Hangouts, etc. on Upwork Messenger.
As much as possible, keep all communications inside of Upwork. But when the clients initiate and insist on using a preferred voice app, that's still fine AS LONG AS he/she hires you INSIDE Upwork.
Green Lights for Upwork Jobs:
On the positive end, there are what I call 'green lights'. These are signs that a client is most likely legit.
These are not client must-haves, but if a client has one or 2 of these, you can be more relaxed.
The client has been hiring on Upwork for at least 6 months.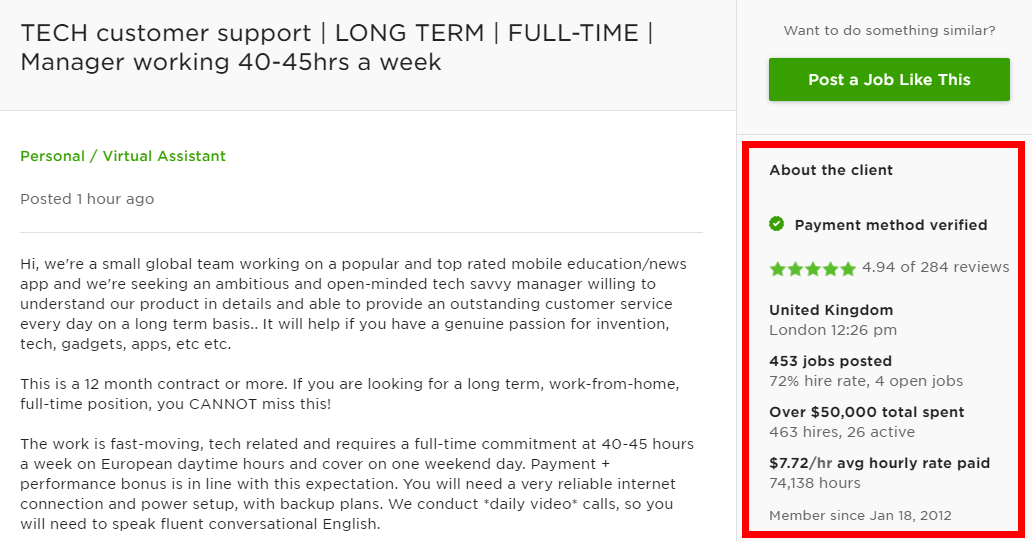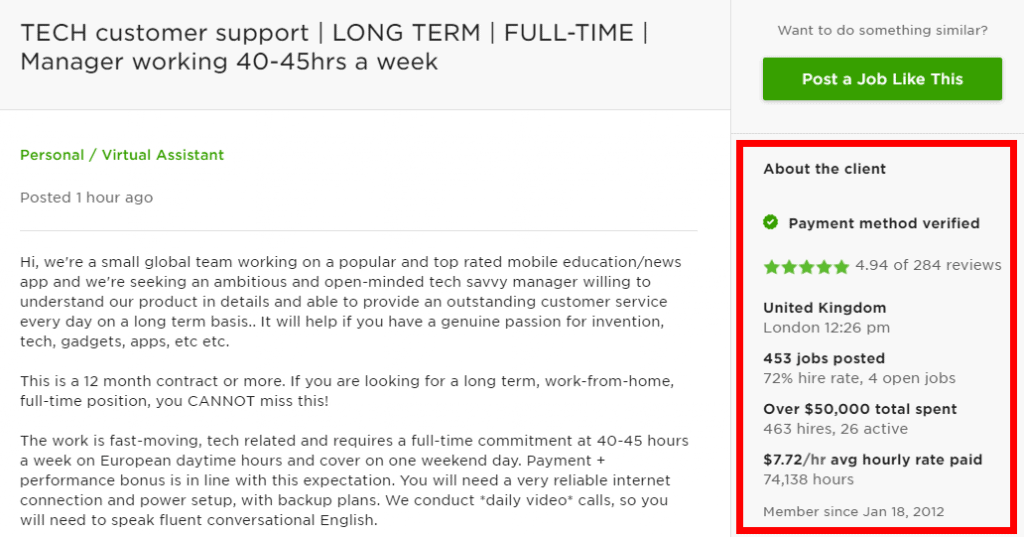 2. The client has paid other freelancers in the past.
The more freelancers they've paid in the past, the better. Just like the screenshot of the client's activity above.
3. The client has a good history and feedback.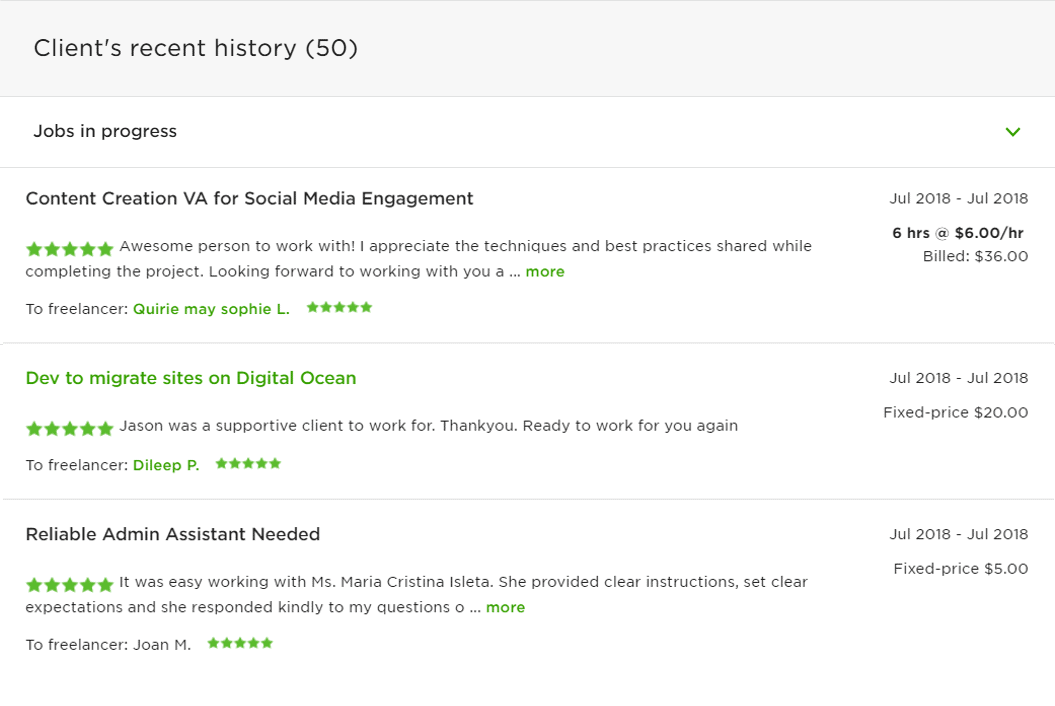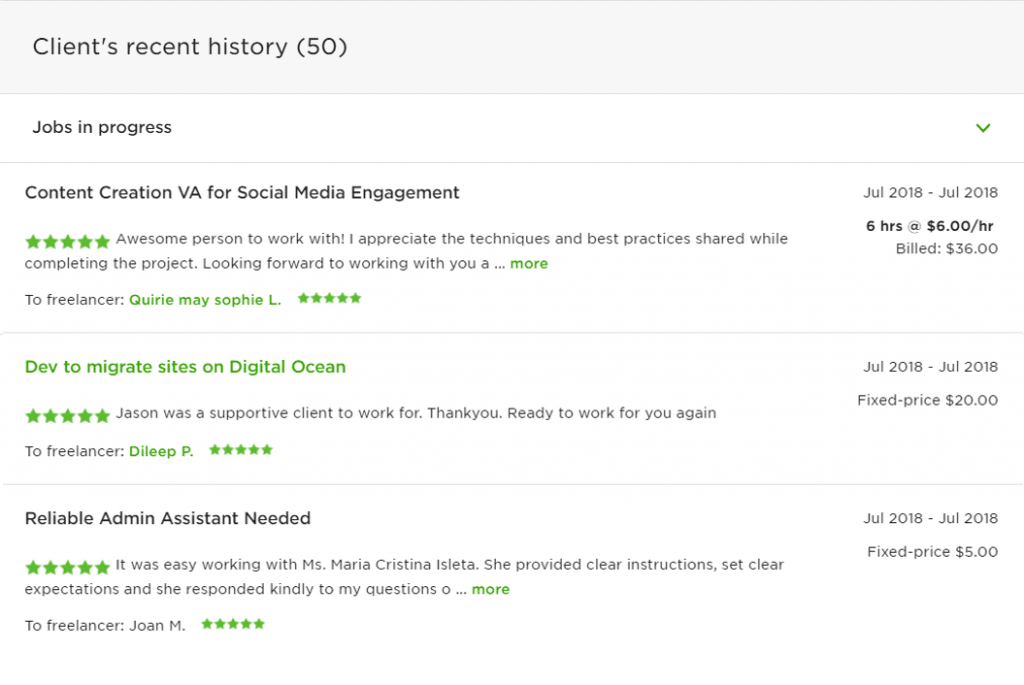 4. The client's business has an active website and Facebook Page.
When unsure, do a Google search for the company name and see if an active website and/or Facebook Page comes up. Nowadays, real businesses always have at least one of these two.
5. You can find the hiring manager on LinkedIn.
If you've been in touch with someone who claims to be a Hiring Manager, do a quick search for his/her name on LinkedIn.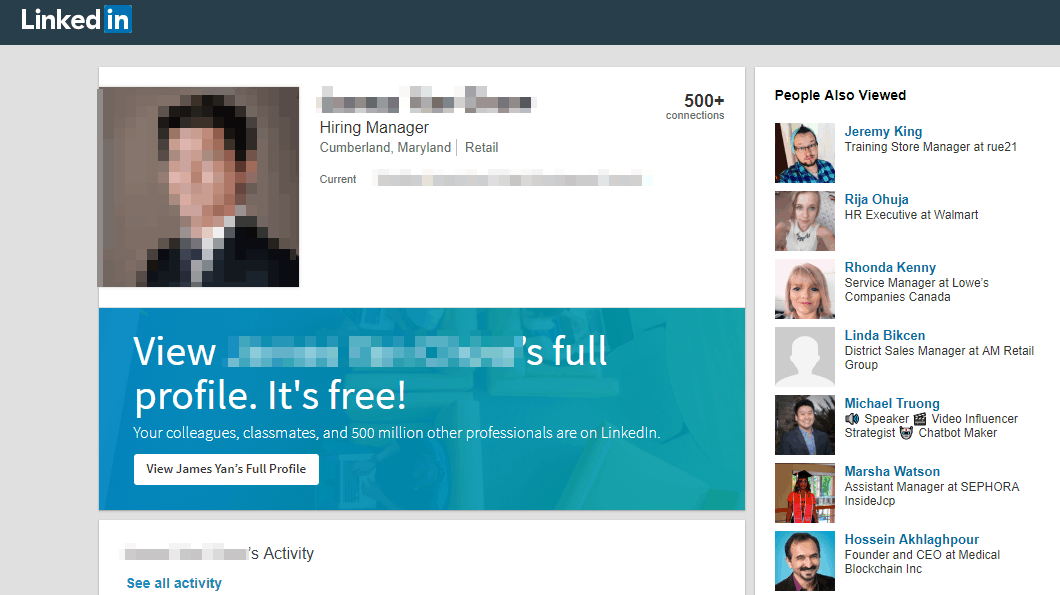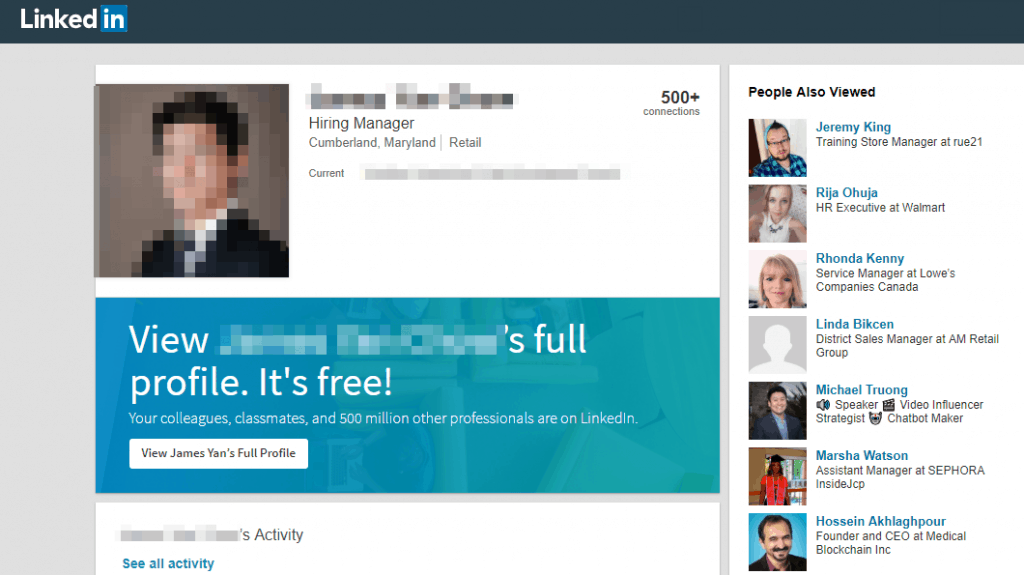 If the clients have one or more of the above,  there's a very small chance that they're scammers.
When in doubt, check the client's profile for green flags and weigh them out against the red flags (if any).
And remember, NEVER start working on any task on Upwork without a contract.
Keep safe and enjoy!
Working online is too good of an opportunity to let pass. I hope you don't let the scam stories discourage you from freelancing. Trust me, there are still MORE success stories online.
While it's unfortunate to hear of freelancers falling for scams, we can choose to learn from their negative experiences to improve our own.
Now that you know how to filter out the red flags from the greens, you can now focus your efforts on legitimate tasks and ignore the rest.
I wish you all the best in your freelance journey.
PS: We highly recommend PayPal when receiving payments (especially when outside Upwork).
A lot of fishy people online will insist that they send you money through Western Union, MoneyGram, or some unknown service. They even send fake screenshots and proofs of payments!
With PayPal, you can easily verify if a client has sent you money (or not). As long as you make sure to log-in to your PayPal.com account (and not a link someone else tells you to click) – you can see all your transactions and their statuses real-time. If you don't see a payment there, the client didn't send it yet.
As a plus, you can receive your Upwork payments (almost) instantly when you link your PayPal and Upwork accounts.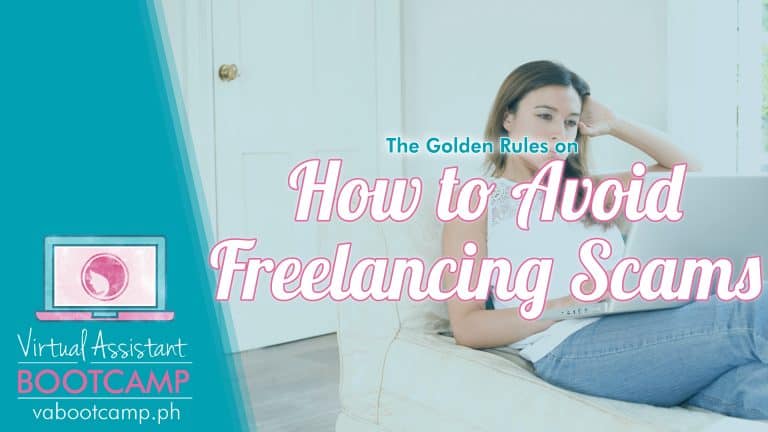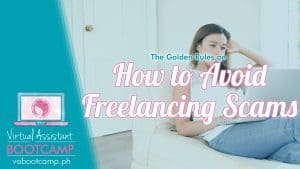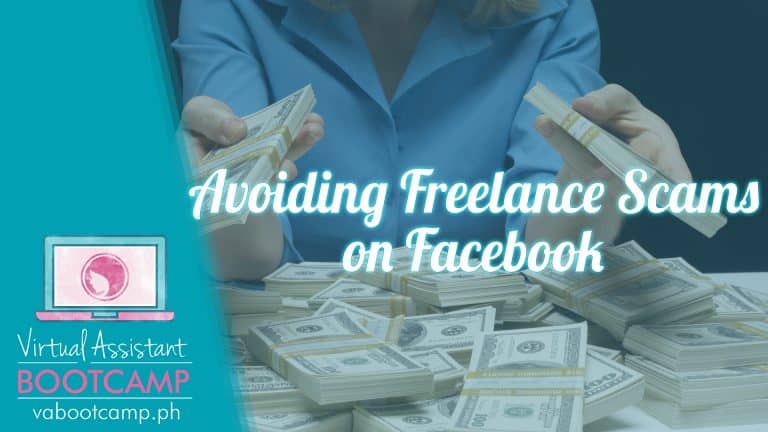 Jason is the founder and CEO of Work from Home Roadmap and VA Bootcamp. Aside from teaching Filipinos how to succeed working from home, he likes traveling, playing board games, and drinking coffee.