Whenever you want to apply for a job, the first thing that most platforms will ask you is to write a cover letter. But what exactly is it? Why should you write it? And what should you say in the letter to get the attention of your client?
A cover letter is typically the first thing your client would see when they encounter your application. Its primary purpose is to showcase how you're fit for the position, demonstrate your value to the company, and highlight your achievements. This basically is your introduction to the world.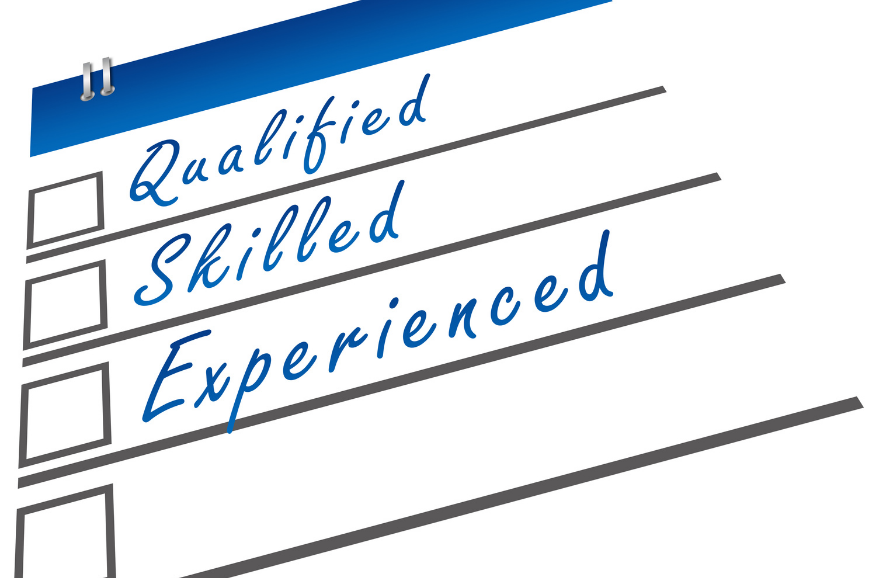 Now, don't start writing down everything that you can think of in the cover letter. You still have to consider this – the person reading your file probably has many other things on their plate. After all, it's the main reason they're hiring a freelancer: they need help to accomplish their responsibilities.
As such, your cover letter should be compelling but concise. Your aim should be to share as much relevant information in the least amount of words possible, all while maintaining your style and personality.
Coach Holly Ocaya has shared an excellent guide to the fundamentals of cover letter writing. If you haven't read it, you should go there first and study it. What I'm about to share builds upon the knowledge Holly demonstrated and will help you write a bulletproof cover letter.
If you have gone through it already, then let's go ahead and dive into it.
Get Your Keywords In
Most opportunities get at least twenty applicants. If you can see in my example below, this specific job post has received 36 proposals. If it takes you at least 15 minutes to inspect each one, you'll be spending 9 hours vetting applicants! And it even doesn't include setting up an interview and preparing a contract.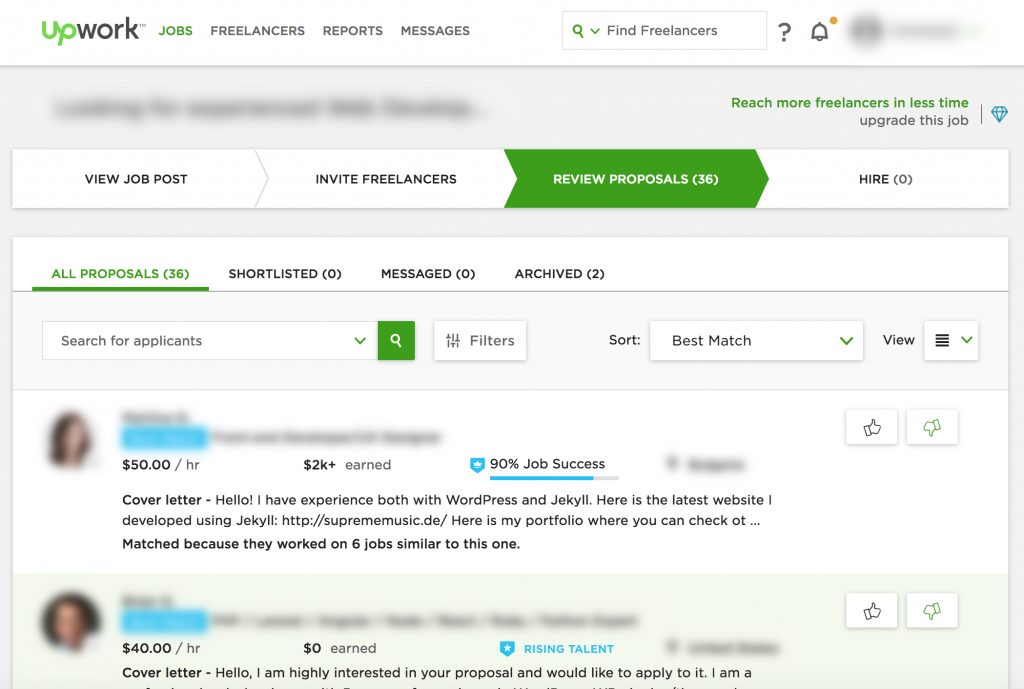 Most clients don't have the time to do that. So they would rely on your statistics and the first two lines of your cover letter. This is where specific keywords come in.
When posting a job, clients will typically put the requirements they need – like the position to be filled and its responsibilities. From there, you can surmise the most important keywords that your client is on the lookout for.
Let me give you an example. Say you're looking for a virtual assistant who can manage your social media profiles, create and upload simple image posts, and respond to messages.
These are the cover letters you see:
Applicant 1
Hi there! I'm interested in applying for the position you've posted. I am a graduate of XYZ University and have trained under ABC Coaching. I have experience…
Applicant 2
Hello! I'm an experienced social media manager. I can create compelling textual and visual posts while responding to inquiries and comments via…
Applicant 3
My name is Juan Dela Cruz. I have recently graduated from EFG College with a degree in Broadcast Communications. I received a Cum Laude award…
Now, tell me honestly. If you only have time to read one cover letter, which would you open?
Find the Client's Pain Points
When you have captured your client's attention, your next step is to secure an interview. How can you do that? What should you say to motivate them to give their precious time and set a meeting?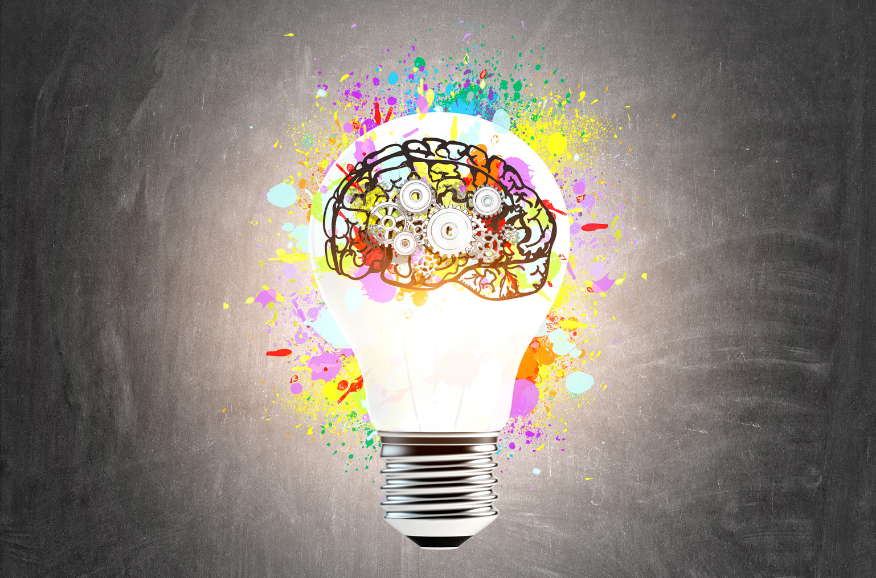 This is where many applicants fail. Although you don't need to write this section to land a job, having this will help your cover letter stand out from the clutter. When you're able to articulate your client's problems and show you are the solution, I guarantee you will land an interview.
So how can you do this?
First is you should analyze the job opportunity. What responsibilities are you expected to handle? What qualifications are they looking for? By answering and analyzing these, you could determine the problem you're expected to solve.
Once you've figured out the issue they're having, you can position yourself as the solution to that. Articulate how you will be an asset when they hire you. Then, expound on it and show them the big picture benefit you will bring to the organization.
Let's go back to the example I shared above. This is how I will answer the pain point:
I know how important it is to have an active and updated social media profile. Through posts and swift responses to inquiries, your online presence will help build trust and rapport with your community. With me on-board as your social media manager, I could help increase brand recognition, thus multiplying your loyal customers.
When you show a deep understanding of your client's business, they would see you as an asset and be more inclined to interview you.
Backup Your Words
Of course, no matter what you say, you have to prove you're capable of assuming the business's responsibilities. This is where you should write down your relevant work experience and training history.
Although you might be tempted to include everything you've ever done in your life, don't do it! Remember, the people reading your cover letter are busy and have other things to do. If what you're writing isn't relevant to the position, they won't be interested in it.
Highlight your significant accomplishments, and if you've worked for big companies, like major hotel chains or famous tech brands, include that, too. Write down quantifiable results and numbers. Be specific about it, especially those which you can prove.
Always, only include the latest, most relevant achievements and success you have!
Your Call to Action
This is going to be your ending. Many would simply say, "I'm looking forward to hearing from you." Although it's an okay, simple ending, you shouldn't stick to it. Be proactive, sound confident, and have a call-to-action (CTA) at the letter's end.
When you're writing your CTA, though, be aware that you don't come off as too demanding or needy. Asking your client if they want to meet you is a good way of securing an interview. However, I personally prefer offering an invitation.
Here's an example of what I would say:
If you like what you read, let's set a meeting. I'm excited to learn more about you and discuss how we could move forward together.
You could also write:
If you're interested, let's meet and talk to see how we could work together. I'm eager to discover more about you and your business. I'd also love to share some of my ideas to help you out.
Conclusion
When you're writing, always consider the viewpoint of the reader. What do they want to know? What information is crucial for them? Be sure that you've carefully studied the opportunity and, if possible, have done some background research on the client.
Also, keep in mind that your client is busy, so you should keep it short and concise. A good cover letter should be no longer than 300 words. Keep your sentences short and easy to read. The rule of thumb is that your paragraphs should be no longer than three lines – or up to three and a half if you can't help it.
Finally, once you've finished writing it, don't forget to proofread. Use tools like Grammarly and HemingwayApp to avoid errors and improve its readability. Lastly, read your cover letter out loud. If it sounds wrong, you probably should edit or revise it. Don't worry, all these tools are free!
A good cover letter is only the tip of the iceberg to landing your first online client. You also must have an excellent profile, plus you should ace your interview.
If you need guidance on these three things, you should enroll in the VA Bootcamp. These are discussed in-depth in the course, plus you'll also get access to coaches who will give you qualified feedback on all these and more! Best of all, you'll be part of a community that will be rooting for your success.
See you inside!