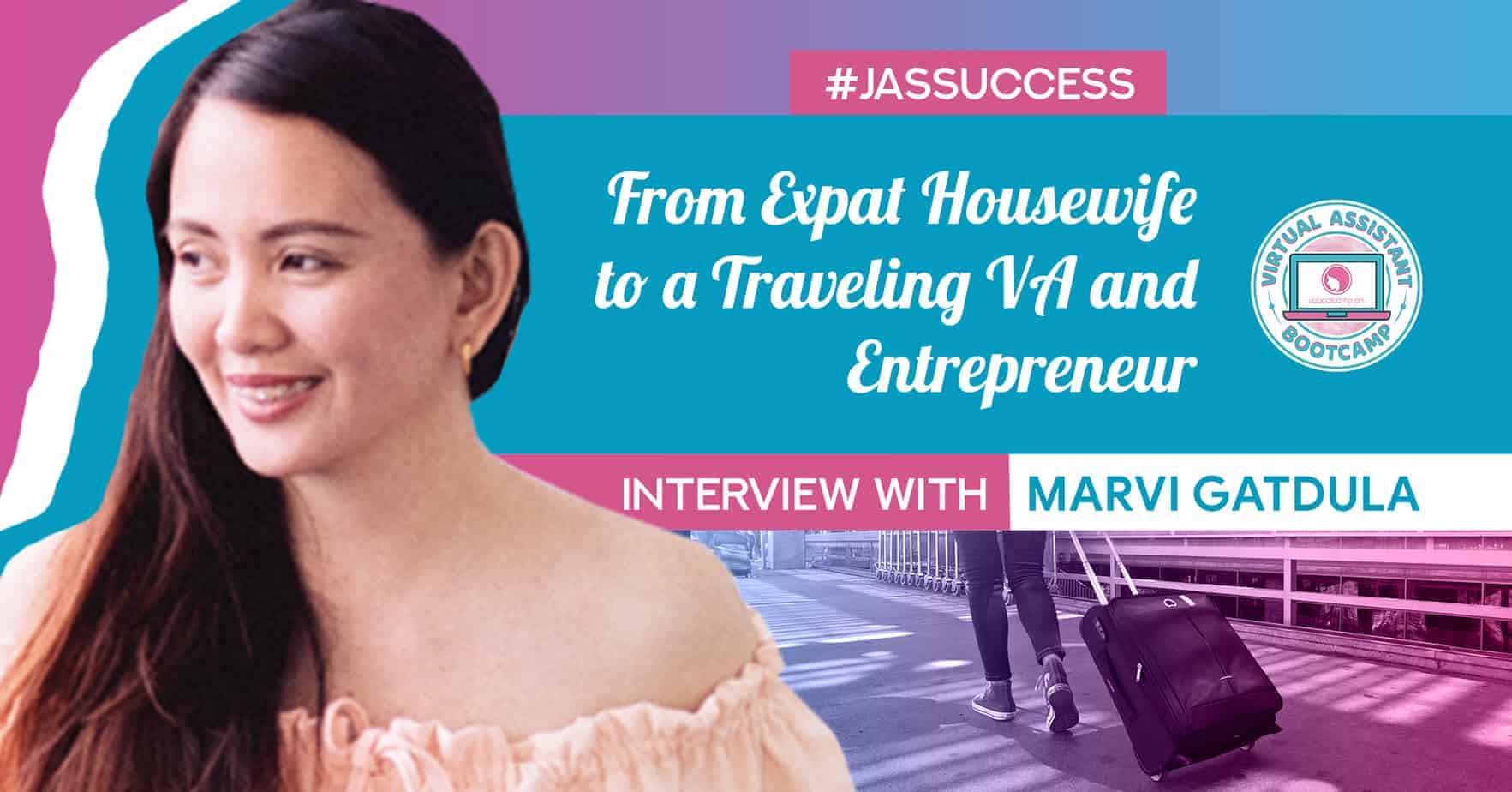 Subscribe to updates
Get updates of interviews and tips via email
From Expat Housewife to a Traveling VA and Entrepreneur – Interview with Marvi Gatdula #JasSuccess
Learn how Marvi faced life's uncertainties back here in Manila and how she conquered them when she discovered about online jobs and freelancing.
Discover her amazing story as to how she was able to turn life's difficulties into a life that is well-secured and having the time to travel monthly with her family and managing a business as well!

In this interview, Marvi talked about:
✅ How She Achieved Her Dream of Traveling With Her Family Through Freelancing
✅ What She Did When She Lost Her High-Paying Client and How She Bounced Back
✅ How Freelancing Led Her to Put Up Her Own Travel Agency
And a whole lot more…
Free VA Course for Newbies
FreeLancing In the Philippines (FLIP) FB Page
Subscribe to Jason Dulay's YouTube Channel
From an Ex-pat (a person who lives out in their native country) Housewife to a traveling Virtual Assistant and at the same an entrepreneur. Witness how Ms. Marvi Gatdula started her career as a freelancer and why did they leave their life and work in Brunei.
Learn from her experience and be inspired by her life story on how she successfully achieved her dreams and goals in life.
Notable Quotes:
Do not be anxious about anything but instead pray for everything, by prayer and petition with thanksgiving, present your request to God and the peace of God which transcend all understanding will guard your hearts and minds in Christ Jesus. Ito talagang verse yung life verse ko and my life testimonies na talagang nangyari saken.
My faith is stronger than what I think before. Binigyan ako ng verse ng ganito, di ko siya memorize hindi ko alam yung chapter verse niya, pag bukas ko ng bible ko yun din yung lumantad so nalaman ko na Philipphians 4:67 pala ito, hindi tayo nagkakaroon ng chance na mabuksan lahat yung bibles naten, we'll just pray, we know He's just there, parang ito yata yung sinasabi nilang Divine Intervention.
2016 August doon ko nakita na marami pala ang freelancing, marami palang work sa online. Nakita ko si Jason Dulay pero hindi ko pa siya pinansin, hindi pa ako nagenroll, ang inaapplyan ko 51Talk." August 6, nag bayad ako kay Jason. Nagkaroon ng Skype Matching Program doon ko nakilala si Bernie Castro. Kinuha kong course sa bootcamp ay accelerated".
Nagkawork ako August na, Doon na nagstart yung ECommerce ko, after 3 months that was October gumagawa na ako ng store. Ito rin yung time na marami na akong invites. Dahil uhaw sa trabaho accept lang ng accept.
Noong nawala yung client ko doon ko narealized na wala pala akong ginawa. That time din kumuha na kami ng insurance, mutual fund, stocks. April and May din nagstart kami magpatayo ng 2 apartment.
Grade 2 palang ako iyon na gusto ko, dream ko at goal ko to travel the world, tapos bigla na lang mawawala dahil nag-asawa ka na, Parang narealize mo na hindi pala totoo na mare-reach yun kasi mahirap pa lang i-reach.
Yung thinking ko at meaning ko sa pagfe-freelance nag- upgrade din, before gusto ko lang bilhin noon ay gas range, pero unti- unting nag upgrade siya hanggang sa magkakaroon ka ng struggle ka, maiisip mo kailangan mong maginvest, talagang paplantsahin mo na lahat."
Yung goals naming nagiba na, yun ay ang pag-travel na, kailangan e-maximize kasi work from home ka na, magkaroon ng time sa family. Doon na nagstart na ituloy yung mga pangarap naming na magtravel."
Marvi's Journey to Freelancing
She is a Graduate of Banking and Finance, she also took courses in Caregiving.
She worked as Sales Representative in Brunei.
2004, she meets her husband who was a Multi-Media Artist and started to establish their own family in Brunei for 10 years.
2014 they went back to the Philippines and put up a business.
2016 she enrolled in VA Bootcamp course and got her first online job as E-commerce VA, through the help of her friends. She became the manager at the store where she was working.
After 3 months of working online, they have also started to create an online store. And now she owns a traveling agency.
February of 2017, she was earning 6 digits.
Traveling the world is one of her dreams and now she maximizes the benefits of freelancing by traveling to different countries with her family.
Q and A Highlights:
Ano po ang work niyo as e-Commerce VA? Yun din po kasi ang gusto kong pasukin.
Manager, pero nung nandun pa ako kay Bernie, Order Fulfillment lang ako. Madali lang kasi ang eCommerce, mas nauna kasi si Bernie siya na nagtrain sa amin.
Saan mo inaral yung e-commerce?
Nung nagwowork na ako, kasi totally wala akong alam.
Masasabi mo bang nakatulong si VAbotcamp sa journey mo sa pag pe-freelancing and anong tips ang maiiwan mo sa mga newbies na kagaya naten na zero knowledge.
Napaka open na ng freelancing, magpush lang tayo na mag apply lang ng mag apply. Alamin mo kung anong gusto mo, tingnan mo kung magiging okay ba to sa aken. Kung makakuha ka ng isang skills na talagang alam niyo na mageenjoy kayo pwede din na doon na muna kayo. Pero kailangan din naten mag upgrade, wag tayo mag settle na okay na ako sa pangarap ko.
Jason is the founder and CEO of Work from Home Roadmap and VA Bootcamp. Aside from teaching Filipinos how to succeed working from home, he likes traveling, playing board games, and drinking coffee.