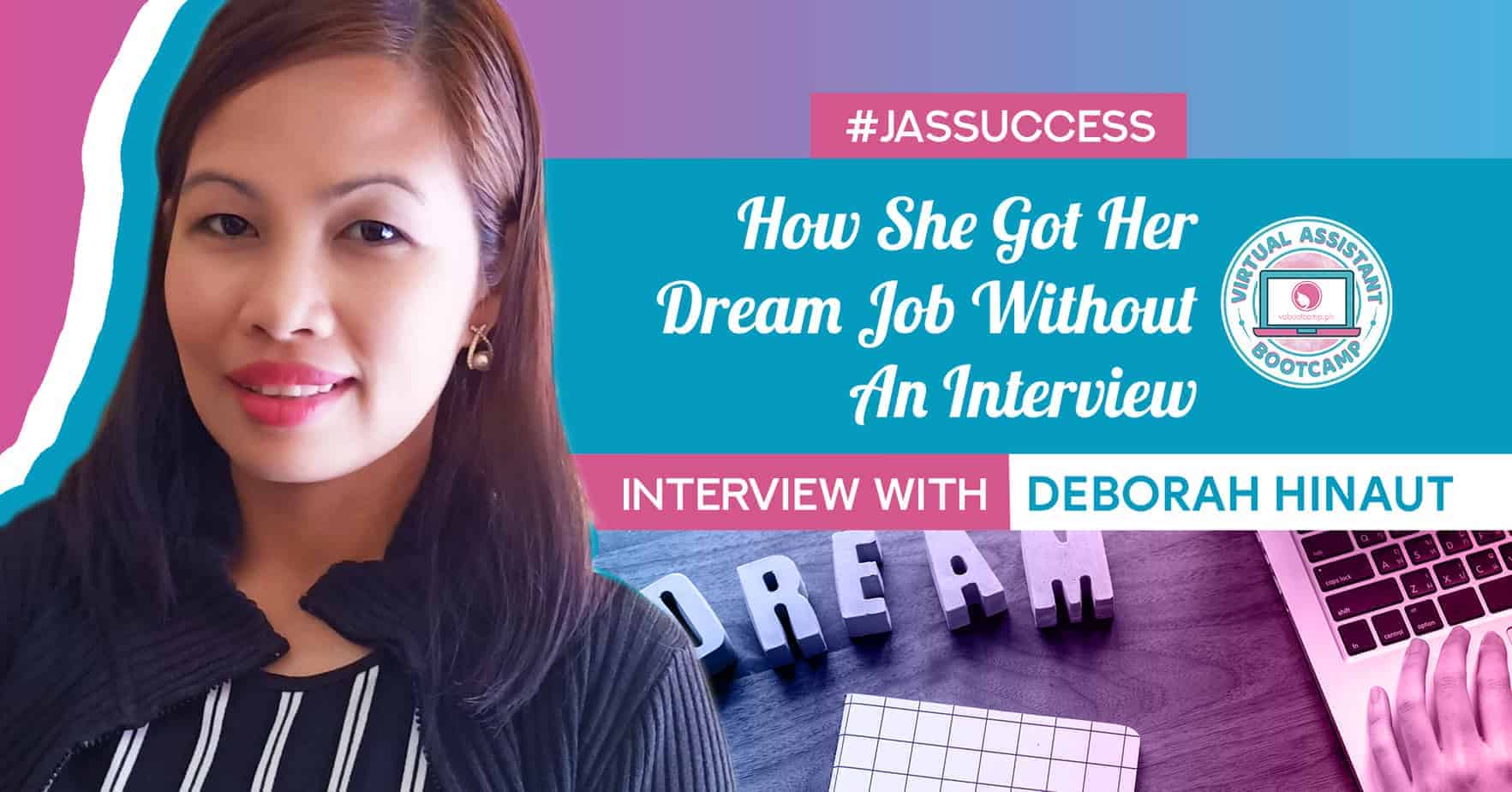 Subscribe to updates
Get updates of interviews and tips via email
Watch this video as Ms Anna Soriano and Ms Pinky Anicete interviews Ms Deborah Hinaut on how she started out with her freelancing career, her journey in over ten years working in a corporate world, many struggles along her way while she was in her work outside freelancing and now as she focus her freelancing career.
Find out why she pursued her full time job in freelance and her goal to be a successful full time mother. Her story in her freelancing career would be inspired with mostly mom out there and surely it can give motivation for everyone who are dreaming is to be with their family at home while working.
And a lot more…
Free VA Course for Newbies
FreeLancing In the Philippines (FLIP) FB Page
Subscribe to Jason Dulay's YouTube Channel
Notable Quotes:
Sa pag umpisa need lang is "discipline sa time, kung sa time pa lang hindi mo maaayos sa time pa lang hindi mo malalaman ang "step by step" na gagawin mo as freelancer.

"mahirap kung pagsasabayin lahat, hindi ka diciplinado sa oras.

Ang ginagawa ko meron ako mga "notebook per client"at gumagawa ako ng "to do list"

May "kanya –kanya silang notebook na kina 'categorized ko ang 'short term task na mga "priorities"

"maging resourceful" kailangan mo mg initiate at matutunan kung anu ang mga webtools na kailangan sa freelancing ,sa online job.

"kailangan mo siya pag aralan, mag "take action" kung papaanu mo matutunan yun.

"Struggle sa umpisa pero kung nandun ka na hindi mahirap sa sarili mo pa lang matutunan muna sa sarili ang "determinasyon,disciplina at tiyaga".

" hindi mawawala kung meron ka yung mga ugali nun', yun' ang magiging "foundation mo"para maging "ok" k sa freelancing.
Deborah's journey to freelancing
She is working in a corporate world more than ten years and once she experience having three work but never satisfied with the work because it will not lead her to be regular employee.

She help her brother financially in his study.

She was hired 2005 as sales personnel and transfer to importation and continuous work from 2005- 2018.

She was staying in a staff house but mostly only few and special employees only are allowed to stay there.

She stayed single during 2005 to 2013

She meet her husband after 2013 and it was her school mate since high school, they are also in the same place to live in.

She have a communication with her husband back 2012 and upcoming year 2013 they planned to get married.

She got pregnant with her first baby but got miscarriage for about two months only,

She was finally happy when her husband decided to move to Bulacan and buy a house for them to live in because from her work it takes one hour away from her house, compare in their province it took much time to spend in traveling every now and then.

She got pregnant for a second time and got miscarriage again but praying to the Lord that she will quit to work if she got pregnant again.

She got pregnant again for the third times but never expecting to have a child, and that's the only child she have right now.

She found out she got pregnant and her doctor advises her to complete bed rest and she file an indefinite leave in Oct 21 for three months. But after three months she was not yet Ok but the doctor advise her to complete rest until she will deliver her baby.

She has also struggling a minor injury in her back "lumbar' which she think to plan to resign again.

She start to access the free VA course in work from home that's the time she ask her husband to buy a computer set because she need to find a job online.

She do her course every time she is traveling to work until she finished the course.

She finished the course within July 13-27 but the assignment were not yet done.

She got a rising talent in August and client has starting inviting her to the work.
Q & A highlights
How did you find out about freelancing?
During pregnancy ko si Work from home dumadaan na sa wall ko", yung babae buntis ata yun at may baby na laptop,siguro kasi ng sesearch ako ng online job di ko alam paanu siya ng spsa wall ko", meron talaga Work from home panu kaya ginagawa nito. Panu kaya subukan. D pa rin ng sink in sa akin ngtry pa rin ako every month kung baga wala akong memo, tuloy lang!sa trabaho. Nung ng brobrowse ako ng free VA course pgka July, once na mg sign up k kc may email ng automatic na sa email mo, doon nababasa na wala ng lifetime access after July 15, sabi ko, kailangan ko mg enrol kasi saying ang lifetime access, sabi ko puede naman ng instalment. "Accelerated ". July 13 ng enrol ako sa VA bootcamp , july 13-july 27 natapos ko ang course, ang ginagawa kung time para sa courses ko ang travel time. "sa commute doon ko natapos" sabi ko sa sarili ko pag natpos ko ang course na ito kahit isa lang mag reresign na talaga ako.
What are your strength in facing struggles in life?
Yung time na ako ngbantay sa baby ko, at pgdating ko sa work yan yung time na nkainom siya ng baby oil , kasi busy ako sa kaaplay kasi pgdating ko sa work , kasi pgdating ko ako na talaga bahala sa anak ko, yun time pg alaga sa anak ko kasama ko siya sap g aaplay so nkaligtaan ko siya na nakuha ng baby oil, yung anu nay un di ko alam anu gagawin ko kasi tumawag ako sa nanay klo sabi nya, dalhin ko sa doctor,.. sabi ko ngn time nay un ito na ba ang warning na mg resign ako sa trabadho, Lord" bigyan mo ako ng trabaho mgreresign agad ako."
Did you accept job offer while you are facing problem?
August 13 madami ng offer hindi ko na napapansin,meron ng contract offer sa akin first time na nasa hospital kmi nun. Sabi ko meron pa lang ganun na "walang interview" kunbaga d ako ng submit ngn proposal, siguro dahil sa tinignan lang profile ko,so contract offer kaagad, hindi rin siya ngsabi , basta sabi niya "ito lang gawin mo", research task yun! Sa excitement ko "hindi ko binasa"yung job description inaccept ko lang kaagad,"grinab ko na kaagad, which is "mali" dapat kasi basahin anu nkalagay dun.dahil may na miss akung information doon, kasi saying kasi bukod doon sa research meron siya inoofer sa akin na full time assistant niya sa social media. Doon ko na realize papaanu ko gagawin ang trabaho na nasa hospital ako, wala akung laptop , kung uuwi pa ako ng bahay papaanu ang anak ko sa hospital, unfair din sa anak ko. Nglalaro ang isip ko, pero tinaggap ko na ang trabaho, paninindigan ko to'.
Anu ang tip mo sa mga new freelancers?
Kailangan lang talaga yung pag umpisa is discipline sa time aksi sa time mo lang kung baga hindi mo siya mababalance hindi mo maaayos step by step na gagawin mo as freelancer kasi ang pagiging full time mom, may full time job pa, kung kagaya ko na marami ng client ay mahirap na pgsasabayin mo lahat na hindi ka diciplinado sa oras. Meron ako notebook, hindi ko siya pinagsama sama, kina categorize ko yong short time task ko . kailangan ko maging resourceful sa mga webtools, kailangan mo mag initiate, kailangan mo pag aralan para matutunan mong gawin. Kung nandun ka na hindi mahirap kung bigyan mo ng determinasyon, disciplina at tiyaga, yun ang magiging foundation mo.
Jason is the founder and CEO of Work from Home Roadmap and VA Bootcamp. Aside from teaching Filipinos how to succeed working from home, he likes traveling, playing board games, and drinking coffee.