You should never take eggs from one basket...
No, that wasn't a mistake.
It's my not-so-original way of saying that freelancers should never source clients from just one platform.?
Some of the highest paid freelancers I know get their clients from a mixture of sources - platforms, agencies, and cold-pitching.
(If this is just the first profile you're creating, here's our other blog post on creating an Upwork Account.)
If you're just starting out, I recommend experimenting with different platforms first.
And once you get comfy in marketing your skills, you can then explore other more advanced methods.
How to Create an Onlinejobs.ph Account:
1. Go to https://www.onlinejobs.ph/ and click on the Register link at the upper-right corner.

2. Click on "I Want to Work"  to get directed to a sign-up form.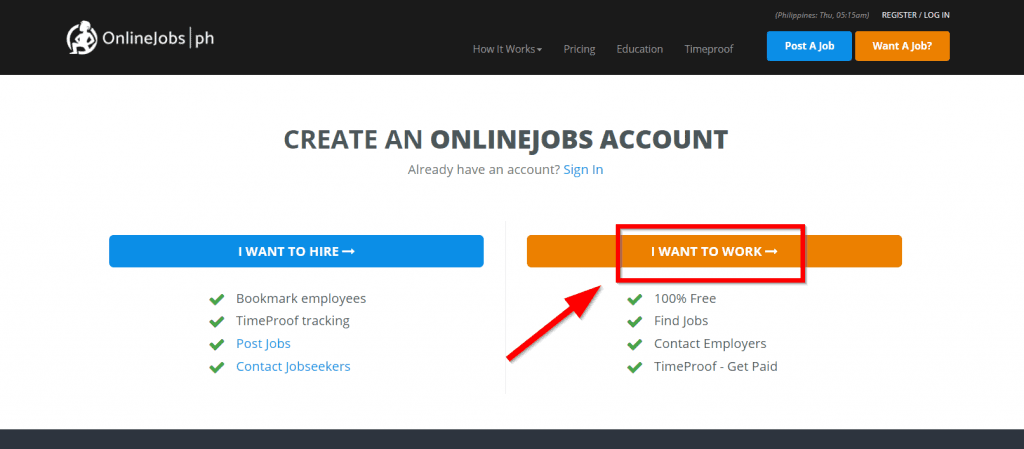 Fill in all your details, including your real Facebook account (not just some new Facebook account you created for freelancing purposes, coz this will affect your ID Score).
Once done, click on Register.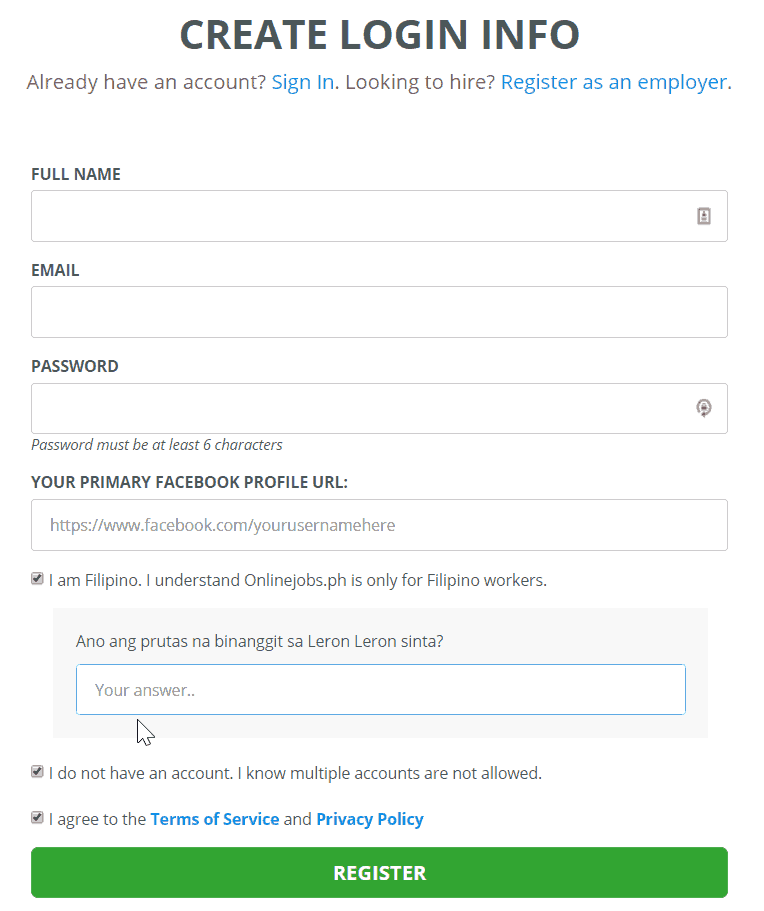 3. Check your e-mail for a confirmation message. Open it and click on the verification link to activate your account.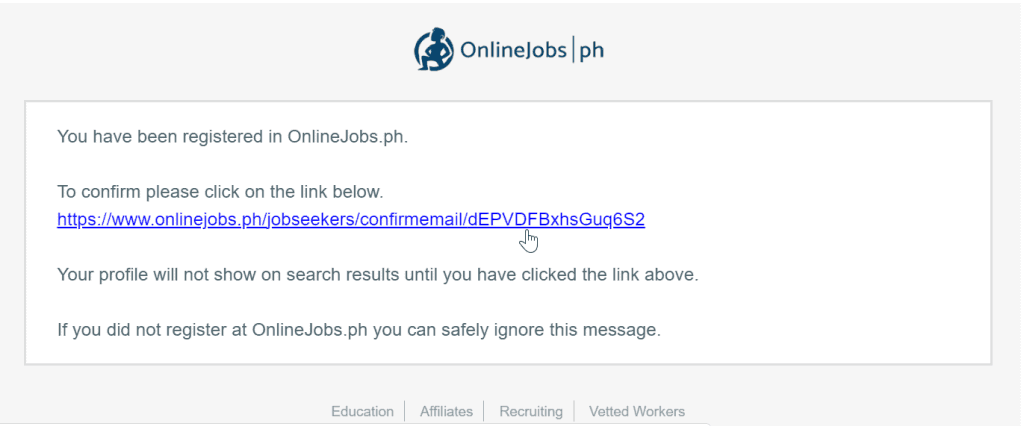 4. Now, you're ready to start creating your freelancing profile.
Remember that this will be your business profile where potential clients can see you.
Do not rush this process and take some time to describe yourself and background properly.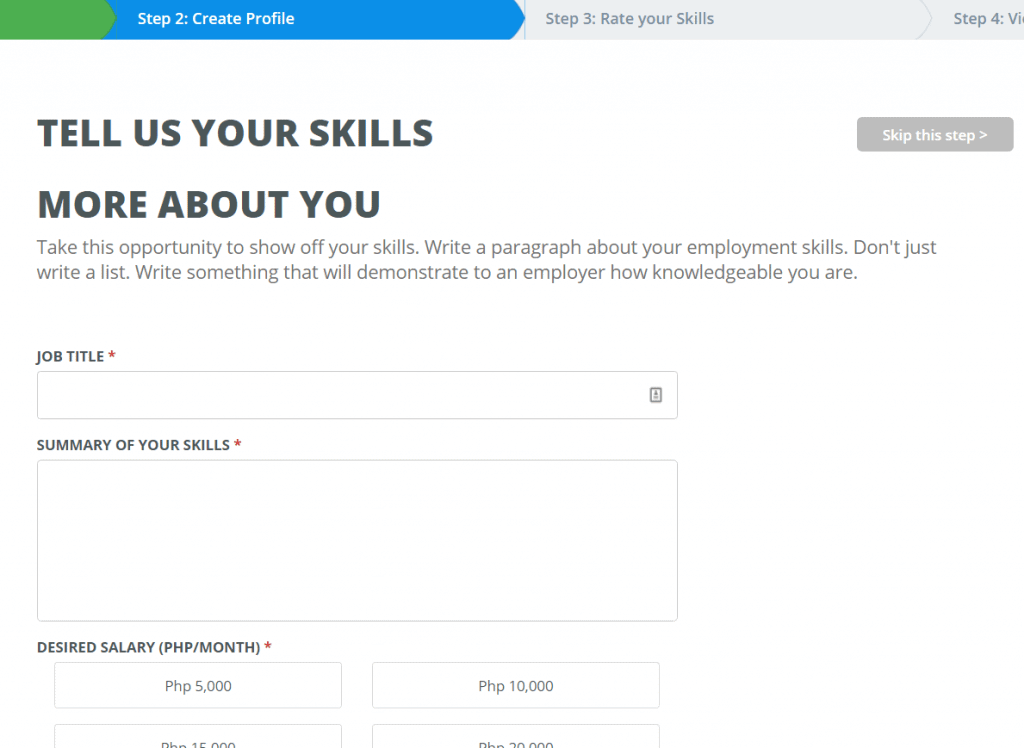 Here's how the entire form looks like: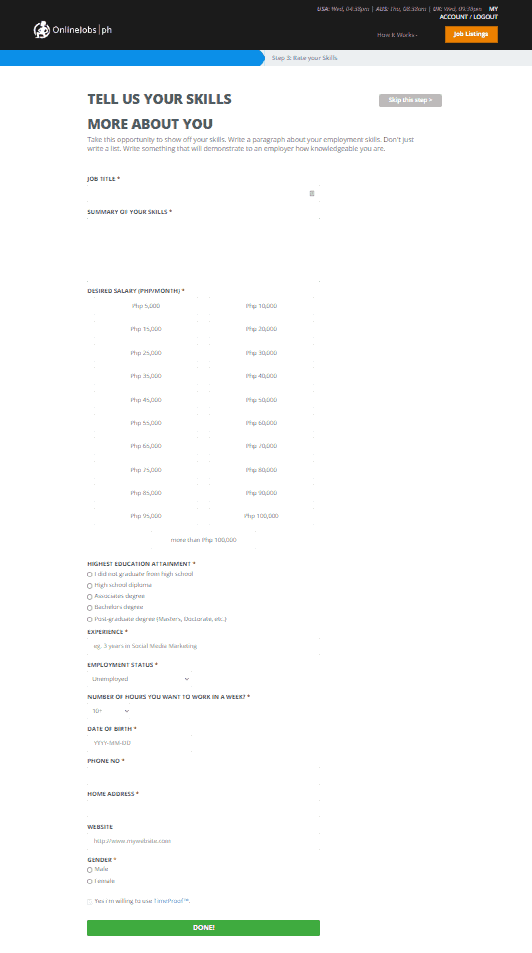 5. As freelancers, our skills are our main products.
It goes without saying that you should also set aside time to rate your skills.
Onlinejobs.ph has over 10 different skill categories. Don't forget to write an Overview below each category so that potential clients will have a clearer picture of what you can do.
Again, don't rush this part.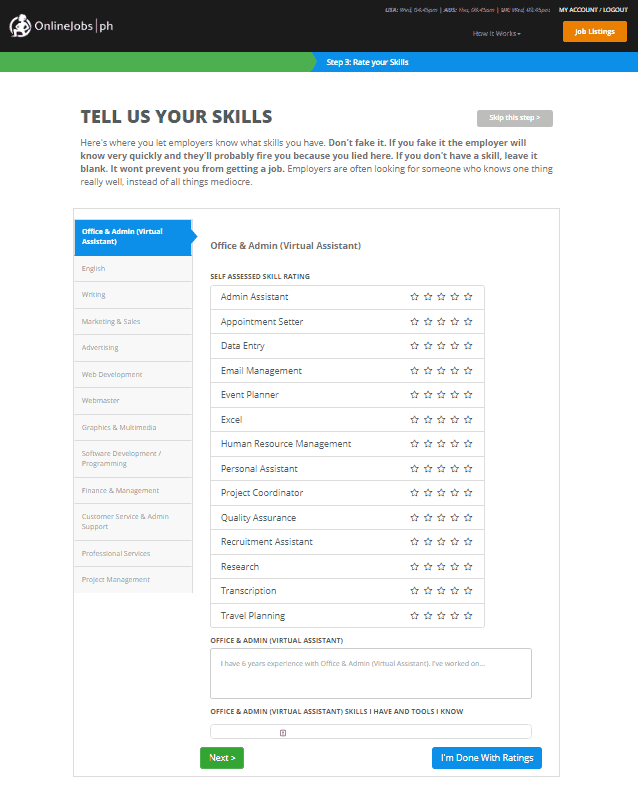 Once done, click on "I'm Done With Ratings."
6. Congratulations! As Onlinejobs.ph puts it, you're well on your way to having an online job!
You'll get prompted to either view your account or to start applying for jobs you're qualified in.
I know you're excited to start applying for jobs, but since you're awesome, let's go ahead and check how your account looks like first.

7. Ooops, there it is! Our newly created profile! ?
It looks plain though. To prettify it, go ahead and add a best-looking photo of you.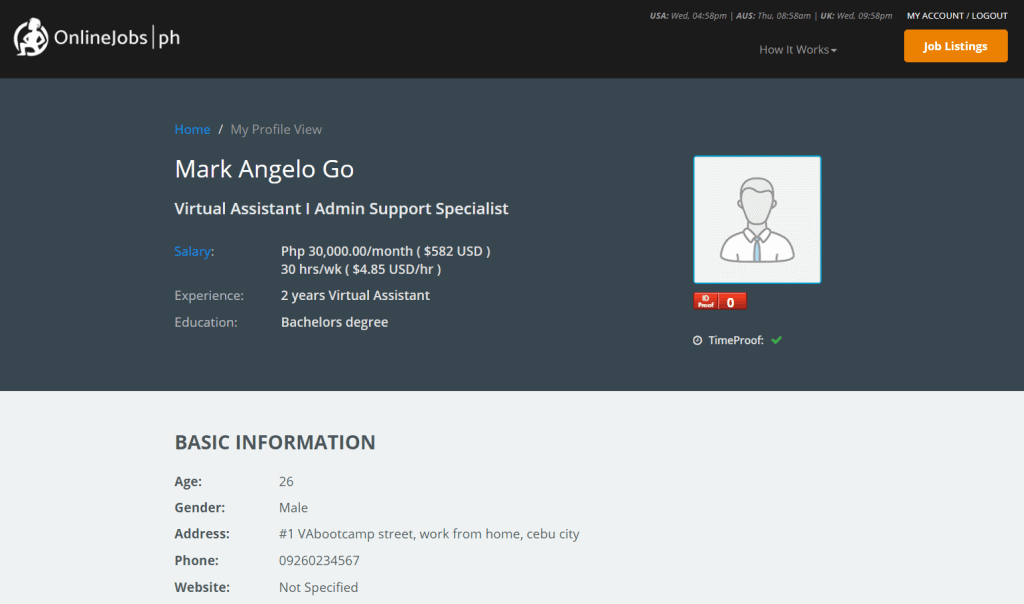 Let's click on My Account at the upper-right to do this...

Onlinejobs.ph suggests a couple more steps to increase your chances of getting hired...
And since we're siguristas, let's go ahead and do EVERYTHING.
We'll skip taking the proficiency test first and start with the easiest suggestions.
We'll go back to it later.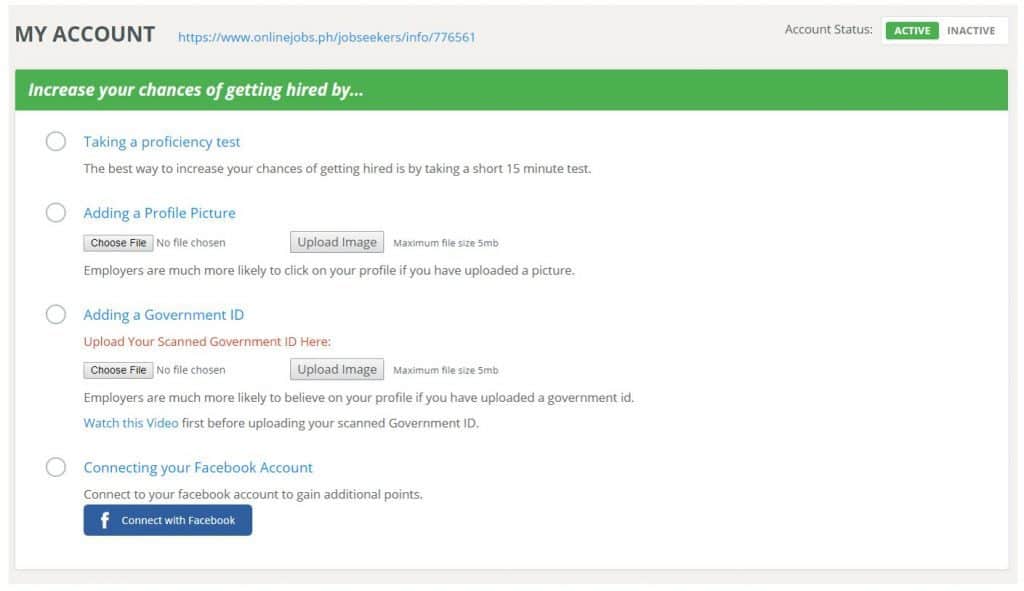 8. First, let's add your profile picture.
Remember, use your best professional picture here - no cropped groufies, wacky shots, or "I woke up like this" photos here.
For examples, check #12 on our other blog post here.

9. Next, upload a government ID so that Onlinejobs.ph can verify that you're a real human being.
VERY IMPORTANT: Protect yourself from identity theft by blurring out sensitive information from your IDs. Online platforms will only need to see your photo and full-name to verify your identity.
Make sure to blur out any addresses, date of birth, passport numbers, other ID numbers, etc before submitting IDs to anyone online.
For more details on how to blur, click on the Watch this Video link provided by Onlinejobs.ph.

10. Since almost everyone is on Facebook, connect your real Facebook Account for more proof that you are who you say you are.
Your name on Onlinejobs.ph and your Facebook name must match (no aliases or weird nicknames).

11. Now, let's go back to the proficiency tests.
I know, I know. Quizzes are no fun but honestly, they're still the best way to prove your competencies online.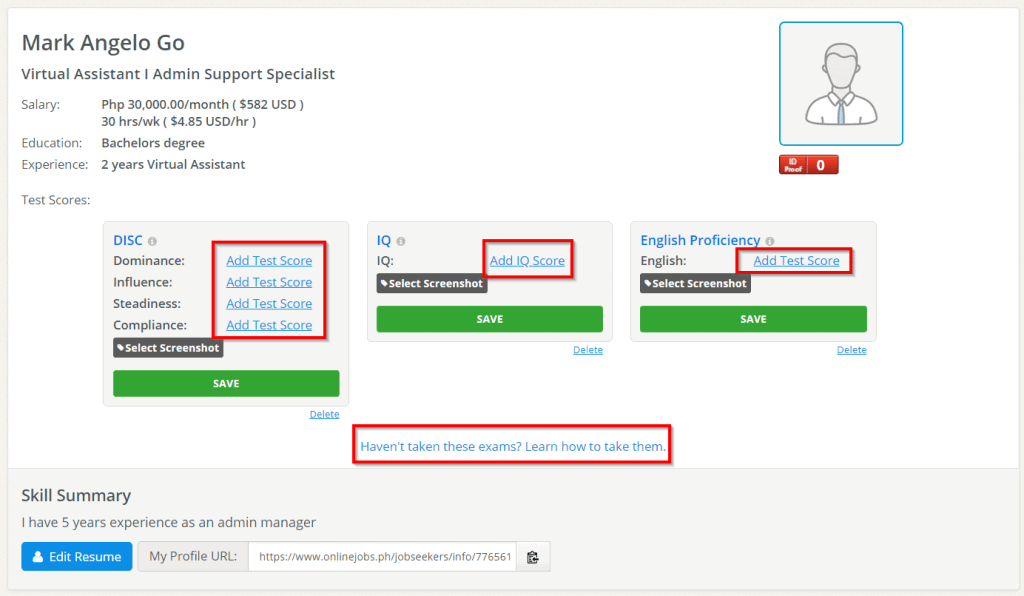 Again, take your time to answer these properly. Aim for decent scores, especially for the IQ and English tests.
The DISC test is a personality test, so just make sure to answer it honestly.
Don't forget to take screenshots of your results so you can upload and enter your scores! ?

12. Hurray! Now that you're done with all 3 tests, you are now ready to go on a job-hunting spree ?
Simply click on the Job Listings button at the top to start.

Onlinejobs.ph has various job categories to choose from.
Let's try clicking on the Writing button.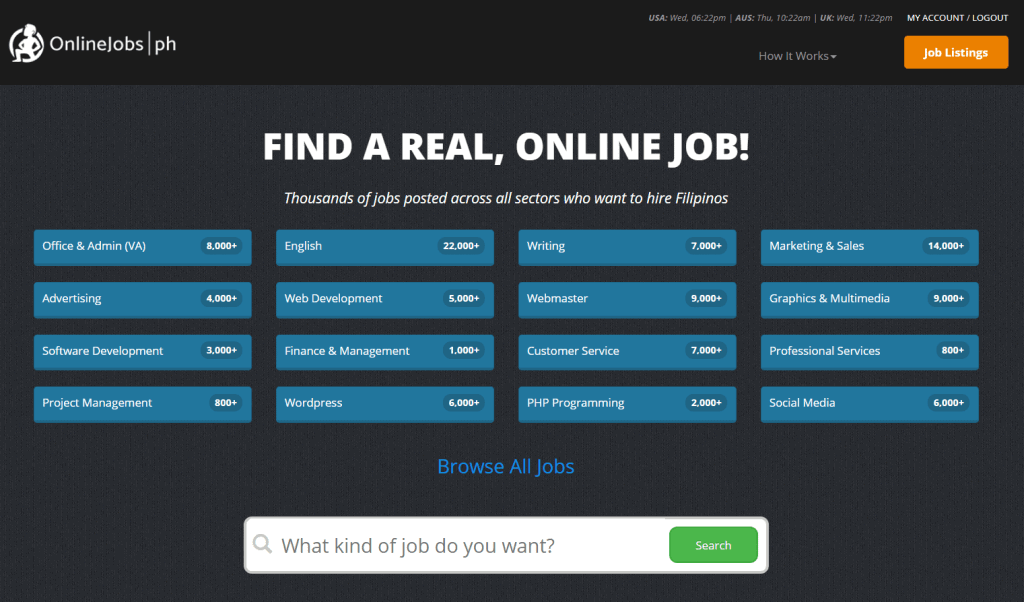 As of my time of searching, there are thousands of jobs under just this one category!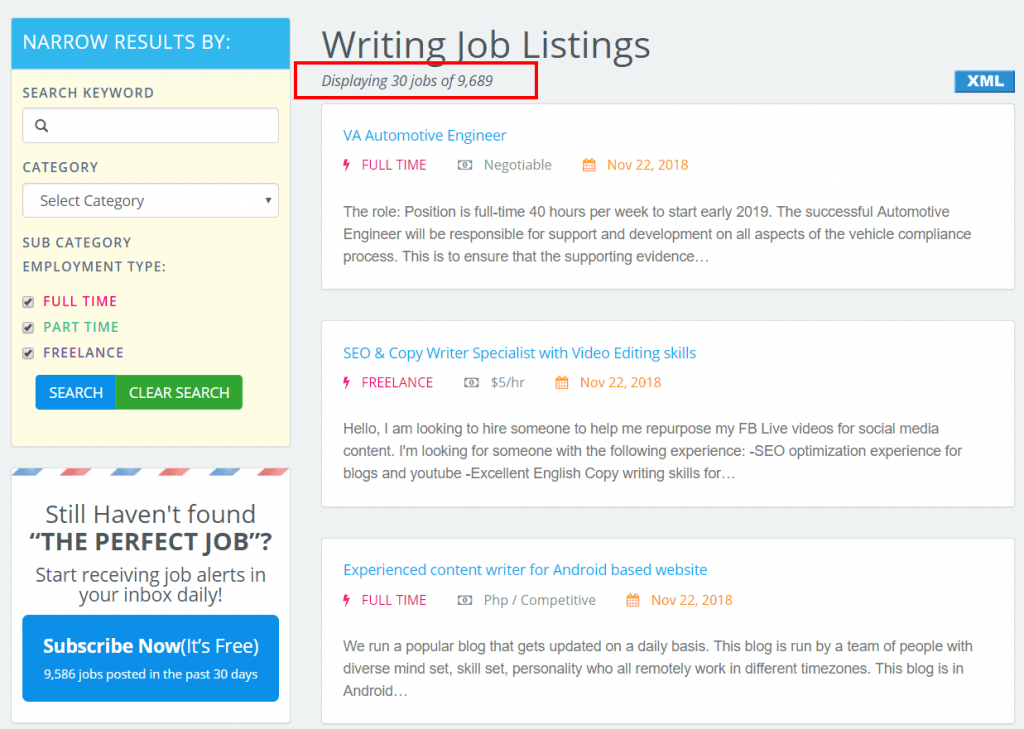 13. Go through each job post by clicking on the job titles that interest you.
When you find one that matches your skills, simply click on the red Apply button to submit a cover letter.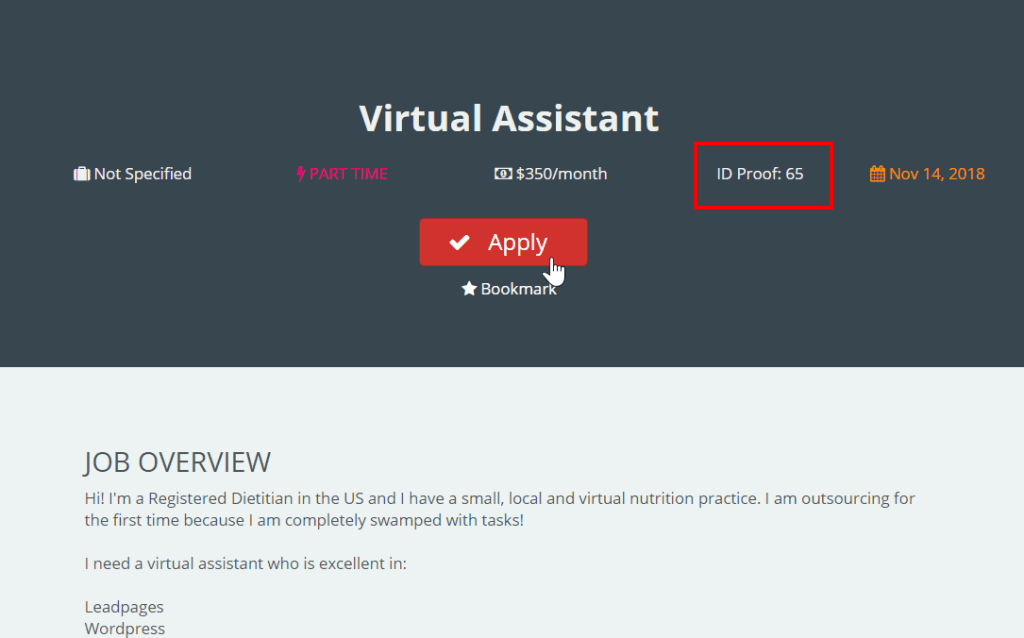 14. As shown on the image above, you can see the company name, schedule category, budget, ID Proof requirement, and date of posting (the more recent, the better) in every job post.
The ID Proof requirement varies, depending on what the clients prefer.
In this job post, the ID Proof requirement is only 65. Of course, the higher your ID Proof, the more jobs you can respond to.
Onlinejobs.ph hasn't disclosed how they compute for ID Proof.
But following all of the steps above, I got an ID Proof of 90.
Not bad for a start, although I know other freelancers with an ID Proof of 99.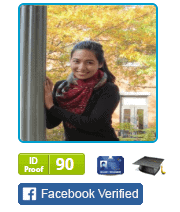 Here's how Onlinejobs.ph describe ID Proof in their official jobseekers' FAQ:

There you go!
I hope you found this guide helpful. ???
Now that you're ready to submit cover letters, let's make sure you submit effective, high-quality ones.
Check out these blog posts to help you out. Aja! ??