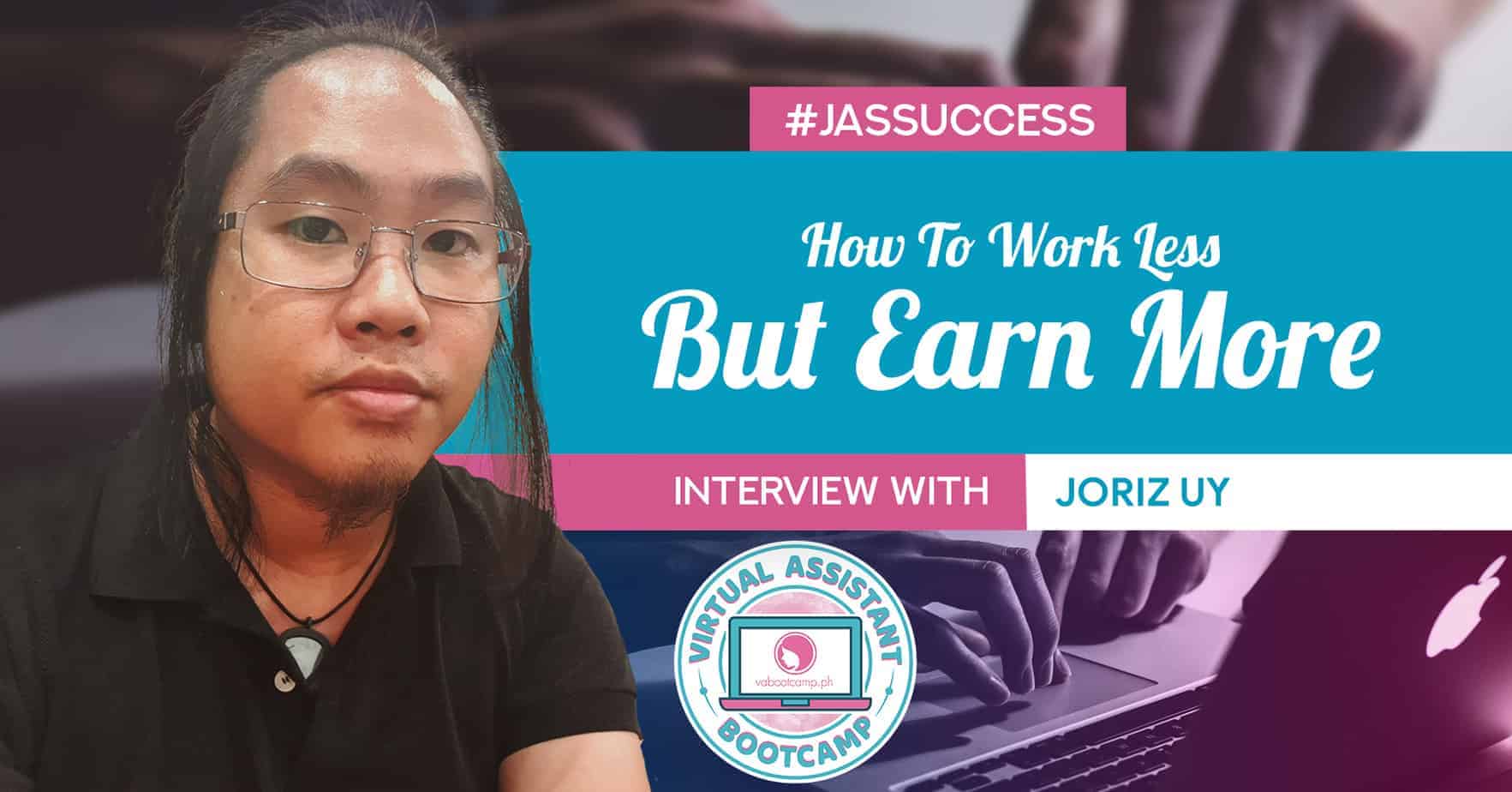 Subscribe to updates
Get updates of interviews and tips via email
It's literally exhausting for someone to work on their day jobs plus the horrifying traffic – how much more exhausting if they work double jobs?
Joriz needed to work several jobs so that he could provide for her sister's tuition fee. He even braved going to the hustle and bustle of Manila to further support his family.
But because of freelancing, Joriz no longer needed to do the exhausting daily grind just to provide for his family.
He finally found the career that lets him work just a few hours a day but earn more than what he earned from the several jobs he had for previously.
Curious how he did it? Join us later as we interview Joriz and discover his life-changing story on how he's able to work less but earning more. Prepare to ask your own freelancing questions during the interview so that Joriz and Anna can answer them LIVE.
In this interview, you'll learn the following:
✅How He Discovered Copywriting As His Niche
✅How He Handles Multiple Clients and VAs
✅How the VA Bootcamp Turned Him From A Rockstar to Rockstar VA
And a whole lot more…
Free VA Course for Newbies
FreeLancing In the Philippines (FLIP) FB Page
Subscribe to Jason Dulay's YouTube Channel
Do you want to know how he was able to work less but earn more? Find out here!
Notable Quotes:
Overworking underpaid deeply resonates with me, I want to let everyone know that it is not impossible, you can still work less but still earning.
I've been to a lot of free courses, it's enough but not centralized.
I've been applying for jobs but I wasn't seeing results. I knew that I wanted to dive in 100% so on the month of April, I AWOL from my job that was the time that I feel free. I can now freely do the things I want to do. I was empowered to push working in the online world.
I actually gave myself at least 2 months to get a single client.  
I created my own system on "How to get a client", I even shared it to the VA Members Bootcamp-Members only.
The system is for me to become productive every day. This helps me to get clients.
I am sending proposals at night due to the high chance that clients are awake at night and might see your proposals.
I kept all of my proposals on file so that I can get back to it. Also to check what went wrong and what is good.
One of the problems why some freelancers don't succeed is that they are not aware of what is wrong in their routines.
After following my system within 2 months, I got my first small project. I was very happy at that time. My tactic is to over deliver to that project. I even told my client that, "If you have any other recurring tasks, I'd be happy to take them off your hands", which leads to getting a monthly task with that client.
I have always had a passion for teaching (Music) so I started my own website on how to play the guitar. I did design, I created my content, modules and even the opt-in to test how the business will work.
Mostly, my target clients are the course creators of digital this makes me persuade clients easily and I started to love copywriting.
I just took action. You will never learn by the theory alone. You need to apply what you have learned.
I went on the journey on what do clients needs and wants that's why it is now easy for me to talk to them.
I still kept my recurring (clients), they are still there.
Around March 2018, my first client offered me a full-time position. I asked for help to the FLIP community because I think this an opportunity to raise my rate since I already have experienced. Luckily, the client agreed to raise my rate. With arms wide open I've been a part of their system that they cannot afford to lose me.
I really do not want to overwork, I prefer not working long hours but still earning.
Having enough time to work and enough time for myself, I still wanted to work less but earn more. It just came to me that the only way to do that is to clone myself. So I started creating Standard Operating Procedure for everything that I do. It's a video instruction with a word document I put them in Trello cards so that it can be easy to transfer.
I am confident to get more tasks from my client.
Every day I still want to learn, I still want to be better, with much more time at my hand and still earning more is a happy moment for me.
I also have come and go VAs right now and one permanent VA. My clients are happy with the results of their work. I still make sure to over deliver the quality of their work. I make sure to check it first before sending it to clients.
I am slowly working on the niche I chose, I also pitch my existing clients for my next service.
Joriz's Journey to Freelancing:
When he graduated from college, he started working as a bookkeeper in one of the appliance stores in Baguio. He started at a minimum wage.
He also started working part-time as a teacher for guitar in private and public establishments for extra income.
He also has a gig at night at the bar.
When his alma mater had an opening for an admin job, he applied and he was able to get hired. That's the time that he realized that there really could be more.
After the contract ended, there is an opening job in his hometown in Isabela. It is a bookkeeping job in DepEd. This is really a big opportunity so he applied and he got hired but he ended up declining it because he felt he was meant for something bigger.
By refusing to accept the offer, his family got disappointed with him because he let go of the opportunity to work in a government and having a stable job.
Discovering greener pastures, he moved to Manila and got a job in a BPO. He then went the extra mile and taught music on the side and gigs before going to work at the graveyard shift. However, he got fed up with the daily grind. And that triggered him to find a different way of earning.
At that time, he already had an idea about some people earning online, so he searched for ways to know how they do it. He looked for every info he could all over the web until he saw the VA Bootcamp ad on Facebook.
He enrolled in the course and finished it in less than a month.
He encountered some challenges when he was starting, but he was able to turn things around. From then on, flood gates to bigger and better things opened for him.
He finally gets the freedom to work anytime and anywhere he wants while hitting 6-digits a month. Aside from that, he was also able to grow his network with amazing people who are passionate about what they do. He also gets to focus on his passion projects and spent more time with family and friends.
Q&A Highlights:
Is freelancing okay for part-time work?
It depends on the task, it comes in different projects. If what will work for a part-time project is feasible, you don't have to let go of your full-time job if you are really comfortable with it. One of the best perks of freelancing is that you can have a flexi-time you can work at your own pace.
Are you in Masterclass?
No, I didn't enroll but I have friends who enrolled in Masterclass.
How many years are you in freelancing?
Turning 2 years this July.
Agency is okay as long as your workers are hardworking but will also encounter problems in their work.
Sometimes no matter how you screen your workers or VAs you still can't avoid problems in their work. There is still a chance that the work is not okay or will fail.
Flexi-time is really good, especially for the mommies.
Yes super! There are lots of mommies out there who are watching. Most of the work that I've done is deliverable-based.
What are your goals?
I want to push my guitar course. I prefer to create a community.
Have you pointed out the topic we have talked about during the VA QC Meetup regarding the VA Bootcamp graduates?
Refresh me! I can't remember if I have said it but I know that the sequence of my topic and the things that I want to point out maybe I was able to deliver it.
What is the piece of advice you can give to our viewers?
Focus on investing in yourself because it will go a lot of ways. It will take you to become successful. You need to still invest and learn what is happening in able for you to survive.
Jason is the founder and CEO of Work from Home Roadmap and VA Bootcamp. Aside from teaching Filipinos how to succeed working from home, he likes traveling, playing board games, and drinking coffee.