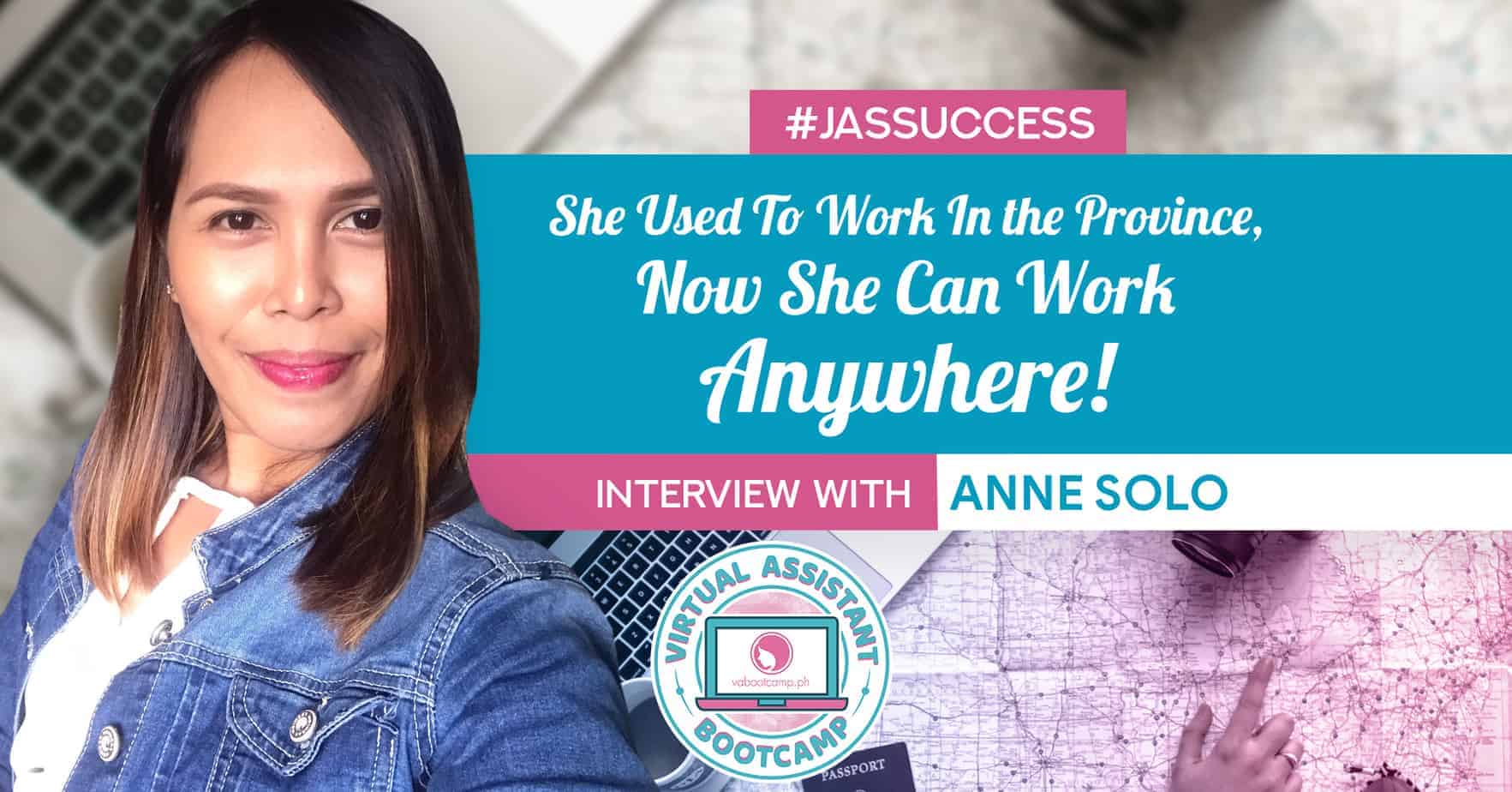 Subscribe to updates
Get updates of interviews and tips via email
She Used To Work In the Province, Now She Can Work Anywhere! (Live Interview with Anne Solo) TAKE 2 #JasSuccess
Get ready to be inspired by this retake episode of #JASSuccess LIVE as we interview Anne Solo, a hardworking employee who bravely ventured into freelancing so she can provide for her family.
She was a hardworking employee but was overworked, and sadly, underpaid. That's why she opted to search for a better career, and researched online freelancing.
Discover how she was able to gain clients because of the VA Bootcamp course she enrolled in.
Be inspired by her incredible story of hard work and believing in herself that she can overcome any challenges that will come her way – that led her to where she is right now.
In this interview, you'll learn:
✅ How to Deal with Impatient Clients
✅ The Benefits of Working from Home While Planning for Your Marriage
✅ How She Was Able to Discover E-Commerce and Social Media Marketing (FB Ads) as Her Niche
And a lot more…
Free VA Course for Newbies
FreeLancing In the Philippines (FLIP) FB Page
Subscribe to Jason Dulay's YouTube Channel
Need motivation on how to start work at home? Watch this video as we interview Anne Rezza Solo.
Notable Quotes:
Kahit san ka pumunta laptop lang ang bitbit mo tsaka internet makakapagtrabaho ka. Flexible pa yung time hindi kailangang gumising ng 8'oclock kasi papasok sa opisina, sa work natin pag gising natin upo kana sa table mo hindi mo na kailangan maghilamos, maligo minsan.
Ingatan yung client. Dumarating talaga sa time na minsan nag-e-end yung contract! Kailangan mag hu-hustle ka pa din, mahirap talaga pag nawalan lalo na yung long term client. Wag mag stay sa isa lang.
Maswerte ngayon mga VA Bootcampers may Hustle Challenge, nung time namin walang ganon. After nung bootcamp may guide gamit si AIDA at si ROPE, yun yung panlaban namin. Mas maganda ngayon kasi guided na sa proposal and cover letter.
First na nahire ako sa Shopify E-commerce, ang ginagawa ko wala naman ako alam about Shopify yung client ko lang yung nagturo sa akin kasi gusto nya mag focus sa business. Kailangan ipakita sa client na kaya natin kahit hindi turuan.
Gumawa ako ng sarili kong website. Since free pa naman, iyon yung pinagpraktisan ko. In research pinakamalaking tulong yung Google and Youtube talaga. Sinusulat ko sa notebook yung mga nalalaman ko.
Nagregister ako sa Upwork 2017, na-approve ako 2018. Wag kayo mag rely lang sa Upwork kasi maraming platform. Wag kayong ma sad pag di kayo na-approve ni Upwork, kasi mahirap talaga pasukin si U Try niyo sa iba baka andon yung forever nyo or si The One.
"Walang client na matigas sa freelancer na makulit."
Sa mga nakapagstart na mag-enroll, ituloy-tuloy nyo mga ginagawa ninyo wag kayong mapagod. Lalo na yung antok habang nag study kayo ng module, para yung mga goal niyo makuha niyo. Wag lang tayong mapagod or wag tamarin.
Anne's Journey to Freelancing:
She previously worked as an operation manager at her relatives' roofing business in the province with a salary of P10,000/month.
While browsing her Facebook feed, she saw the VA Bootcamp ad. She didn't enroll yet but she availed the free course.
After finishing the free course, she enrolled last July 2017 and started accessing the module as soon as possible.
She is getting married in February next year. Even though she was busy with her wedding preparations, she was still able to manage her time. She does the wedding errands in the morning and works on client tasks in the evening.
She had a non-voice job so her time is flexible.
Having an outing is easy for her like the last time they went on a beach. All she needs is a laptop and internet to work. While with her family and friends watching and enjoying the beautiful view.
She currently works as an E-commerce Virtual Assistant and earns an average P50,000 to P80,000 per month.
She was a silent reader in the VA Bootcamp and FLIP group when she joined, and now from a viewer to guest in Jas Success.
Q and A Highlights:
Ano ang ginagawa ng Virtual Assistant?
Secretary, assistant. From the word virtual assistant through online or computer.
How much po ang na-e-earn dito?
Depende po sa inyo may fix price or hourly rate. Itinuturo po yun sa VA Bootcamp. Ang maganda pag nag-enroll kayo marami kayong matututunan.
Ano po ang niche mo?
Ecommerce VA at Social Media Marketing
Much better po ba pag nag-enroll sa VA Bootcamp?
Yes, mas maganda pag nakapag-enroll ka kasi may nag gu-guide sayo at kung halimbawa may tanong ka maraming coach na puwedeng sumagot sayo at may mga classmate ka pa.
Yung niche sa Bootcamp ninyo po ba natutunan?
Natutunan ko sa client ko, pero mas naintindihan ko pa sa Accelerated course. Kahit may alam na ako kinontinue ko pa din yung sa bootcamp. Pinanood ko pa din yung mga modules.
How many clients do you have now?
Dalawa. Yung isa sa US, yung bago sa Europe.
Ok lang po ba kay client kung nabubulol sa English?
Opo, ang mga client kasi di naman maarte. Di tulad nating Pinoy, mga perfectionist tayo.
Jason is the founder and CEO of Work from Home Roadmap and VA Bootcamp. Aside from teaching Filipinos how to succeed working from home, he likes traveling, playing board games, and drinking coffee.