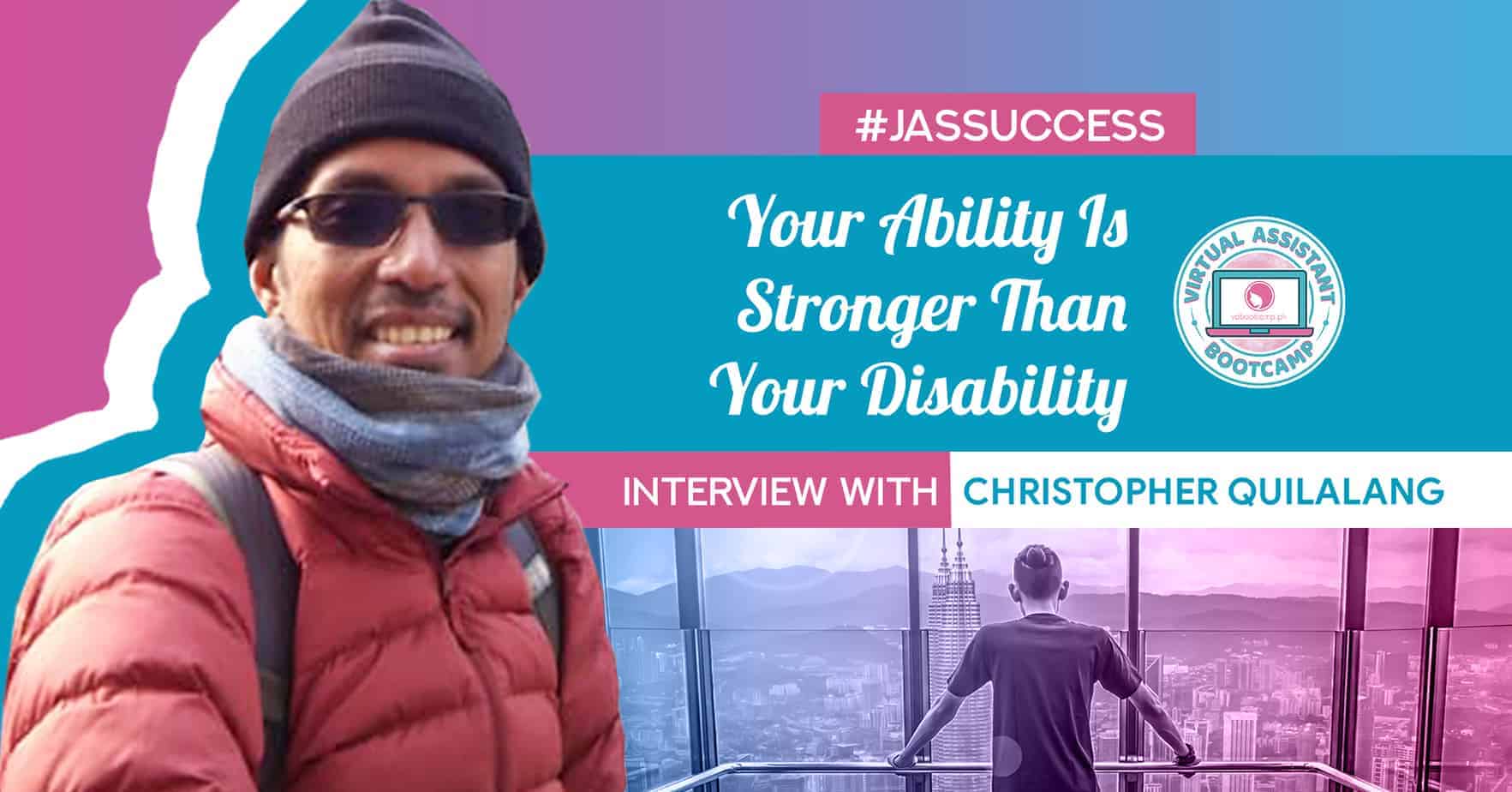 Subscribe to updates
Get updates of interviews and tips via email
Your Ability Is Stronger Than Your Disability – Interview with Christopher Quilalang #JasSuccess
Watch this interview with Christopher Quilalang, who is a successful freelancer despite his hearing disability.
He may have lost his hearing, but he didn't lose his spirit and still found ways to sustain his needs and lifestyle – which is through freelance writing.
"Unemployment is a common struggle among PWDs (Persons With Disability) in the country. So I have to resort to freelancing to be self-reliant. Ayoko naman iasa ang pangangailangan ko (at pang-gala! lol) sa pamilya ko kung me kakayahan naman akong magtrabaho." – Topher
Learn how Christopher bravely discovered that his ability is greater than his disability, and how he manages to travel while working!
Get to know his extraordinary story of courage as he conquered the challenges of being a PWD in this world of freelancing.
In this interview, Topher talked about:
✅ The Challenges He Encountered in Freelancing as a PWD and How He Was Able to Overcome Them
✅ How VA Bootcamp Introduced Him to the "Bigger" Aspects of Online Work
✅ How Writing Became His Gateway to Pursue Other Niches such as SEO and WordPress
And a whole lot more…
Free VA Course for Newbies
FreeLancing In the Philippines (FLIP) FB Page
Subscribe to Jason Dulay's YouTube Channel
Your Ability Is Stronger Than Your Disability – Interview with Christopher Quilalang
See how Christopher's career change from being a Main Process Engineer to a Freelance Writer.
Be inspired with his journey as he pursues Freelance Writing despite his Hearing Disability.
Notable Quotes:
Good thing, Jason accommodated He hired transcribers to transcript the lessons. It's a very big help kasi andami kong natutunan.
Ambilis ng oras, kapag hinayaan mo lang andami nang nasayang na oras, so you really have to start somewhere. And you really don't have to be perfect to start something.
Nung nag start ako, isip ko lang, I wanna build experience. I wanna build a strong portfolio, so kahit medyo mababa, though medyo piliin din yung mga jobs na medyo may kababaan yung rate, pero meron ibang rewards, kumbaga kung matututo ka.
Try to learn new skills para meron kang ibang options.
If you want to be a digital nomad, it would definitely do good kung freelancer ka.
So, if you think, it's difficult for you to find a job, think more kung may disability ka.
Ngayon with freelancing, pwede kang makipagsabayan, kahit 'di ka college graduate, kahit may disability ka, if you're willing to learn, if you have something to offer for clients pwede kang makapag trabaho.
If life hits you hard, it's either you let yourself drown or accept the challenge and dream along. I'm glad that I did the latter and accepted the challenge,
Narealize ko yung importance ng family at nang may support system because you cannot do things on your own.
Christopher's Journey to Freelancing
He used to do Chemistry jobs after college.
He worked as Lab Technician, Quality Control, RND, and Technical support for 14 years and recently he worked Main Process Engineer.
When he was in college, he used to do tutoring to have some extra allowance and pay for his tuition. And that's the time when he realized how he can translate complex technical complex into very simple terms that kids can easily understand.
He got a job as an Editorial Assistant for a Local Publisher of Educational magazine during his last semester in College.
He worked in a call center last 2014 for a web hosting company in the United States for 6 months and he learned how the internet and domain works. And it helped him a lot while he was studying SEO lately.
He conquered his fear of speaking in English when he worked in the Call Center.
He accidentally stumbled upon Odesk (UpWork) last 2010 and he discovered that he can pursue his talent in Writing.
He wrote articles for News Sports Sites (writing Tennis News and Editorials) during weekends.
He stopped in 2011 due to a hectic schedule and heavy load of his regular work.
In 2014, He got sick with Multiple Drug Resistant Tuberculosis Disability (not the ordinary Tuberculosis type). He undergoes medication for 1.5 years. One of the side effects of the medication was his hearing loss. And hearing aid can't help him anymore.
After his Medication with MDRTD, he started applying for other jobs in Manufacturing and BPO Industry but unluckily, he wasn't accepted, and it made him feel down that time.
Then he realized to pursue Freelancing again in 2015.
In 2017, his Upwork account was suspended without knowing why and he diversified Onlinejobs.ph, Hubstaff, Craigslist, and other freelancing sites
He again enrolled in a VA School that caters people with disability.
Had an opportunity to be an Academic writer in 2016.
Right now, he's editing write-ups of some writers and now enjoying the benefit of working from home.
Q & A Highlights
How do you overcome those setbacks and obstacles?
So una, I have to know and re-evaluate my strengths and weakness. Change na rin ng mindset and kailangan self-reliant and resourceful and know how to discipline myself cause I'm not in the corporate set-up anymore.
Is your life better now/How good is your life now?
I'm in a way better of place right now, not only financially but also of society. I start to contribute to my family's needs again. And then I was able to provide for myself and naging self-reliant ulit.
What are the benefits of freelancing?
Una, no more commuting. We all know how stressful commuting in Metro Manila is. I got better control of my time and flexibility to work anywhere.
Life problems solved by freelancing. Kahit dika college graduate, pwede kang makipagsabayan kahit may disability ka. If you're willing to learn and if you have something to offer to clients, pwede kang makapag trabaho. Yun and one nice thing about freelancing.
So, if you think, it's difficult for you to find a job, think more kung may disability ka. Mas mahirap fo us kasi may notion na may limitations kapag may disbility ka.
Napag aaralan ba talaga to be great in writing or you need to be a bit good somehow?
I'm not really a good writer, aminado ako palpak ang grammar ko. Pero, I think, you don't have to be good in writing to start. Siguro if you really like to write and if you really like how to express yourself, it's a good start. Kumbaga it's going to be a continous process.
Sino ang inspiration mo?
I should say nalang na dati, diko narealize ang importance ng family at nang may support system ka, until nagkasakit ako. Yun yung time na narealize ko ang importance ng family at nang may support system. Because you cannot do things on your own and you'll always have to seek help from other people.
Pano ka ba nag start maging Freelance Writer/ Ano yung guidelines para maging isang freelance writer?
Aksidente ko lang na nakita yung Odesk (Upwork) and nag try ako mag sulat. Side gig lang naman. Pero yung talagang nag serious ako into freelancing naghanap ako ng openings sa Upwork. I started dun sa jobs na alam kong sakto ako.
Siguro, mag start ka kung alam mo kung saan yung strength mo. Mag start kang mag branch out at mag practice every day.
Jason is the founder and CEO of Work from Home Roadmap and VA Bootcamp. Aside from teaching Filipinos how to succeed working from home, he likes traveling, playing board games, and drinking coffee.