In 2018, the Tax Reform for Acceleration and Inclusion (TRAIN) Law took effect. Although a lot of changes were made, it still didn't change the fact that freelancers (like myself) are required to pay taxes.
So that's why I decided to finally register as a self-employed individual in the Bureau of Internal Revenue (BIR) this year. Freelancers (whether doing online or offline work) are categorized as professional and self-employed individuals by the BIR.
Also I'm registering because if ever an international client is planning to fly me to countries where Filipinos are required to obtain visas, I'd have a legal tax document to present for my visa application.
In this article, I detailed my personal experience following the simplest method in registering as a freelancer/self-employed individual in BIR. I hope that being specific down to the last detail will encourage other members of the freelancing community to do the same and contribute to the growth of our economy.
Disclaimers:
Before I get down to the nitty-gritty details, I have some disclaimers for those who are reading this:
The details outlined in this post and specific processes followed were done in Davao City under BIR RDO 132.
Before starting the registration process, clarify first with your BIR Revenue District Office (RDO) covering your area of business/residence address, the exact process, and requirements they need. Some BIR RDO offices, especially in Manila and Cebu, have additional requirements such as Business Permit and/or Occupational Permit.
My experience and process followed may not be applicable and the same as your journey but the summary, importance, and guide of the BIR Registration concept is here.
When I followed this process, I was already working as a full-time freelancer and not connected anymore to any traditional/corporate employer in the Philippines.
The information I have collected and shared in this post are from official BIR employees I have talked to over the phone and in person.
Registration Requirements
Okay. Now we're done with those, take a look at the Registration requirements below. It's fine if you don't understand all of them because I'll be explaining each.
For your BIR Certificate of Registration (COR), you will need the following:
Tax Identification Number (TIN)
Form 1905 (for RDO Change if applicable) – 2 copies
Cedula – original and photocopy
Barangay Certificate – original and photocopy
Client Contract or Certificate of Employment – original and photocopy
Birth Certificate – original and photocopy
Form 1901 – 3 copies
Form 0605 – 3 copies
500 pesos
Journal notebook
For your BIR Official Receipts (OR), you will need the following:
COR
Barangay Certificate
One government-issued valid ID (I used my TIN ID)
Form 0605
COR payment receipt
Money to be paid to order your official receipts (varies on your chosen printing press) – Mine was 1,500 pesos
Registration Prerequisites
Before going through the Registration Proper, make sure you have or have done the following:
Tax Identification Number (TIN)
This is the #1 requirement. Normally you get your TIN from your first company employer. They apply a TIN for you. In my case, I already had a TIN from my first call center company.
If you don't have a TIN yet, the BIR has made it available online to get a TIN and you can follow the instructions in this blog resource.
Change of Revenue District Office (RDO)
If you're a freelancer working from home, then you have to make sure that your TIN is in the correct RDO that covers your home address area.
If your TIN is currently not in the correct RDO, then you have to request an RDO Change in BIR.
Since I moved back to Davao in 2016 and have not been employed in a traditional/corporate setting in Davao City, my BIR RDO is still in Taguig because that was where my last call center company was located.
I had to change my RDO to the BIR Davao office because I currently live in Davao now and I want to register as a self-employed professional in Davao City.
There are 2 ways to do this:
Method 1 – Go to the BIR Davao office, fill out a 1905 form and request them to fax it to the BIR Taguig office for processing.
Method 2 – Fly to Manila and personally go to the BIR Taguig office to request it from there. (That will take a lot of time and money)
After thinking about it at the time, I was going to Manila anyway to attend the VA Bootcamp Christmas Party 2018 so why not process my RDO change there.
So I went to the BIR Taguig office, submitted the 1905 form, the officer checked my details and then processed my request. He said it should be completed in 5 days.
I called the BIR Davao office a week after and yes indeed, my RDO has been changed.
Question, what if I already live in the same area of my current RDO?
For Example: If I was still living in Taguig City after I left my call center job, became a full-time freelancer, and I wanted to register as a self-employed professional in Taguig City, then there's no need to change my RDO anymore since it's the same area.
Time it took for this process:
1 minute for the officer to accept my form and check my details in the BIR Taguig office system
1 week for the Change of RDO to compete
Date completed: December 6, 2018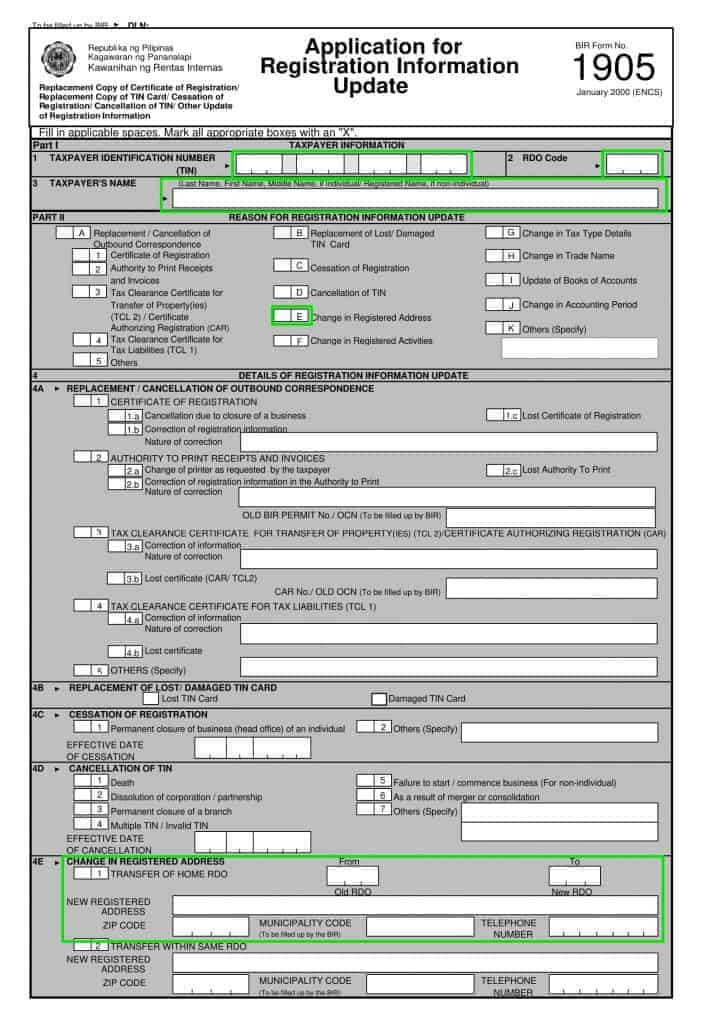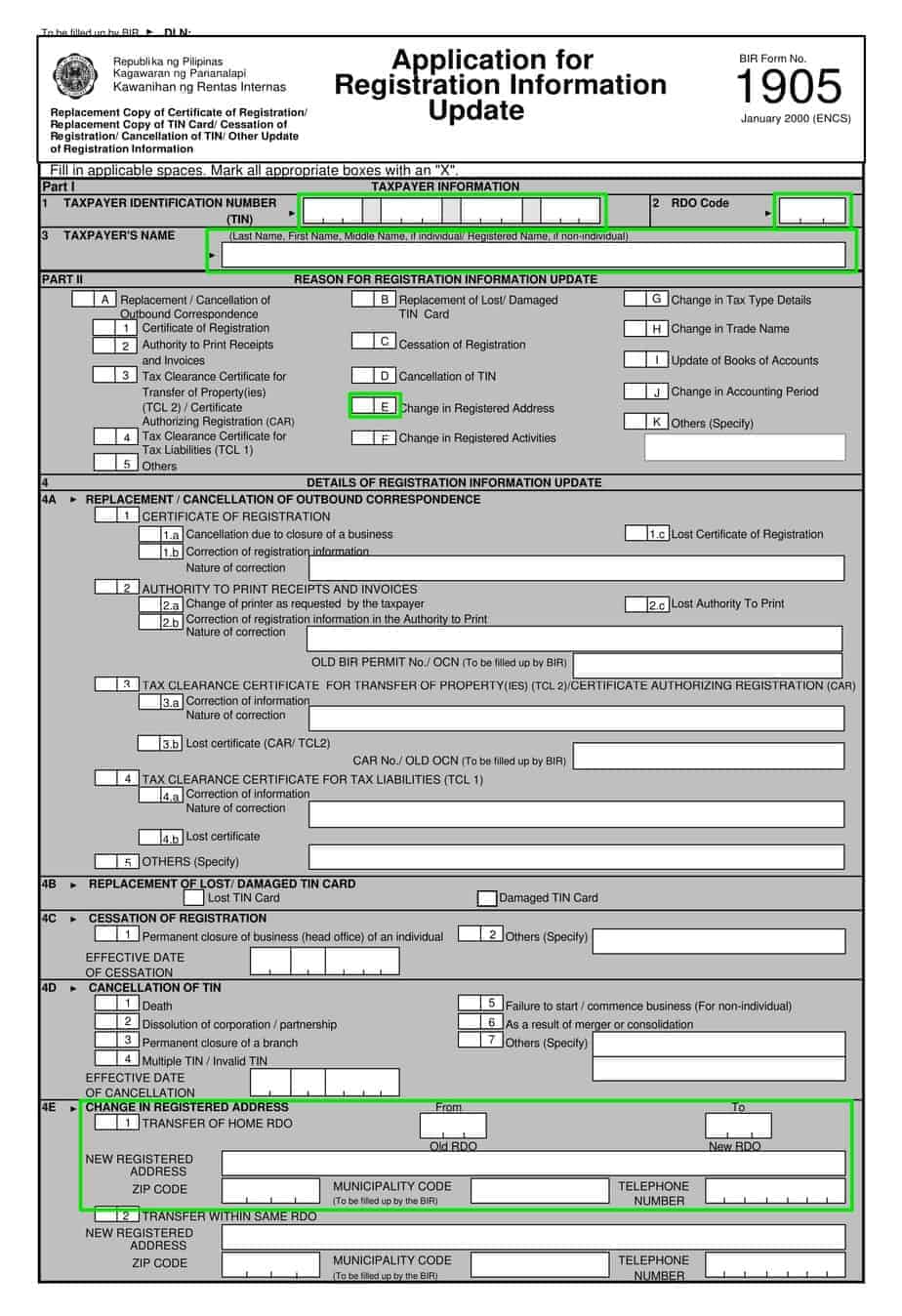 Birth Certificate
If you don't have an original one with you, you can go to the nearest Philippine Statistics Authority (PSA) office and request for it or order it online. Here's a blog resource on how to order it online.
Make sure you have a photocopy of your Birth Certificate. The BIR will not get the original copy.
Registration Proper
1. Getting My Barangay Certificate
You will need to get a Barangay Certificate (not Clearance) clearly stating that you are working as an online freelancer.
Go to the Barangay office that covers your area of residence and explain to whoever's in charge that you need to get a Barangay Certificate to register as self-employed in BIR. Bring a photocopy of your Client Contract or Certificate of Employment because the Barangay Secretary asked this from me. Good thing I had it with me.
Question, what if I don't have a Client Contract of Certificate of Employment (COE)?
Then, ask it from your client. Whether your client is from Upwork (or other freelancing platforms) or is a direct client, ask them to provide you a contract or COE. Better if you can draft the contract or COE already and then just have your client sign. That would be easier on your client's end and they don't have to spend time doing it for you.
When I arrived at the Barangay office, I proceeded to get a Cedula first (50 pesos) and then went to the Barangay Secretary to request for the Barangay Certificate. I specifically mentioned that I needed it to register as a self-employed professional in BIR and I need the Certificate to say that I am working as an online freelancer. Gave her these very specific instructions to follow because I did not want to go back there in any case that the BIR will not accept their templated Certificate.
She created and printed my Barangay Certificate, put on the dry seal and told me I had to pay 20 pesos for the certification and 50 pesos for the household garbage fee. Gave her the payment and she issued the receipts. Photocopy the Barangay Certificate because BIR will need it.
Total amount spent: 120 pesos
Time it took for this process including waiting: 45 minutes to 1 hour
Date completed: January 14, 2019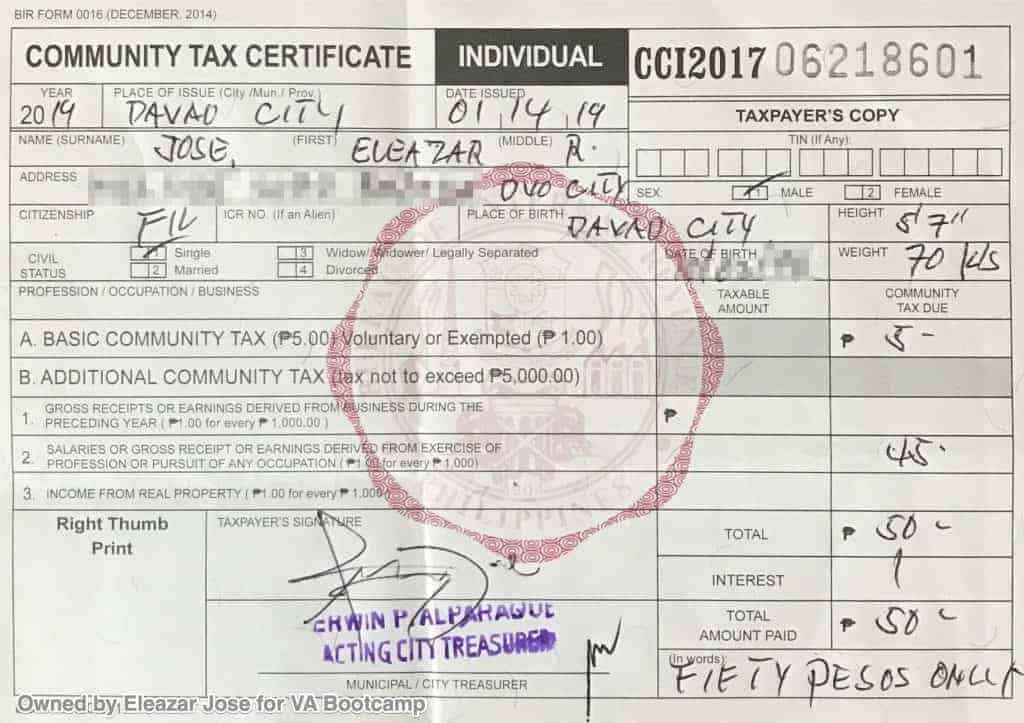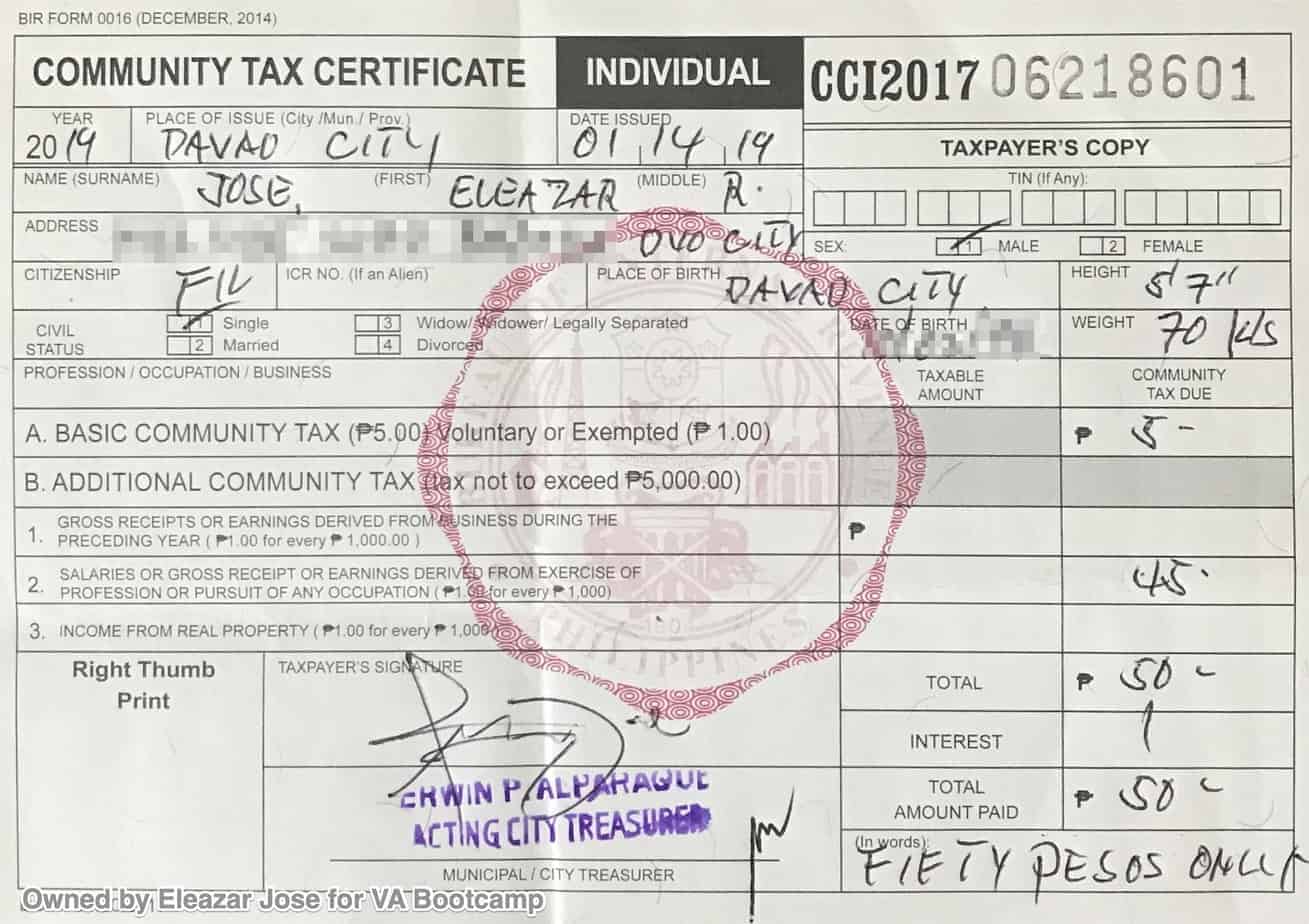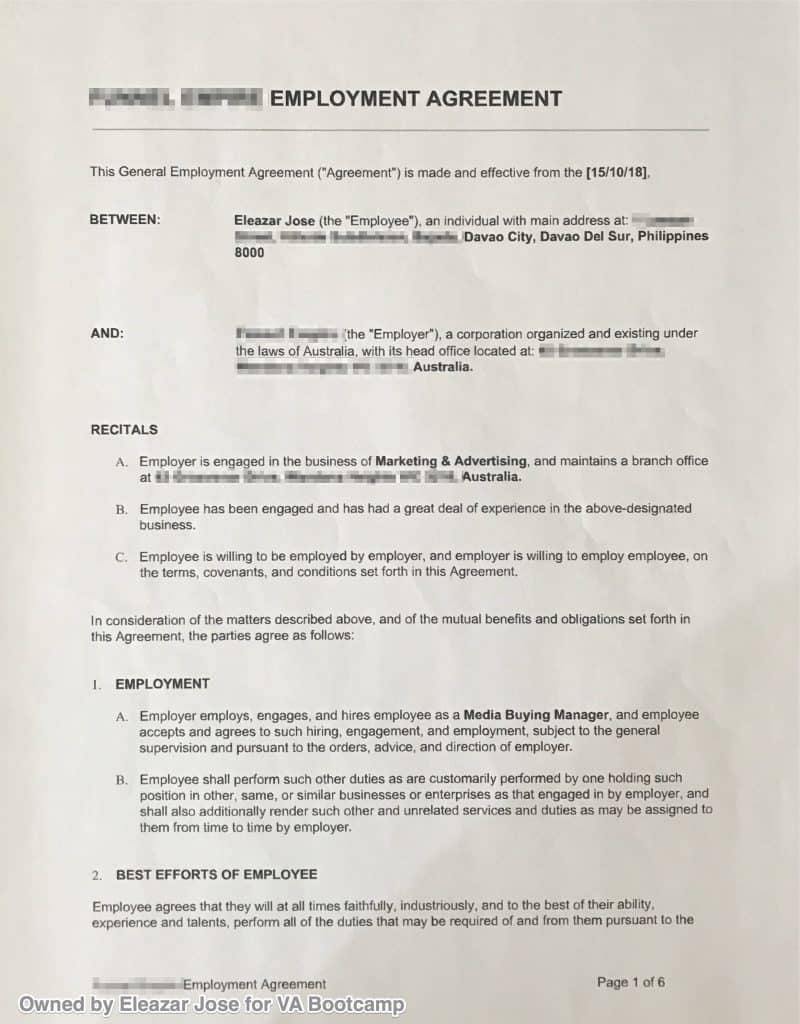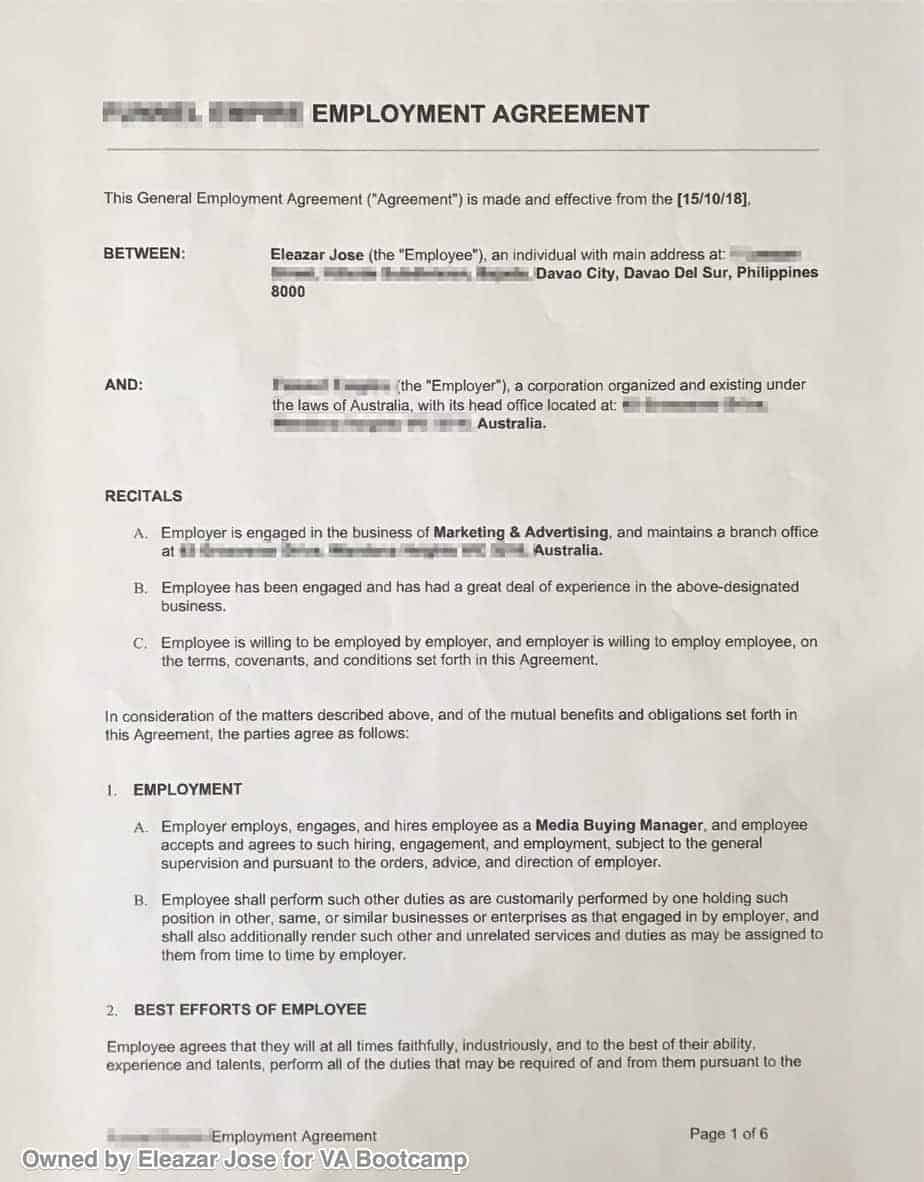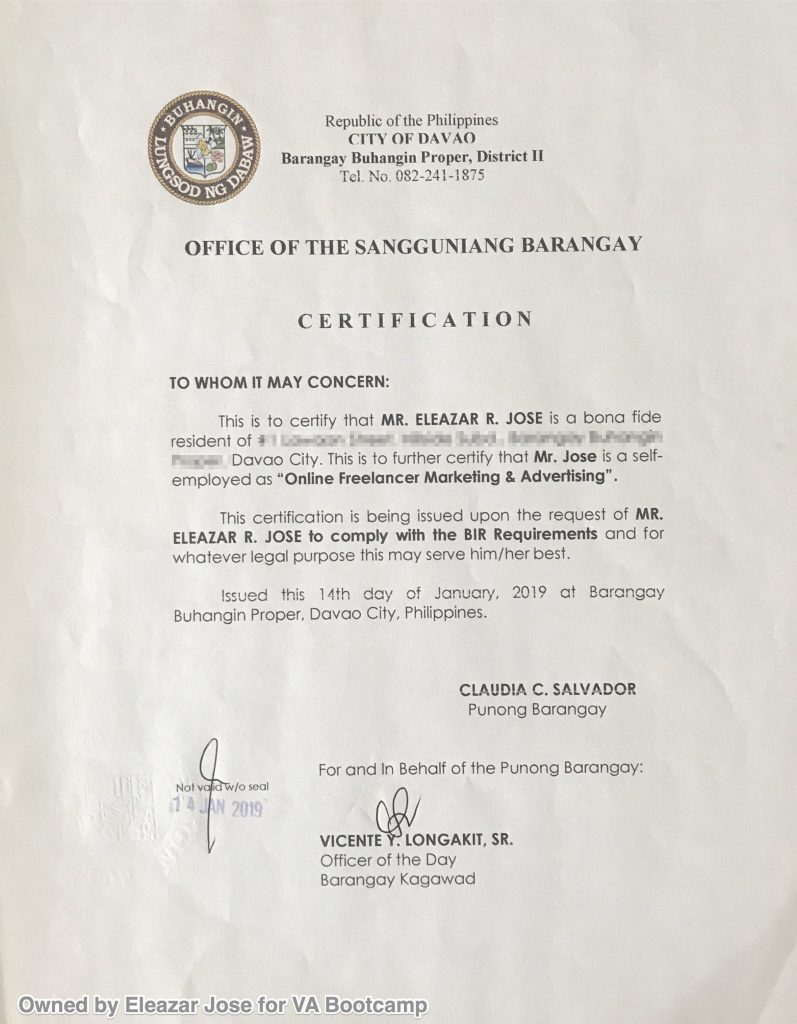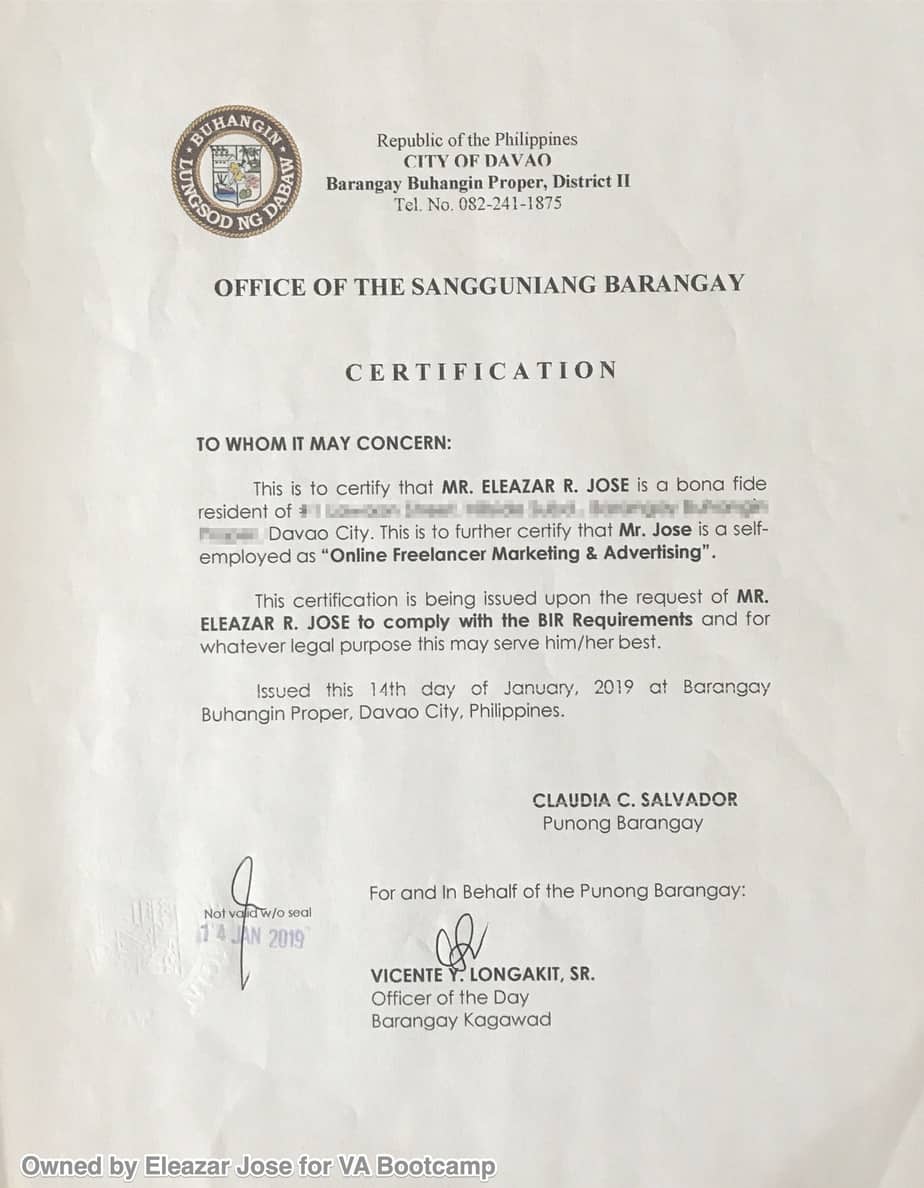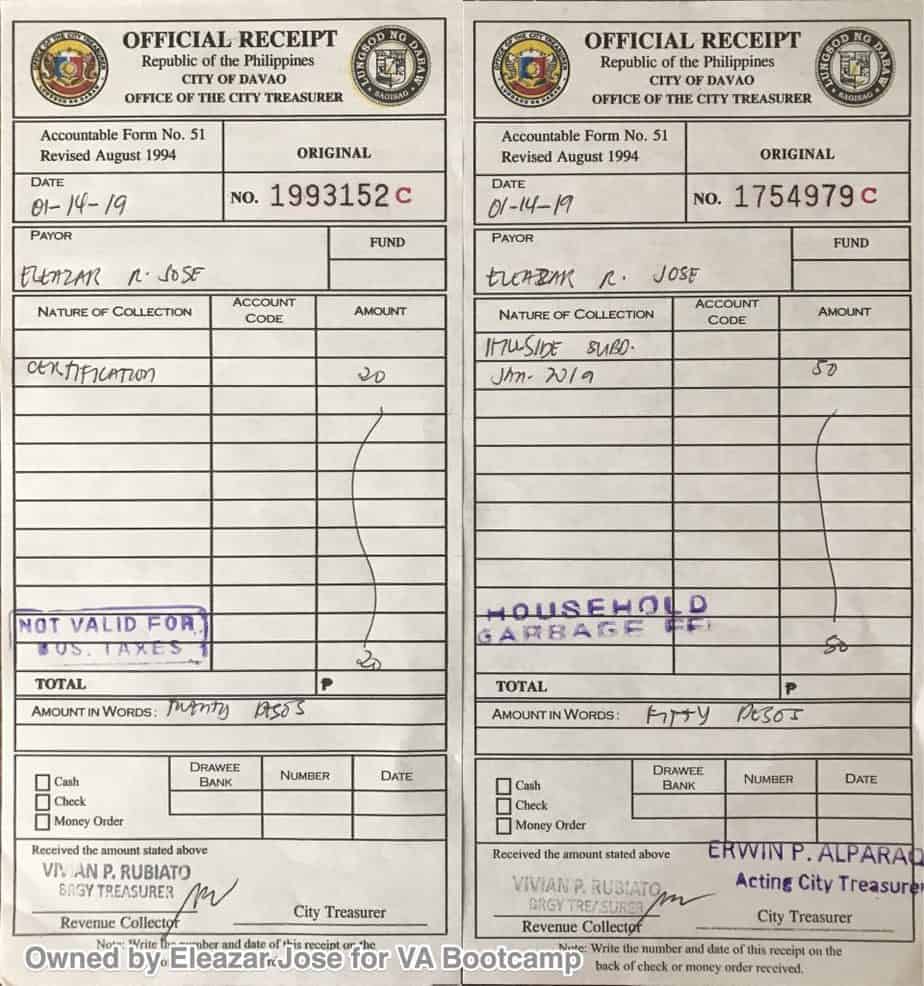 2. Form 1901 (Application for Registration) and Form 0605 (Payment)
After getting my Barangay Certificate, I went to the BIR office. There are 2 BIR RDOs in Davao City so I had to make sure that I was registering in the RDO that covered my residence address.
You can check this BIR directory to see which is the RDO covering your area. The RDOs addresses and contact numbers are listed there.
When I arrived at the BIR office, I got 3 copies each of forms 1901 and 0605, filled them out and got a queue number from the guard at the entrance door of the office.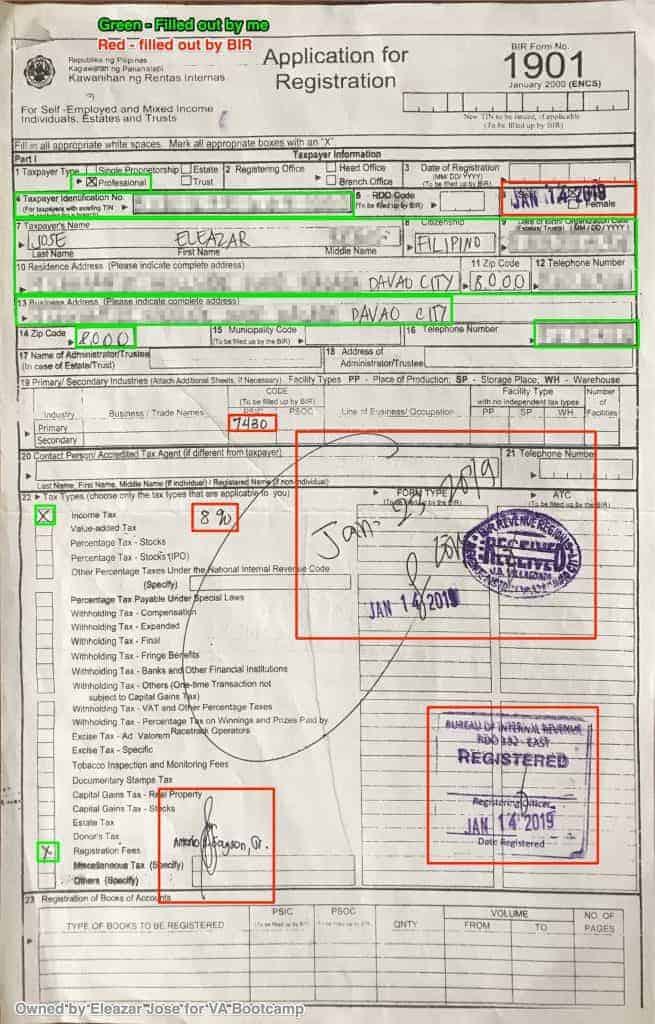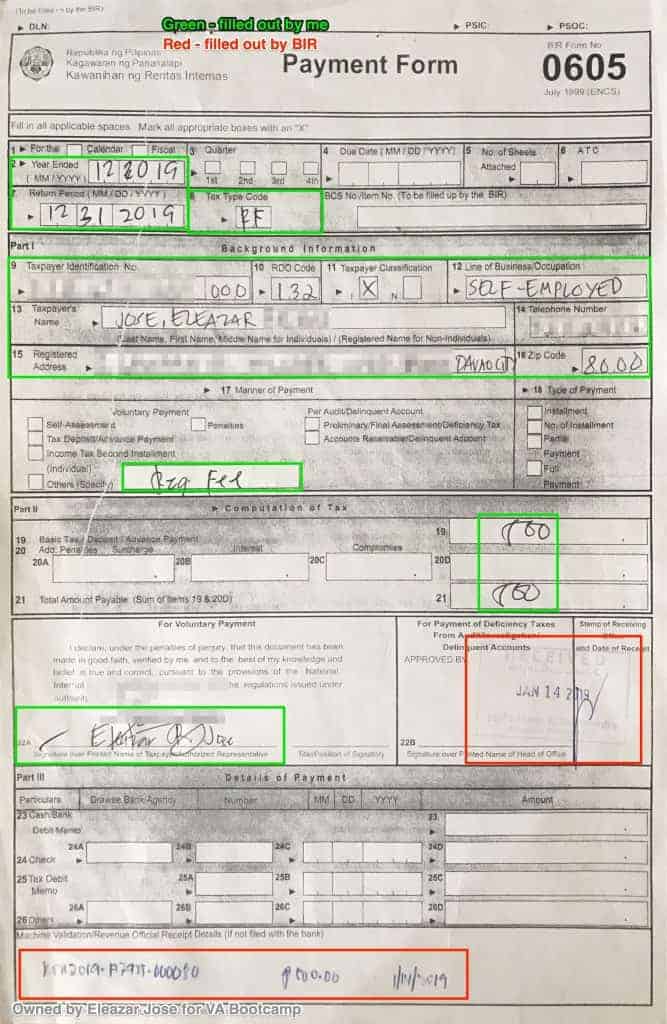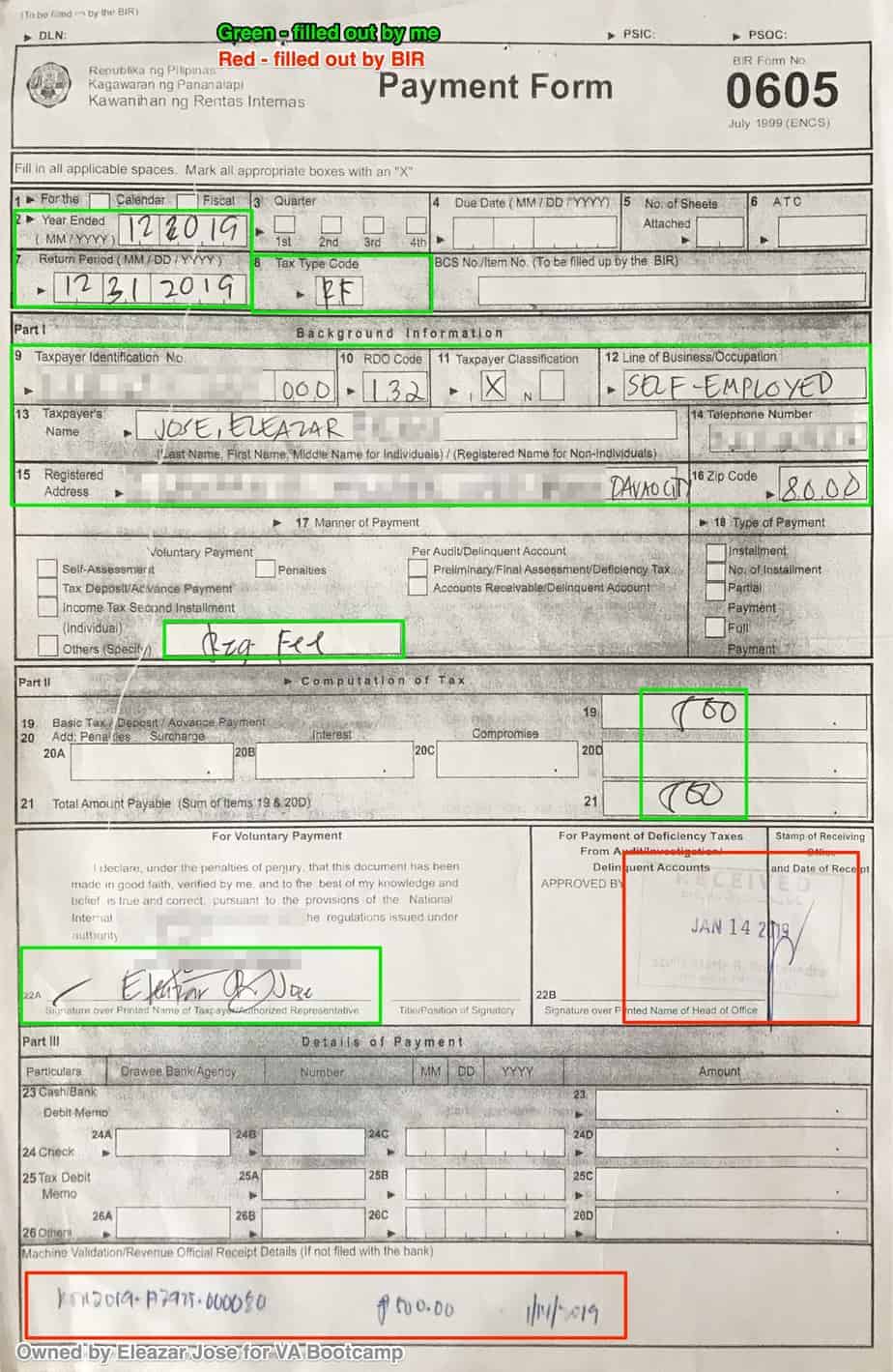 When my queue number was called, I approached the assessing officer and told her I was registering as self-employed.
She asked some questions so she can complete the forms I submitted. Like "What kind of business?"
I said, "I work online as a freelancer and I work from home"
She asked, "What kind of work?"
I said, "Online marketing and advertising, Facebook marketing, Online campaigns, digital marketing". I rambled some general terms so she can easily understand me. And she did.
She was looking at her computer and researching for that kind of work. I guess she found what she was looking for and wrote a code on my form. This I figured was the work classification.
She proceeded to select the type of Taxes applicable to me. I also informed her that I'm opting in for the 8% tax thing by the new law of the government.
She noted that in my form and checked my other requirements.
Birth Certificate (original and 1 photocopy)
Barangay Certificate (original and 1 photocopy)
After everything was checked, she endorsed me to another officer assigned to process new business registrations.
When it was my turn, she double checked my requirements and the three (3) 1901 forms. Everything was complete. She then told me to fill out the 0605 forms for the payment and told me where I could pay. Landbank and DBP.
I told her I didn't want to go there and she mentioned that I can also pay there but their cashier won't be in for another hour.
Well it was gonna take me an hour or so as well to go to the banks suggested and wait (because the lines are long at these government banks). I chose to stay there in the BIR office and wait for the Cashier.
When the Cashier arrived, I gave the officer of the new business registrations section my 1901 forms (3 copies), 0605 forms (3 copies), Barangay Certificate (one photocopy) and 500 pesos payment.
My documents and payment were handed to their backend officers who encoded my details and the cashier processed my payment.
I guess it was another 15-20 minutes before they called my name and handed me back my documents.
They gave me back the following documents:
(1) 1901 form
(1) 0605 form
Payment receipt
Taxpayer's Verification Slip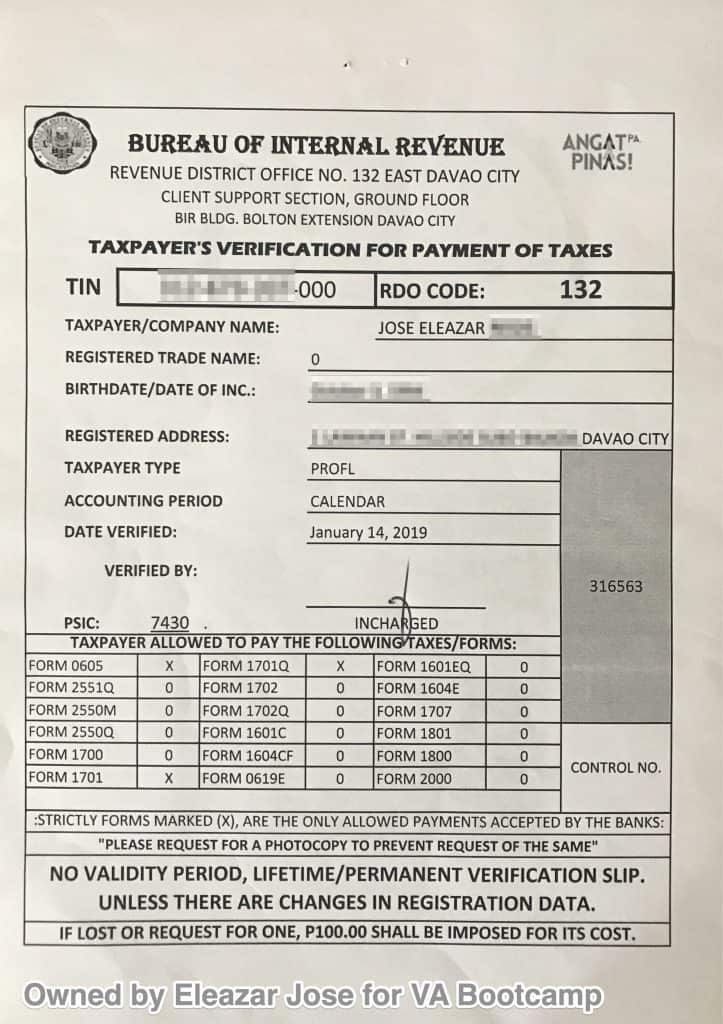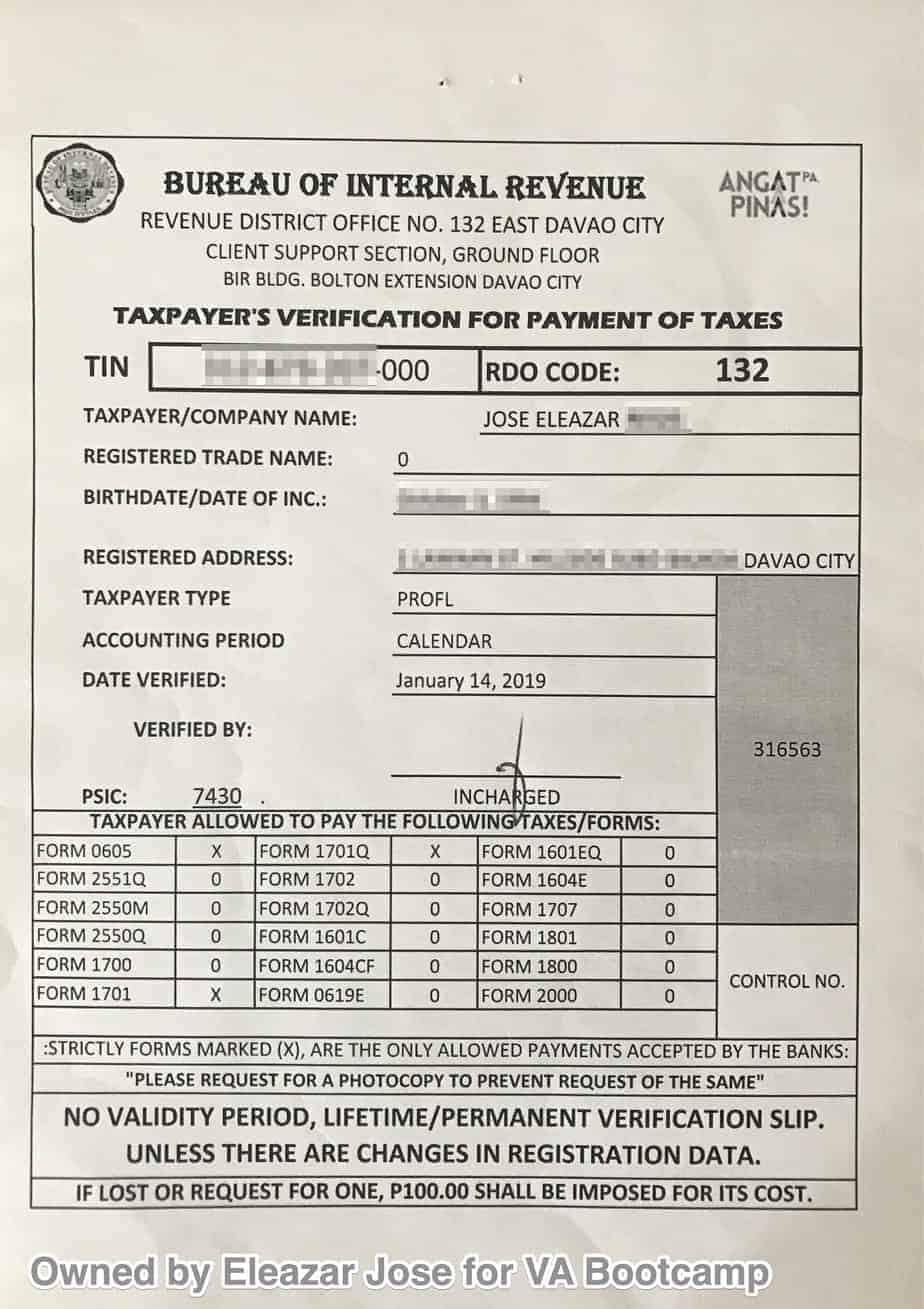 My 1901 form was finally RECEIVED and I was finally REGISTERED! I was told to come back the next day to get my Certificate of Registration (COR) document.
Total amount spent: 500 pesos
Time it took for this process including waiting: 2-2.5 hours
Date Completed: January 14, 2019
3. Claiming my BIR Certificate of Registration (COR) Document
Even though I could have come back the next day to claim my COR, I came back the week after and brought with me the following:
The 1901 form and 0605 forms that were given back to me
Journal notebook I bought from National Book Store for 28.75 pesos. This Journal is to be used as my Book of Accounts which is required by the BIR as a self-employed professional.
When my queue number was called, I informed the officer that I'll be getting my COR and then gave my 1901 and 0605 forms.
After a while, the officer called my name, handed my COR and had me sign the ledger confirming that I received my COR.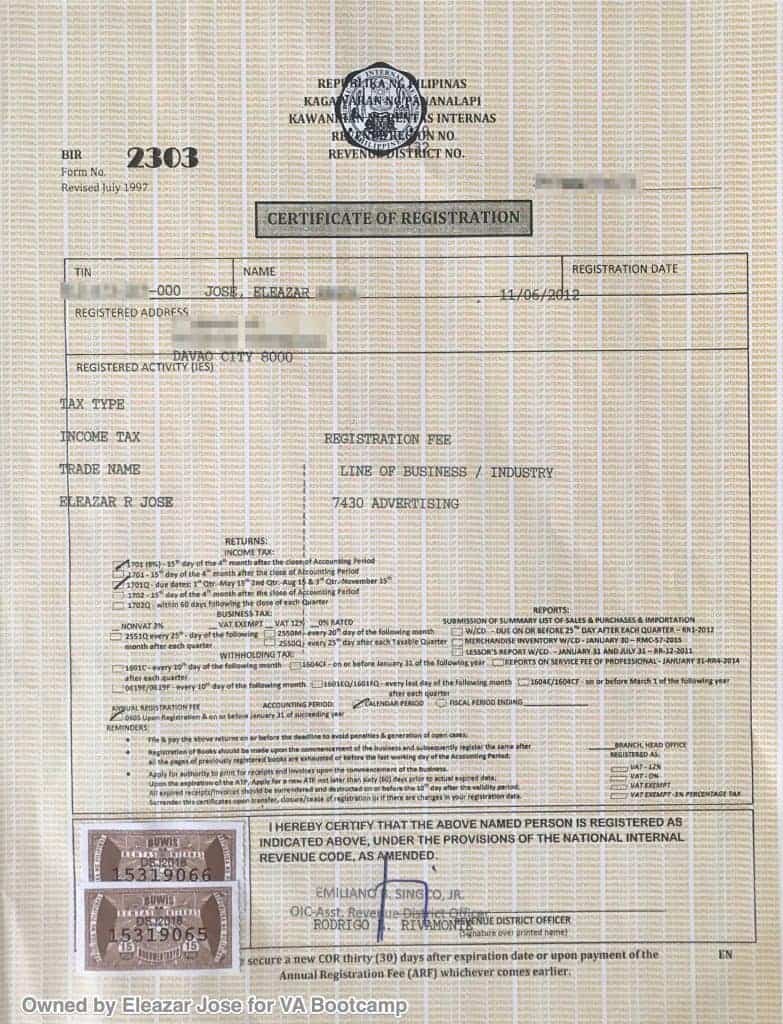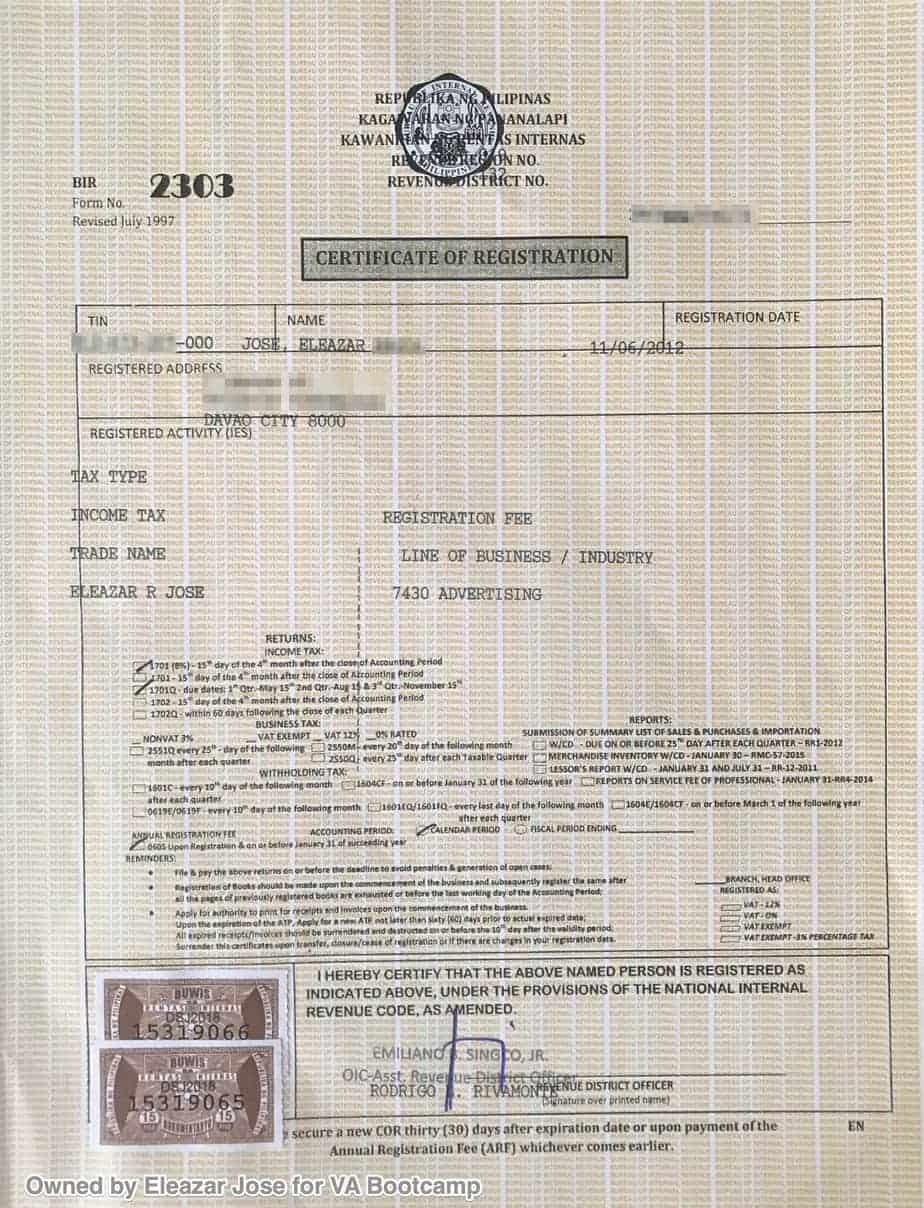 Then I went to the officer in charge of stamping Journals. Showed the officer my 1901 form and then my Journal was stamped on the first page.
I signed on the officer's ledger to confirm that my Journal was already stamped by the BIR.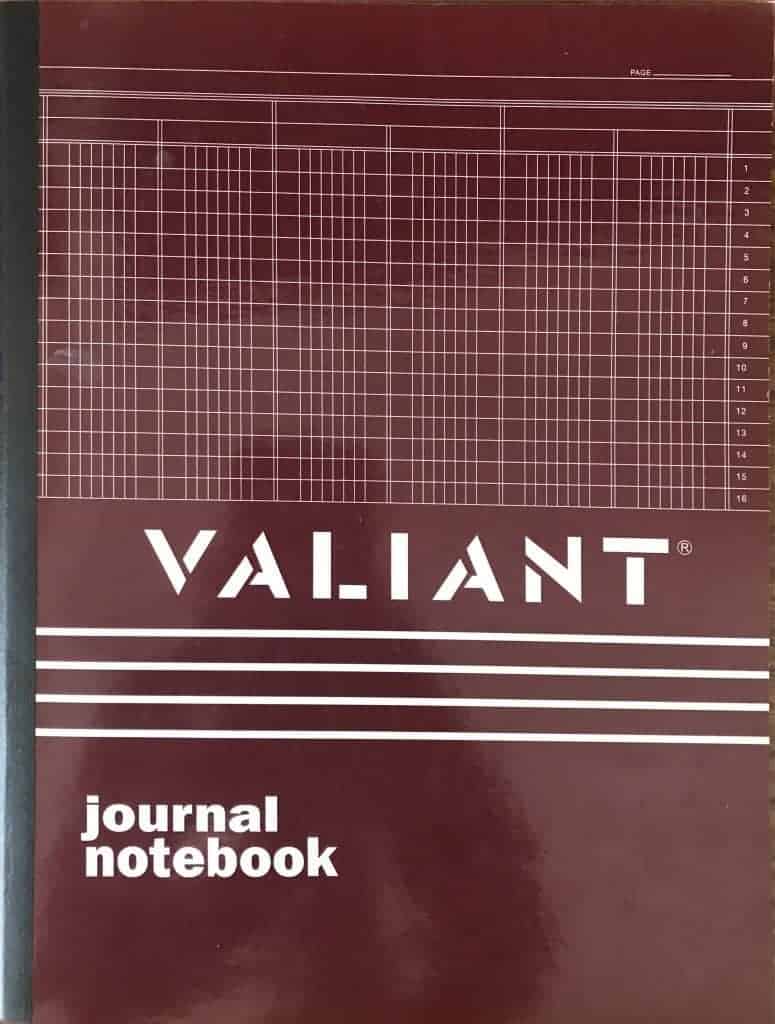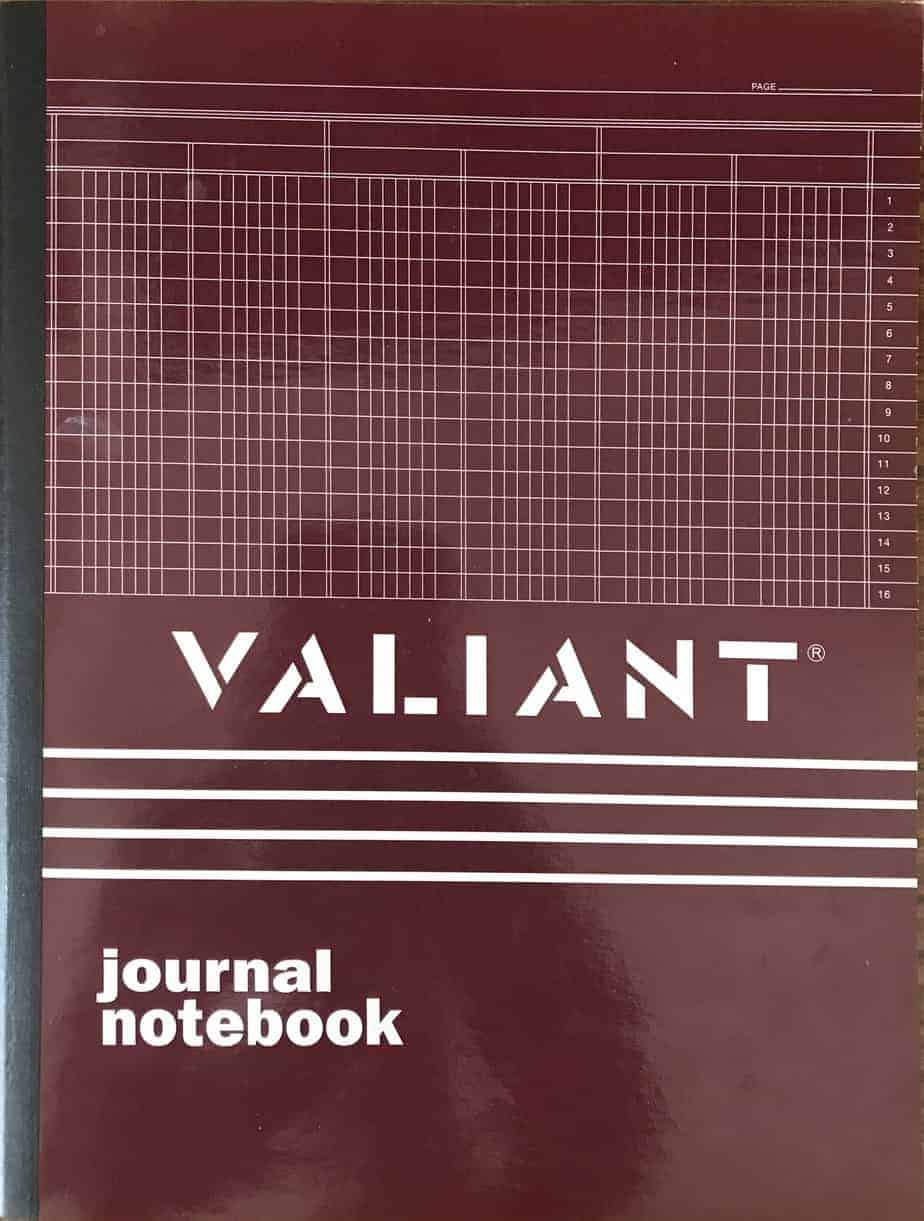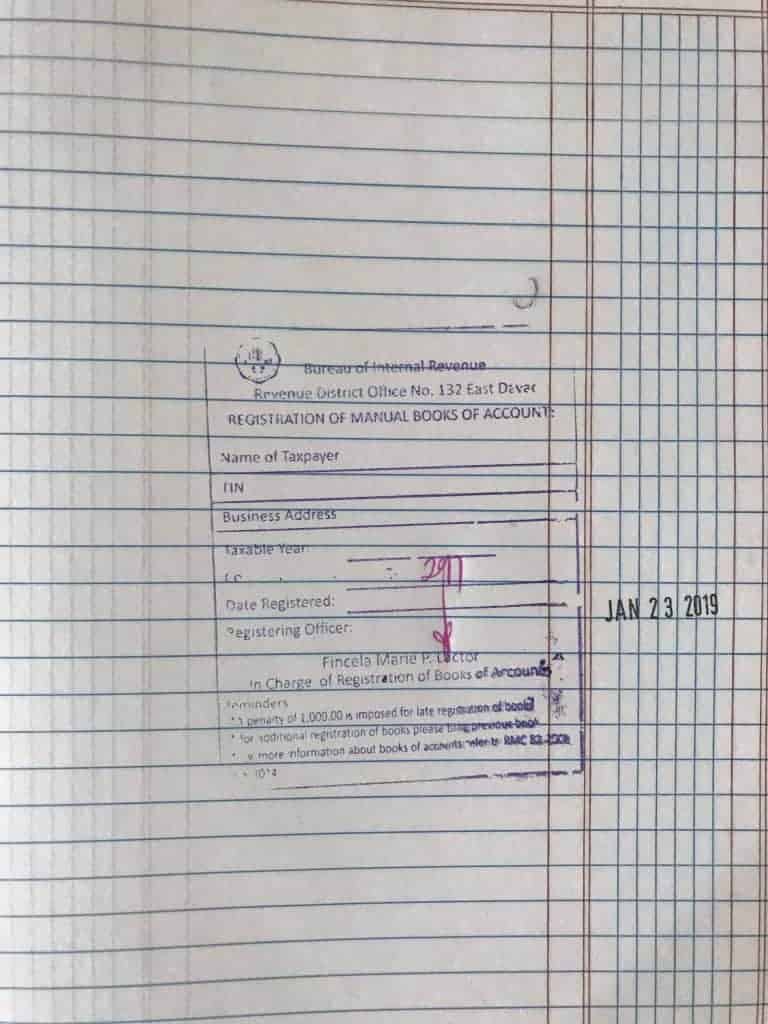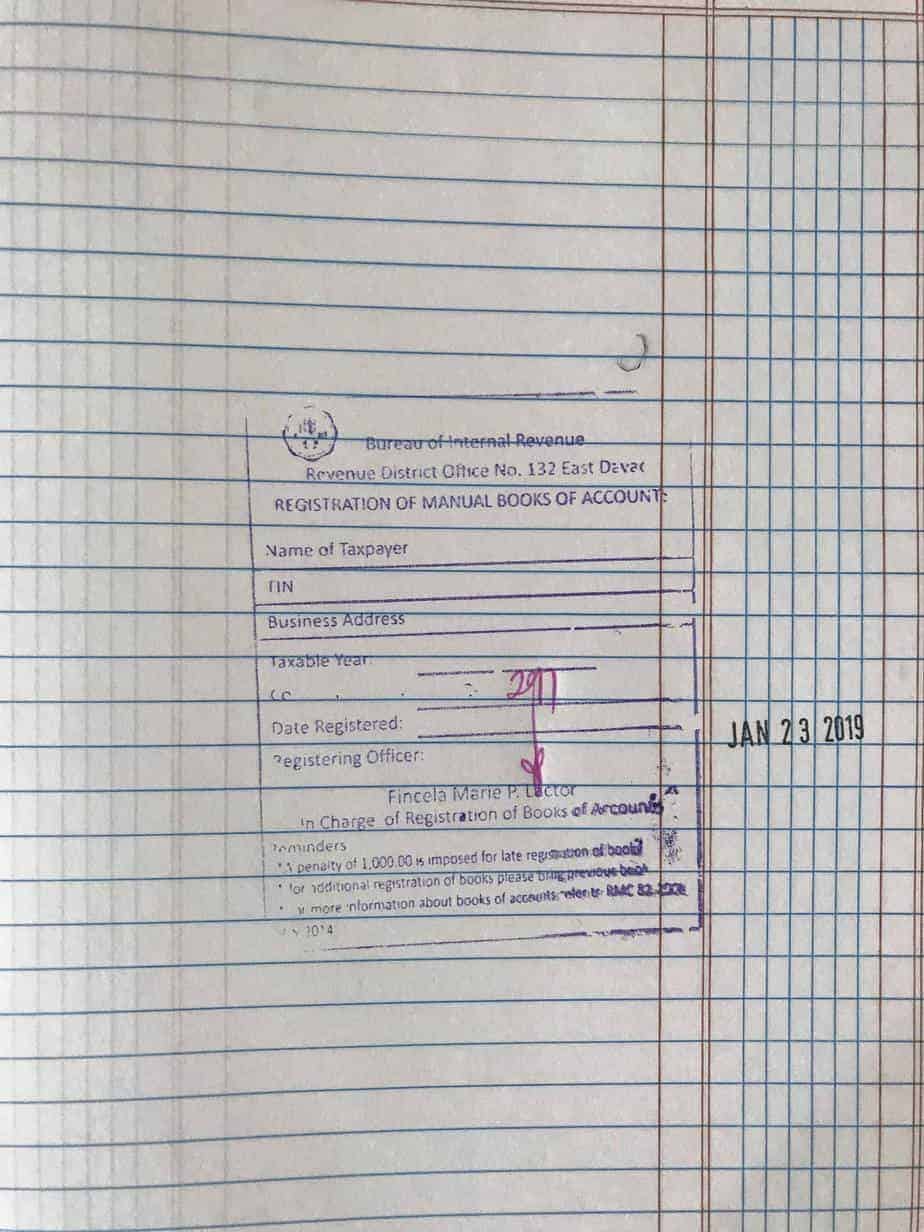 Total amount spent: 28.75 pesos for the Journal
Time it took for this process including waiting: 15-20 minute
Date Completed: January 23, 2019
4. Taxpayer's Seminar
Under the current government administration, attending the BIR Seminar is voluntary and is not required. That's what the BIR officer who conducted the seminar said.
I attended the seminar because I had a lot of questions to ask. Questions that were specific to me as a work from home online freelancer.
One of the things I focused on was calculating the tax dues. To make things simpler, I opted in to the 8% Income Tax Rate on Gross Sales/Receipts.
This simply means that whatever I earn from my client/s, I only pay 8% income tax. No more percentage tax, no more deductions of operational expenses, etc.
I'll be discussing how the 8% income tax rate option works and document the filing process in upcoming blog posts since it's my first time that I'll be doing those as well so stay tuned for those.
For now, all you need to know is I chose the 8% option because it's the best for my freelancing business.
Since the Taxpayer's Seminar was voluntary, there wasn't any Certificate of Attendance to be given out but the BIR officer who conducted the seminar signed on my 1901 form that I attended because I told him I wanted proof in case I needed it in the future.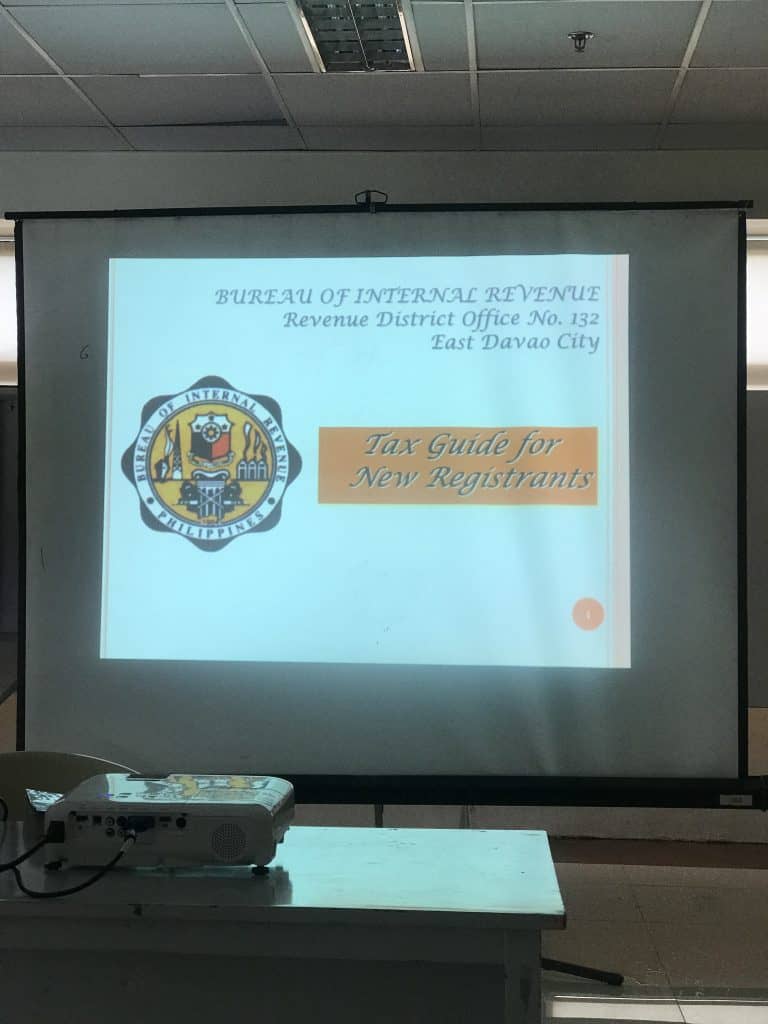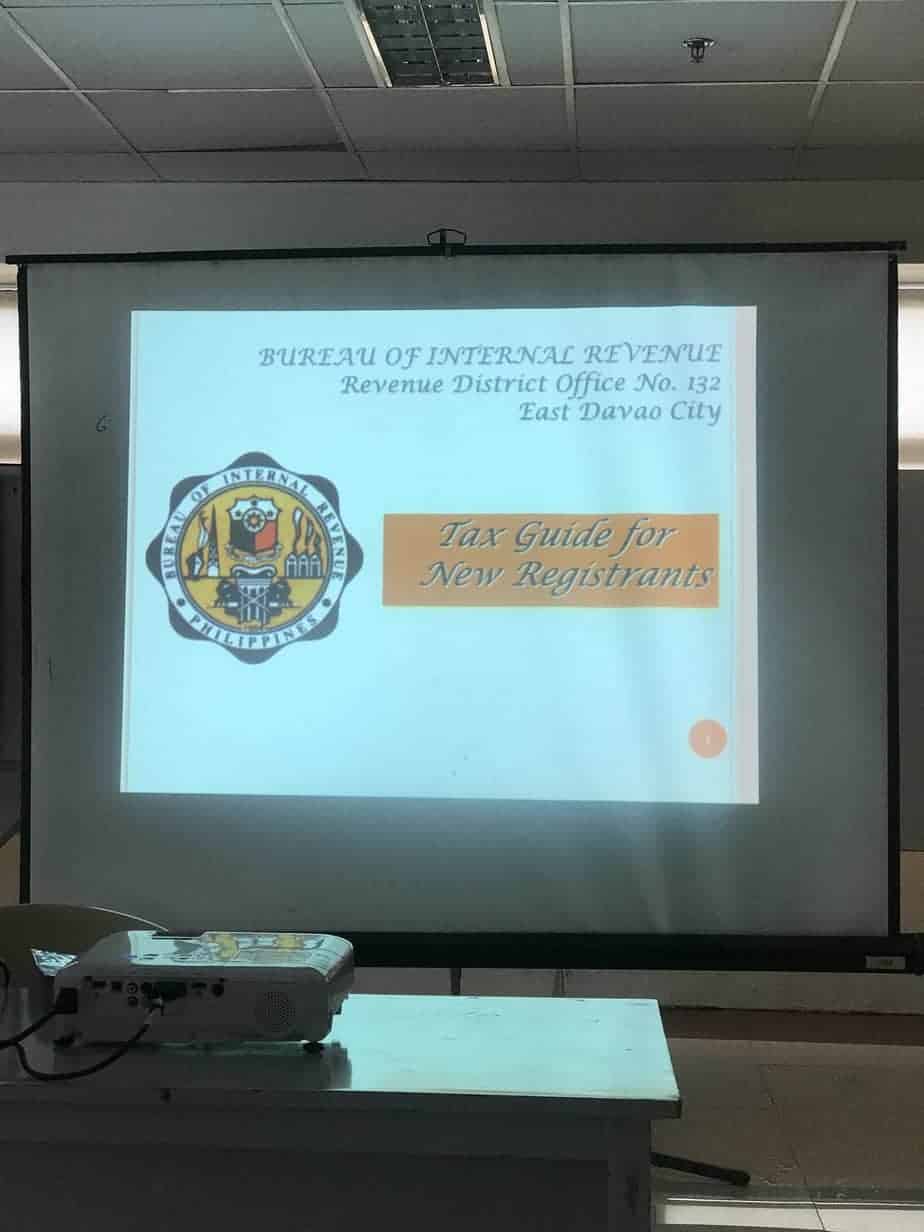 Total amount spent: None
Time it took for this process including waiting: 1 hour and 15 minutes
Date Completed: January 23, 2019
5. Printing of my Official Receipt Booklets
As an online freelancer who just registered as a self-employed individual in the BIR, I am required to issue an Official Receipt for my client earnings. Meaning I will have to give receipts to my clients whether local or international.
Before I actually do this, I need to have an official receipt printed by a BIR-accredited printing press facility.
Your BIR RDO office should have a list of their accredited printing press facilities. They are separate companies from the BIR because the BIR does not print receipts for businesses.
In my case, while I was asking for the accredited printing press list in the Forms Section of the BIR office, an employee told me that one of the accredited printing press' representatives was there.
I really did not want to go through a fixer or be scammed at this point but the representative was legit as I asked for his ID.
I gave him my docs (COR, Barangay Certificate, TIN ID, 0605 form and payment receipt) and he photocopied all of them.
I signed on the relevant docs including the Authority to Print form and paid him 1,500. He issued me a receipt and said that it will take 2 weeks for my receipt booklets to be printed.
Gave me instructions and directions to the location of their printing press where I will be claiming the receipt booklets after 2 weeks.
I also got the rep's contact info via his calling card.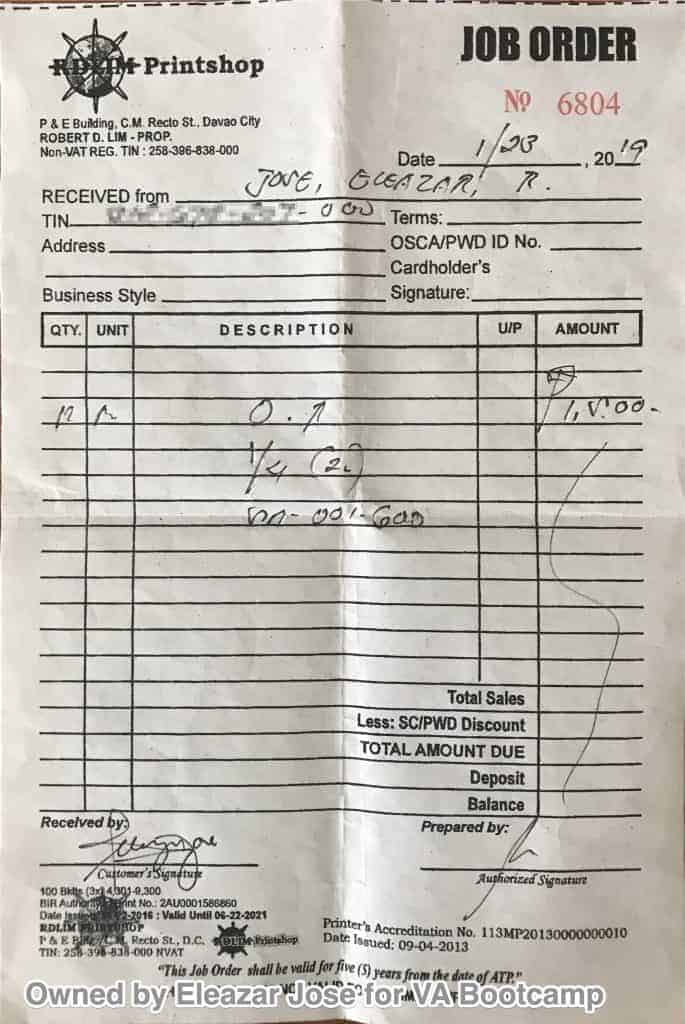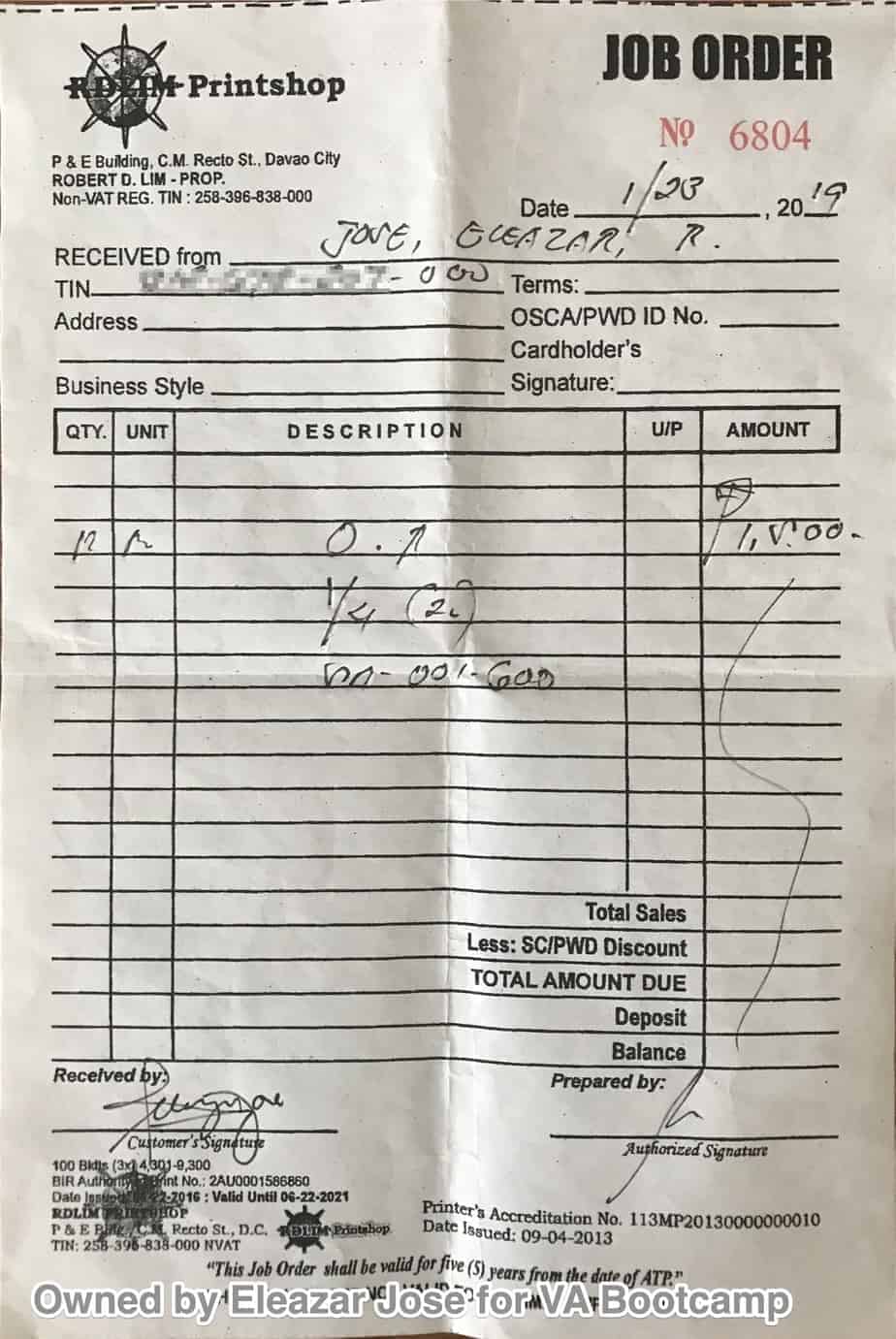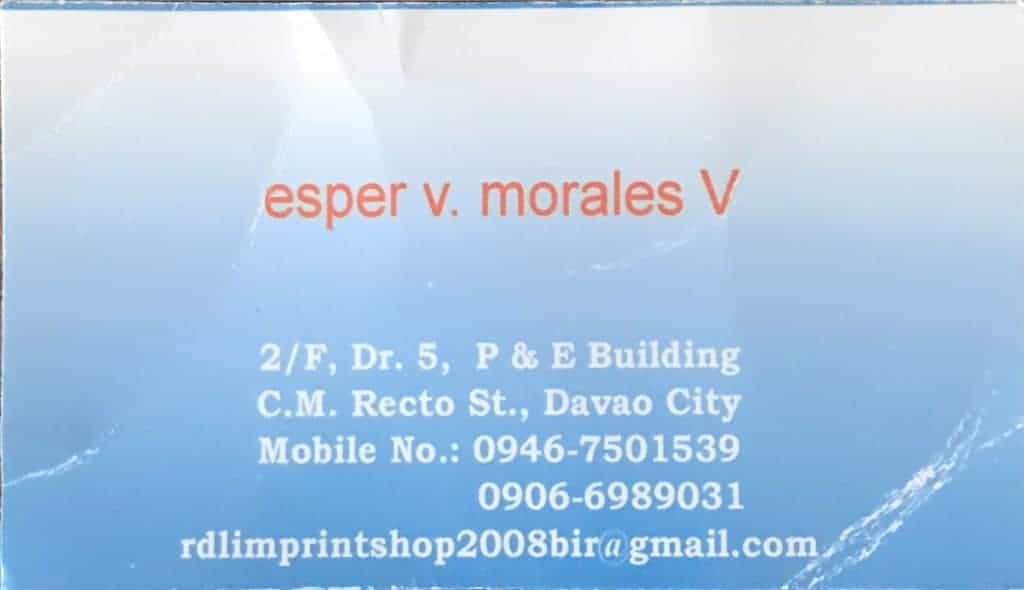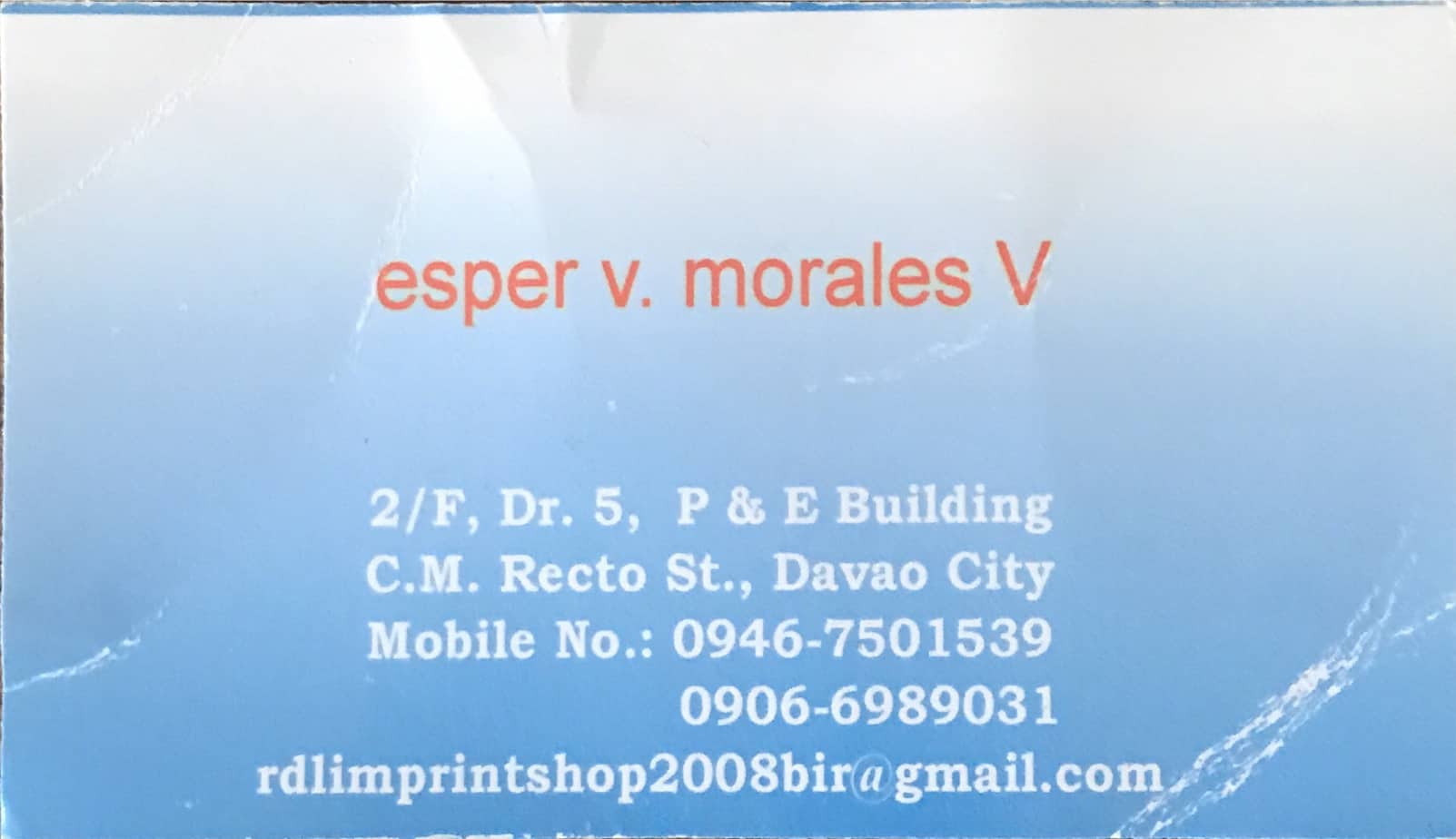 Total amount spent: 1,500 pesos
Time it took for this process including waiting: 15-20 minutes
Date Completed: January 23, 2019
6. Claiming of Official Receipt Booklets
Expectation was I'd get the receipt booklets 2 weeks from the date I ordered them. In reality, it took almost 3 weeks because they still had to get the Authority To Print (ATP) form and Booklet #1 stamped as Received by the BIR.
I finally got my Official Receipt (all 12 booklets) on February 12, 2019.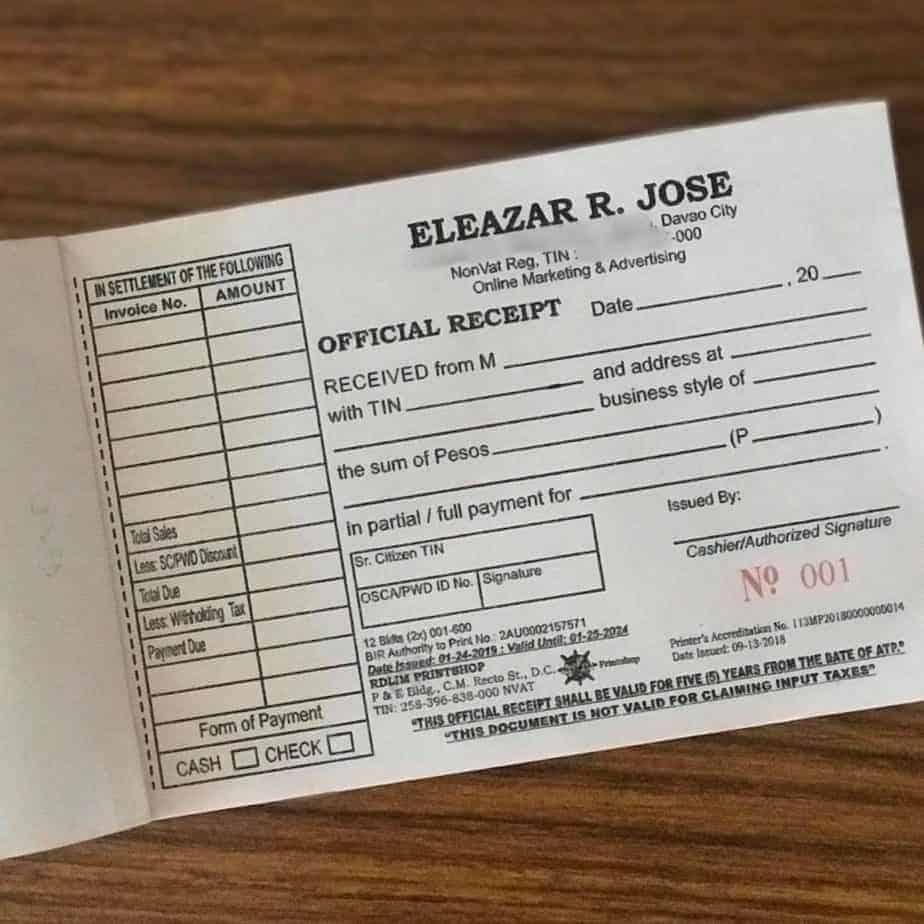 How to issue an official receipt to an international client? All you need are their name and Tax Identification Number (or whatever they call it) in their country, their address, business style, amount and payment description.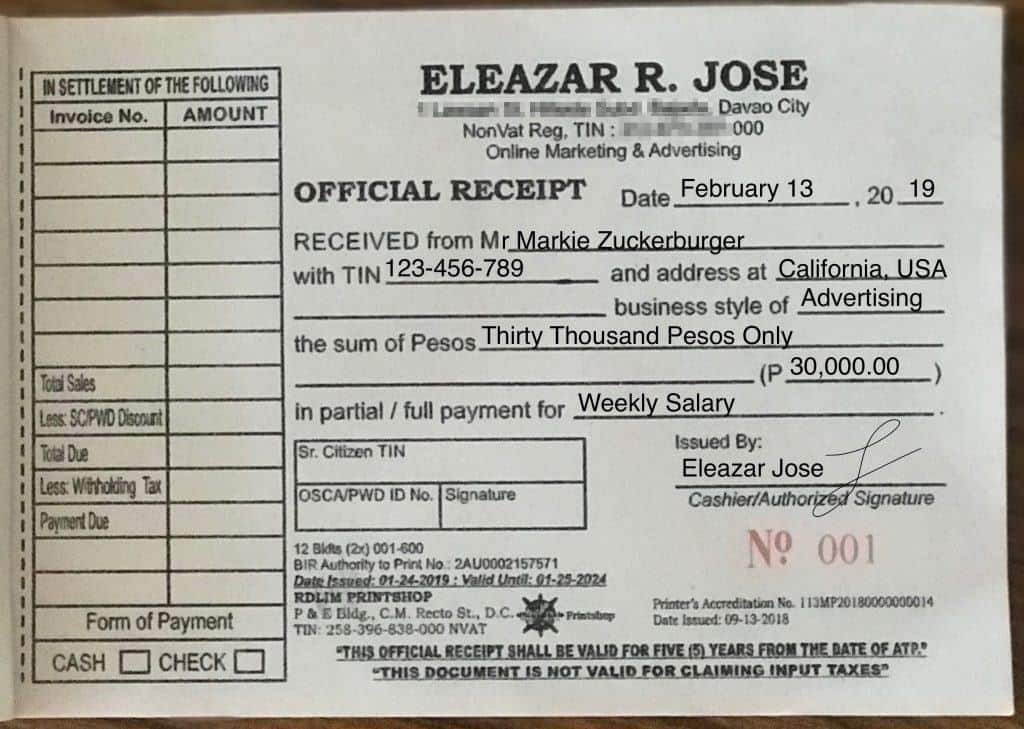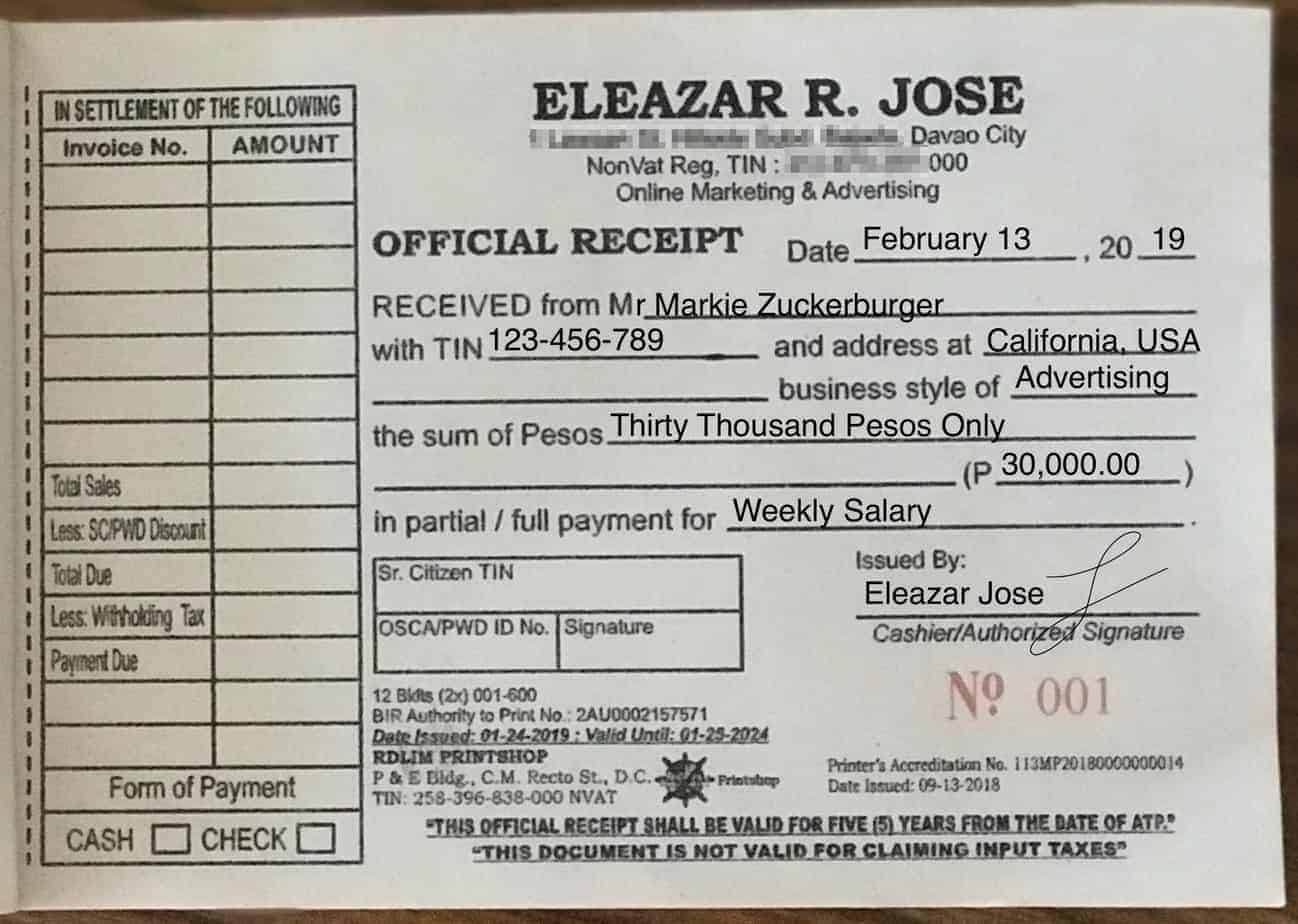 The start date on issuing receipts to clients will be the date your Authority to Print was approved. It's located on your receipt.
On my receipt, it's located here.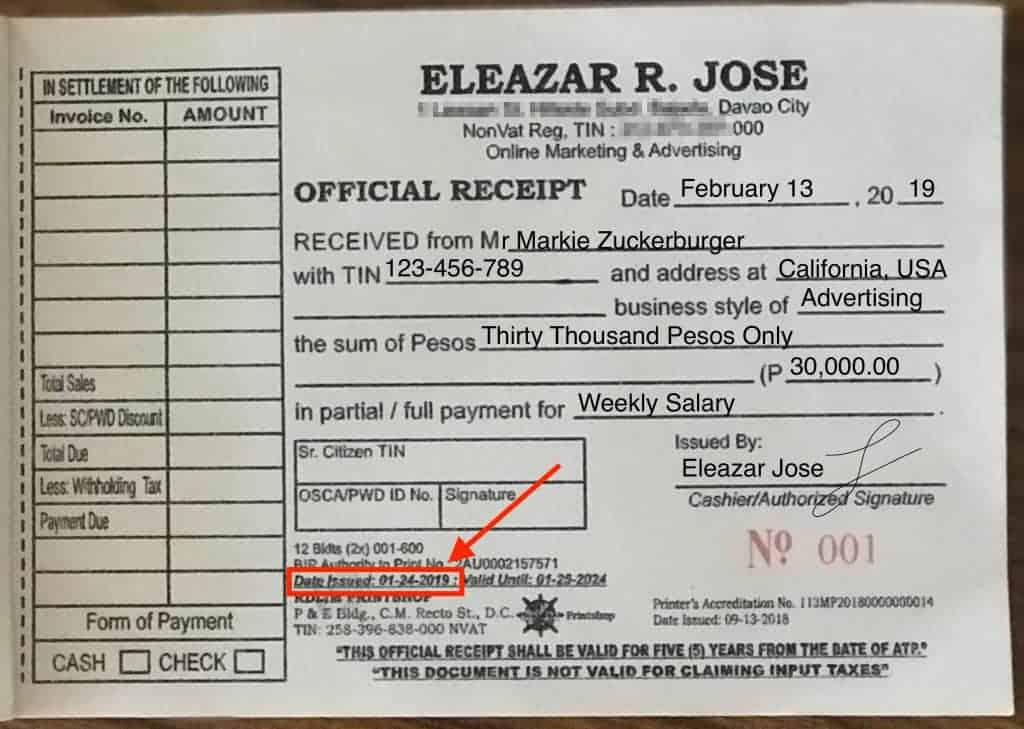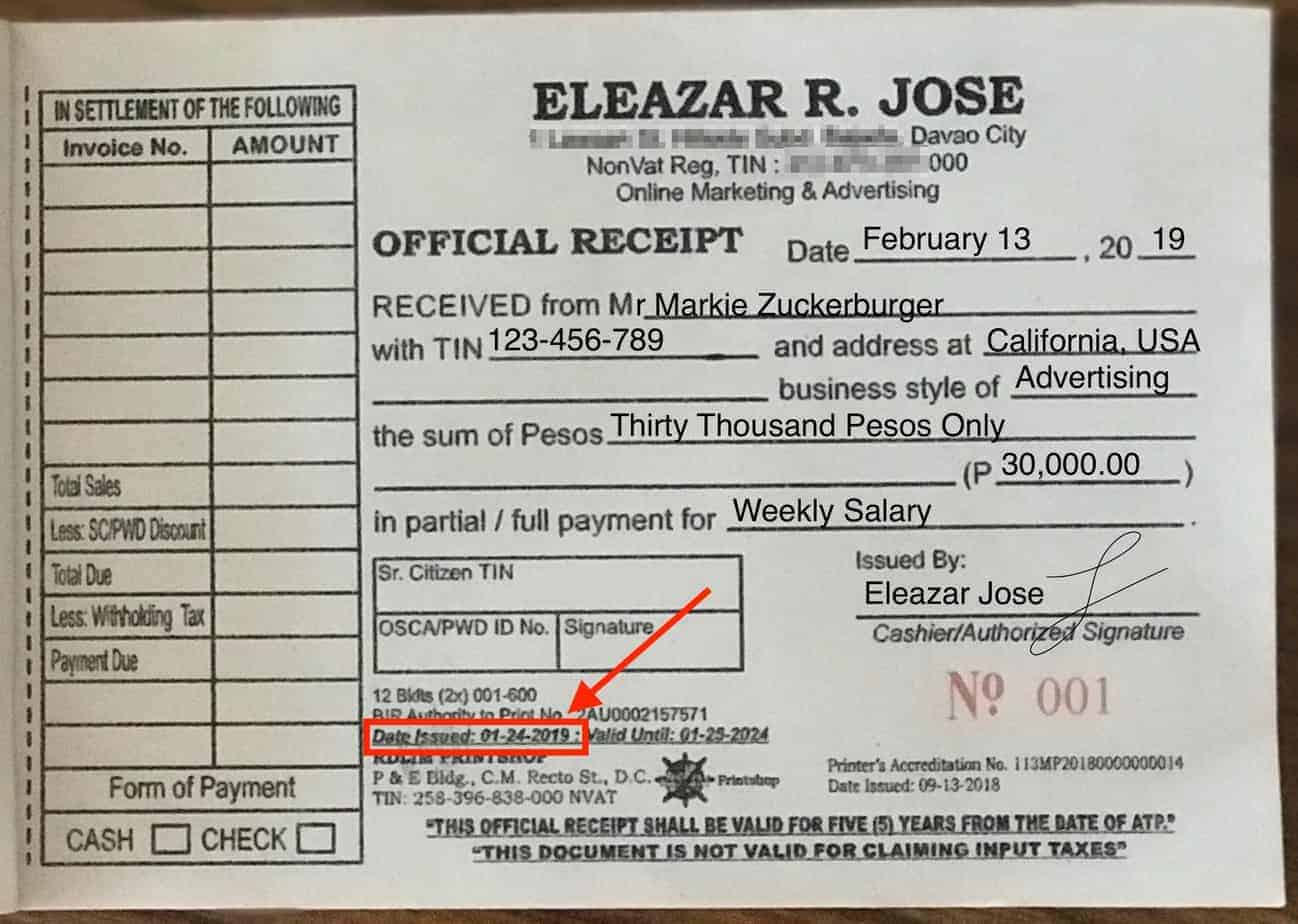 Example: My client paid me on January 23 however my date of ATP was January 24, I can only issue receipts on or after January 24.
The payments my client made before January 24 will not have a receipt.
If you do issue a receipt before the date of ATP, the BIR will question you when they find out and you will have an open case with them. You don't want that to happen because you'll have extra visits to the BIR office than you normally should.
That's it!
I'm finally a registered taxpayer and I have my Official Receipts.
There are still a few things to take care of though like:
Recording transactions in my Journal notebook (business income and expenses)
For the 8% income tax option, I need to file quarterly and annual tax forms to avoid penalties.
For these, I'll be documenting my processes every step of the way this year to benefit the members of the freelancing industry especially my fellow Davao freelancers so stay tuned for my upcoming blog posts.
If you have any questions, feel free to type them in the comments below. I'll do my best to help.
I'd also like to thank Grace Viray of whatevergracemeans.com for helping me understand the BIR Registration process we have in Davao City and also thanking our co-founder Holly Ocaya for writing the first blog post we have on the BIR Tax Registration process and for changing my tax beliefs.
As a freelancer who has gone through the BIR Registration process myself, I highly encourage everyone to register as well and legitimize your freelancing business. In time, you will reap what you sow (e.g. Income Tax Return).
And if you're not a freelancer yet but you really want to work from home, you can sign up first to our free introductory course at vabootcamp.ph/free